A Prayer for Synod
Listen to the podcast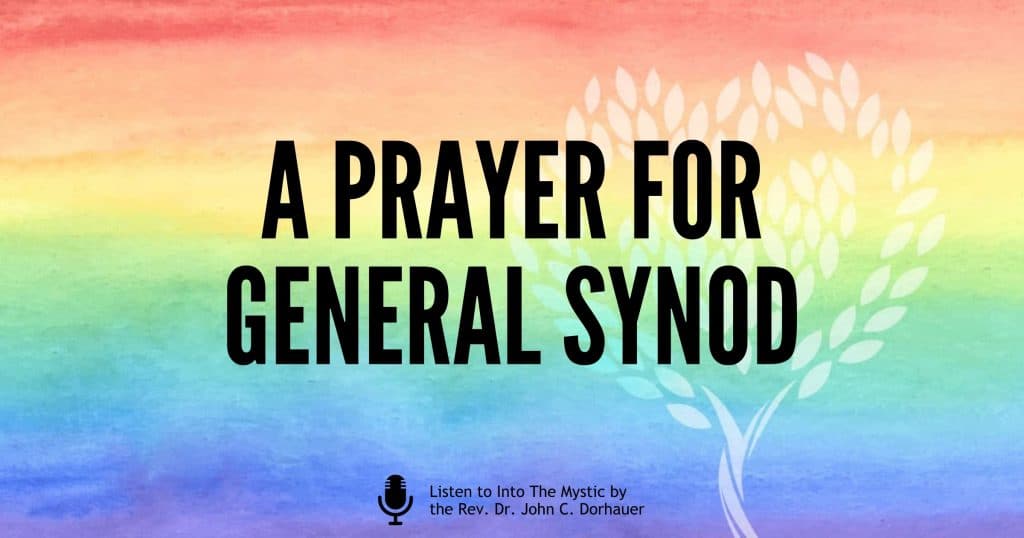 Read the transcript
Holy Spirit of the living God and the Risen Christ, we pause in this busy week to lift up our beloved United Church of Christ as it gathers for our General Synod.
We do so knowing that all who gather have one primary responsibility – to discern your movement among us, your will for us, your desire to reveal to us how it is we best honor our commitments to see the future you envision for us.
We do that by opening the door fully and inviting a wide circle of voices into the room to speak from their hearts, from their perspective, from their experiences. You move among us both as individuals with agency, and as a collective whole. The exclusion of even one voice because of their race, their gender, their ethnicity, their theology, their identity, their politics, or their perspective compromises our capacity to hear your fullness.
Remove from us a resistance to hear an opposing point of view.
Remove from us arrogance and pomposity, virulence and verbosity.
Remove from us expectations for outcomes we desire that compromise our tolerance or acceptance of those who see things differently.
Instill within us patience.
Instill within us deep listening.
Instill within us an expectation that all who speak bring with them a piece of your wisdom that we alone cannot fully contain.
And when this Synod ends, may it be the case that all that we have done is discern your movement, your will, your vision for us. May the actions of this, your United Church of Christ, be consistent with your will for us. May those actions usher into the world more love, more hope, more joy, more justice, more grace, more peace.
May all that we do and say bring honor and glory not to us, but you.
Through our prayers together, our worship together, our dialogue together, our play together, our hearing of each other, and our silence in the times required for us to discern deepen our love for each other and strengthen our commitments to build a just world for all.
Let our laughter be rich, our love deep, and our joy without bound.
And when this week has come to its close, may the world know that all that we wanted was to live out more fully our call to be proclaimers of your love in the world and agents of your justice for all.
Let the light of God's love, the power of Christ's grace, the beauty of your abiding comfort sustain us all on this, our journey Into the Mystic.
---
Related News
While I was pregnant with our second child, our local church held an Advent Fair where we all...
Read More