Just Peace

The Just Peace Church vision is a hallmark of United Church of Christ theological identity. For 30 years, the Just Peace Church pronouncement has inspired a grassroots movement of UCC congregations committed to corporately naming and boldly proclaiming a public identity as a justice-doing, peace-seeking church. The Just Peace pronouncement articulated the UCC position on war and peace distinct from other approaches such as crusade, pacifism, or "just war." Grounded in UCC polity and covenantal theology, the position focuses attention on alleviating systemic injustice of all types using non-violence and calls us to offer the message, grounded in the hope of reconciliation in Jesus, that "Peace is possible."
Justice and Witness Ministries is committed to a revitalized Just Peace Church movement and to empowering and resourcing congregations to create a stronger justice and peace witness. Now is the time to rekindle our commitment to Just Peace and make visible our longstanding witness to this approach. To do so, we will be working to update the list of Just Peace Churches in the UCC and will keep this site up to date with educational resources.
Does your church consider itself to be a Just Peace congregation? What is your church doing to live out its calling to be a Just Peace church? What does it mean to be a Just Peace Church in times like these? I hope you will take the time to update your church's information on our site and offer your responses to these questions. Your energy and voice is needed to reinvigorate and shape the direction of our collective movement.
For more information contact uccjustpeace@gmail.com and join us in conversation via Facebook and Twitter @JustPeaceUCC.
Just Peace Updates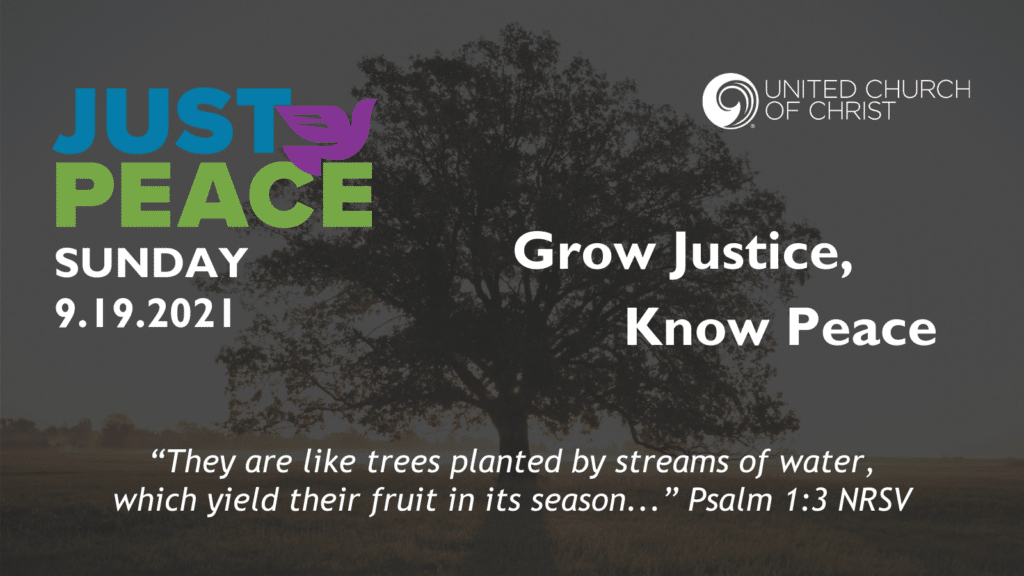 "Grow Justice, Know Peace!"
In 2021, Just Peace Sunday will highlight ways to "Grow Justice" and "Know Peace" in our local communities. Despite the many challenges we face, Psalm 1:3 reminds us that there is hope when we are interconnected and root ourselves in the things that make for peace. In 2021, let us "Grow Justice, Know Peace" together!
Join us in marking September 19th as Just Peace Sunday!
Nonviolent Direct Action and Just Peace
Nonviolent action and civil resistance is effective. Nonviolent approaches include protests and boycotts, non-cooperation and direct intervention (civil disobedience), and other creative campaigns. All of these techniques require significant spiritual and practical preparation and training to be effective. Learn more about how nonviolent direction actions relate to our history as a Just Peace Church and find resources.
A Just Peace Handbook

In 2015, the 30th General Synod held in Cleveland, OH marked the UCC's 30th anniversary as a Just Peace Church and called for a renewal of the UCC's Just Peace witness. This booklet is intended to accompany this resolution and be a resource for all levels and areas of the church for further work and witness, especially to local congregations declaring or recommitting themselves as "Just Peace Churches." This resource includes a summary of the historical and theological uniqueness of the Just Peace vision; the biblical and theological grounding for Just Peace values; and recommended steps for how to become a Just Peace Church. (Download.)
10 Steps to Become a Just Peace Church
Download this document that summarizes the 10 step process for guiding a congregation through the Just Peace discernment process. Use this alongside the handbook and other resources that offer a deeper understanding of the history and practice of Just Peacemaking.
Interfaith Network on Drone Warfare
Shortly after 9/11, the U.S. began using armed drones, catching the attention of many people of faith and conscience concerned with Just Peace. The UCC has been part of an interfaith effort to raise awareness about this important issue through the Interfaith Network on Drone Warfare. Now is the time for for you and your congregation to learn more about this issue and speak out with your members of congress about this abuse of technology.
Destroyers or Healers? A look at American Drone Warfare
"Lord I am not worthy to have you come under my roof; but only speak the word and my servant will be healed" – Matthew 8:5-13
During the Roman occupation, arguably no nation was more vile and threatening than the Romans who crucified thousands of innocent people for the sake of dominance. As a centurion in the Roman army the soldier in Matthew was directly responsible for reinforcing the idolatrous, oppressive, and murderous laws of the empire. By modern standards this centurion posed a clear and imminent threat to the Jewish people, but instead of calling in a heavenly strike against the centurion Jesus performed a distant healing. Such compassion from Jesus demonstrates that God's policy is not that of a distant destroyer, but a distant healer. (Read more.)
Connect to the Just Peace Movement

Promoting a Just Peace in Palestine-Israel: A Guide for United Church of Christ Faith Leaders
To help local churches and conferences of the United Church of Christ live into the General Synod call to end the Israeli occupation of Palestinian territories, the UCC Palestine/Israel Network has introduced a new resource guide that will help church leaders and ecumenical partners implement the 2015 resolution. Learn more and download the resource.
A tribute by Rev. Dr. Susan Brooks Thistlethwaite on the Life and Witness of Glen H. Stassen
Glen H. Stassen, friend of Jesus and peacemaker, died on April 26, 2014. Glen was a well-known and beloved Christian Ethics professor at Fuller Theological Seminary, and one of the primary architects of the paradigm of Just Peacemaking, as can be seen in the video clip above from a forthcoming documentary on this crucial fourth paradigm beyond Pacifism, Just War and Crusade. (Read more.)