Inspired by a UCC webinar, Massachusetts church cares for children with community drive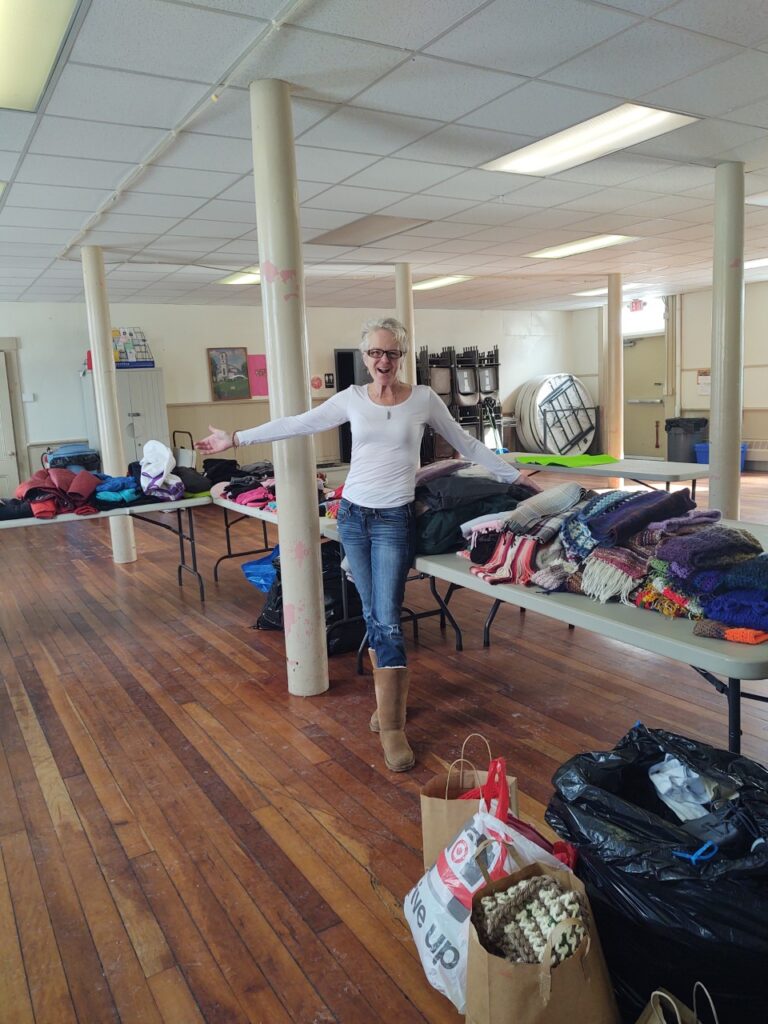 How are our children? That question, asked in a United Church of Christ webinar, inspired a Massachusetts woman to answer with action in her community.
In "The State of Our Children," on Jan. 26, the Rev. Starsky Wilson, head of the Children's Defense Fund, talked about the challenges American children face and what churches can do to help.
"When Rev. Wilson started naming the ways the children are poor, I said 'I know exactly what I need to do right now,'" said Terri Leander. "I was so very moved, I left the webinar about an hour in, motivated to get started on my project."
Another inspiration
Leander, involved in the community ministry at First Congregational UCC of Saugus, Mass., had grown frustrated that the pandemic had tabled much of the outreach work. But as Wilson spoke, she got an idea.
What triggered it? Something already being done by a former church member and friend, Donna Thomas, now living in Florida.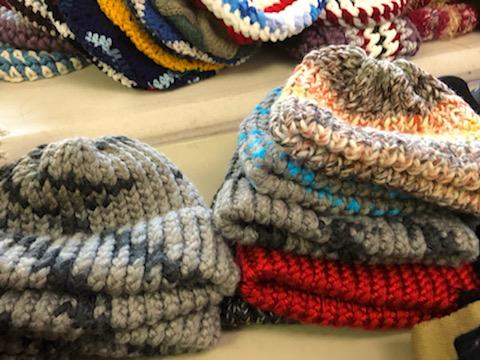 "She had been sending us hats," Leander said. "Donna asked us to distribute them to the community," Leander said. "She's my inspiration. I wouldn't have joined the church if it wasn't for Donna. Her hats gave me the idea."
Leander decided to expand on that with a drive to collect cold-weather gear for children: hats, gloves, mittens and scarves for young ones up to 21 years old. Thomas, from Lake Helen, Fla., was the first one to take her up on it. She provided almost three dozen hats immediately.
"I've been sitting at home, knitting away because of COVID — I talked to Terri, and said 'you think anybody in Florida would be interested in a wool hat?' We laughed," Thomas said. "So I sent them up to Saugus, because I know there are people there who need them."
Those hats also connect Thomas to her Massachusetts church community. "I miss them (First Congregational) very much. I go online every Sunday to watch the service," she said. "We like to spread the spirit."
Donated items pour in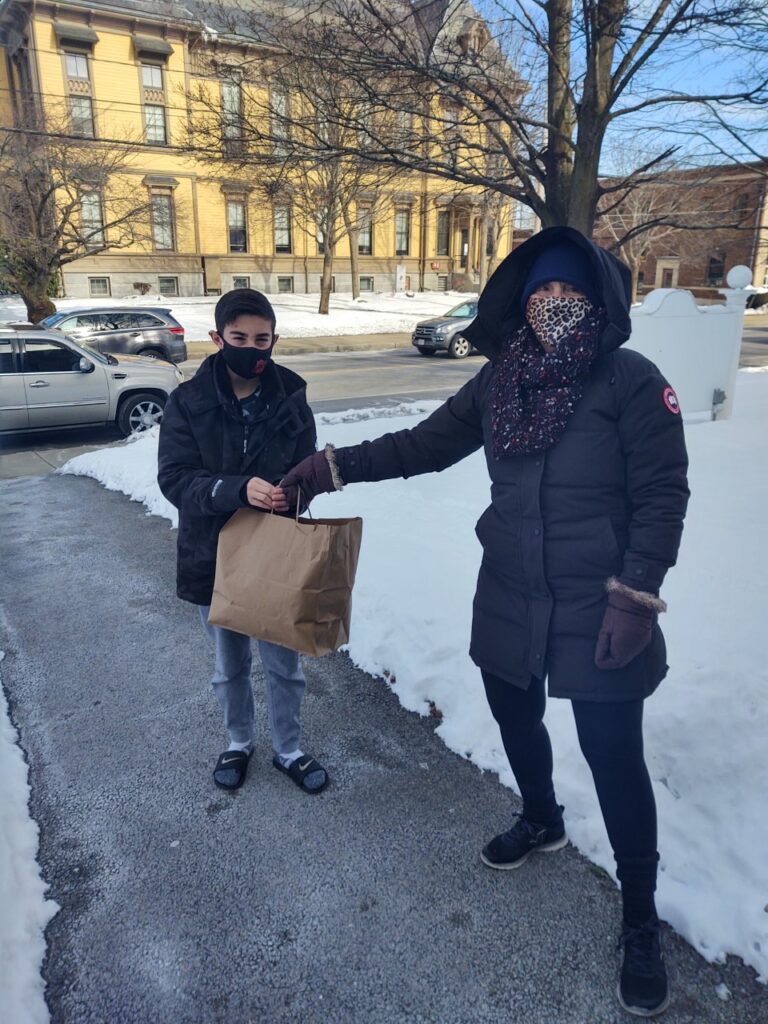 To do that with this project, Leander and other First Congregational members began collecting goods at the church on Saturday, Feb. 6. In a couple hours they amassed 150 hats, more than 100 pairs of mittens and gloves, 28 scarves, three winter coats, two sweaters and a backpack. The people of Saugus were invited to continue the drive with donations until Feb. 19. And as the word spread, so did the kinds of items coming in.
"People have been very generous — donating winter coats, blankets, comforters, diapers and baby wipes as well as sneakers, sweaters and sweatshirts," said Leander. "Even young ones were dropping off donations! Which is always so nice to see."
After imposition of ashes in the church yard, Leander and another volunteer spent Ash Wednesday, Feb. 17, organizing the goods for distribution day. In addition to doubling and tripling the number of hats, scarves and mittens, there are now more than 50 coats, sweaters and sweatshirts, blankets and boots. Cases of diapers have also been donated.
"This is turning out to be way better than anything I could've anticipated," Leander said. "The outpouring from the community has been unreal."
Interim pastor Katie Omberg blessed the bounty, praying that all those who receive the goods will also be blessed.
Community impact
This project will benefit hundreds of kids, but it is also pulling people together. "The church is enjoying having this project to work on while they feel so far apart from one another," Omberg said. "Half of the congregation is over the age of 75, so worshipping virtually has not had the same 'community energy' as in-person offerings.
"The congregation also likes being able to support the extended community of the town."
Leander initially wanted to distribute the items through a feeding program for kids, Healthy Students-Healthy Saugus, also known as HS2. First Congregational volunteers had worked before COVID-19 to bag food for the non-profit group, which helped offset food insecurity by providing children with a supply of nutritious food for weekends or school holidays. But the pandemic has temporarily suspended the work of HS2. Now a federally funded program is helping Massachusetts schools feed children seven days a week.
Julie Cicolini, who chairs the HS2 board, said she's seen the need for assistance grow during the pandemic. Her group stepped in with gift cards at the holidays so families would have what they need. So Cicolini stepped in to help Leander with her project. "She has been doing a great job," Cicolini said.
Church as pick-up site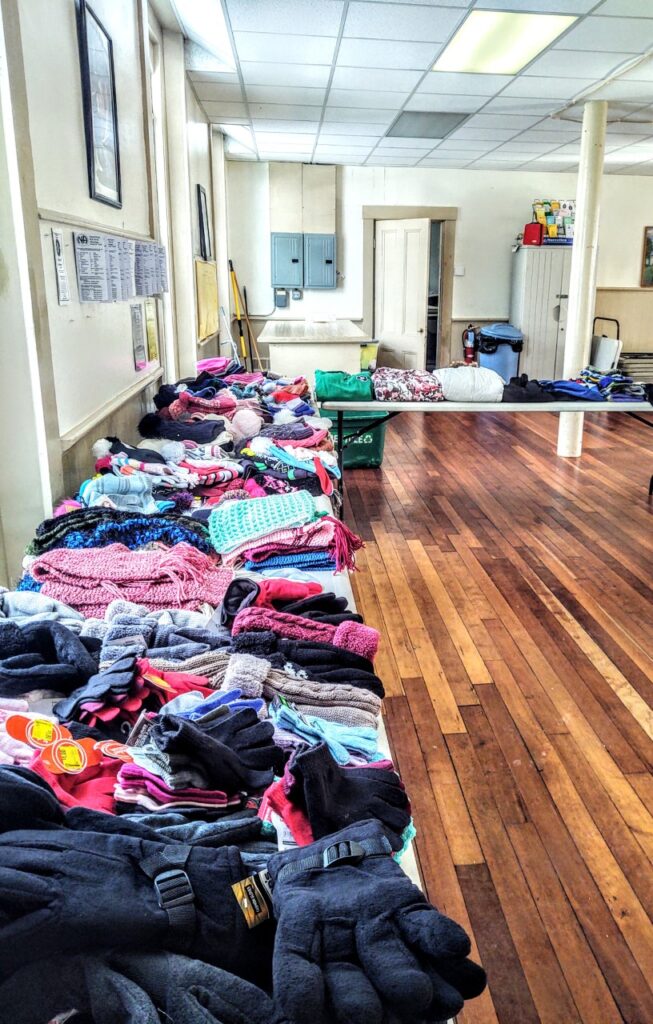 Leander then hoped to distribute the winter weather gear through the Saugus schools food service program. But that wasn't possible because of concerns about COVID.
Instead, with pandemic protocols in place, families will be able to pick up what they need on Feb. 20 at First Congregational.
"The church is actually going directly to the community," said Omberg. "Terri got in touch with a city council member who is into it, and made a connection to have it advertised on the local cable access. There is also a plan for anything that is left after Saturday to go to a larger drive that is being hosted within the city, so that we aren't left with a lot of donations and no one to use them."
As Lent begins, Omberg said her congregation will continue to worship online "as long as our town is within the red zone according to state guidelines." And members will find other ways to continue to be the church.
"In the midst of the pandemic, our church can still directly provide for those in need," said Leander.
"They know other people are thinking of them," Thomas said. "That's important."
---
Related News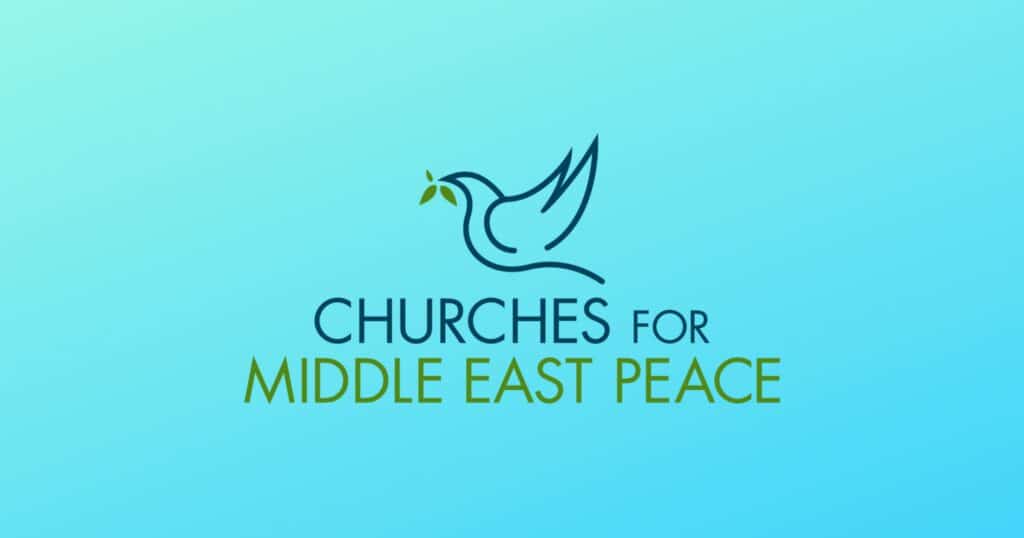 The following statement was issued Dec. 2 by Churches for Middle East Peace (CMEP), of which...
Read More