Illinois church group, in community, fights for separation of church and state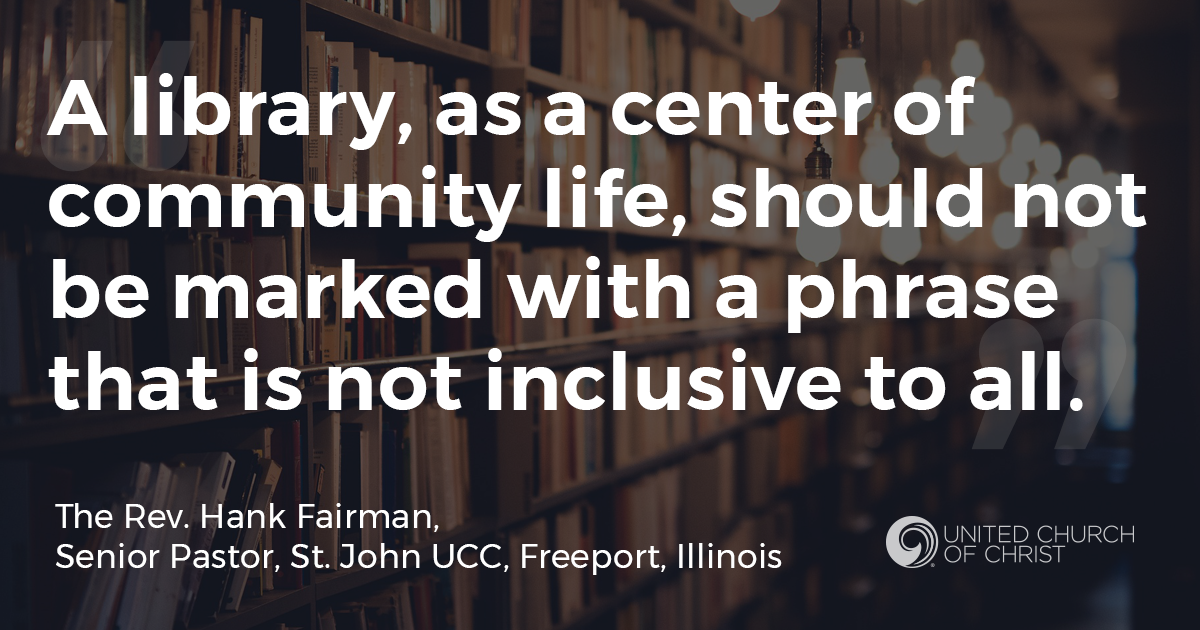 A group of concerned church members and their pastor in Freeport, Ill., are fighting for the separation of church and state. They want to make sure religion stays out of the local library. So with their community, they campaigned against the installation of the motto "In God We Trust" on the library building – and won.
The Rev. Hank Fairman and several congregants of St. John United Church of Christ joined a grassroots coalition of interfaith advocates, started a petition drive, and showed up to speak out in person on July 11, to convince the Freeport Public Library Board of Trustees that adding the motto to the building was a bad idea.
"While there are many reasons that have been shared to keep this off the building, they all call to a sense of interfaith inclusion and separation of civic and religious lives," said Rev. Fairman, St. John UCC's senior pastor.
Rev. Fairman started actively campaigning against the motto installation earlier this summer. In July 2017, the Freeport City Council voted to place "In God We Trust" on city buildings.
"I became involved with this issue last year, when I received a fund raising request from Concerned Women of America, a conservative Christian lobbying group," Fairman said. "They were seeking funding to place the National Motto on the civic buildings and vehicles in Freeport. When I received this letter, I wrote to the organization, the Mayor, and our local newspaper, asking that this stop before it gets started."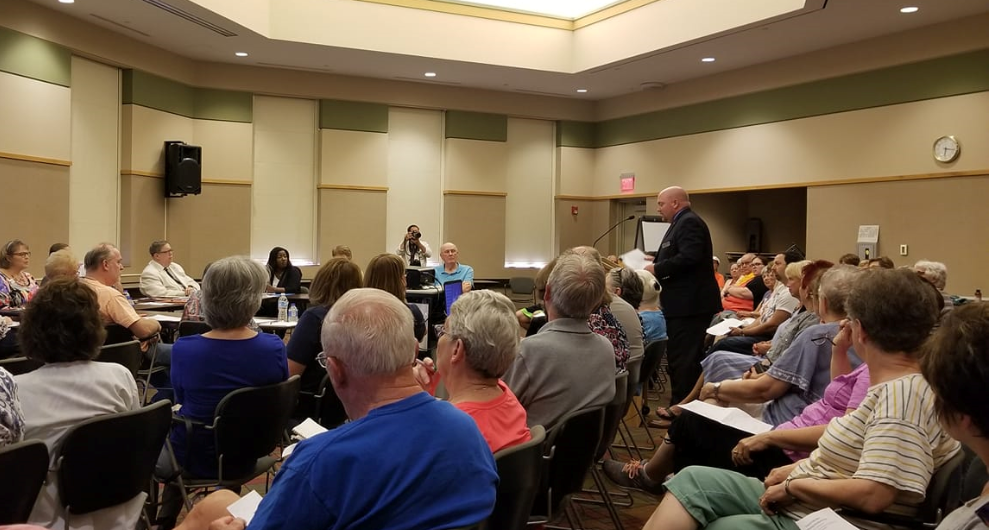 Almost two dozen people spoke out Wednesday evening to fight for the separation of church and state, including a several members of St. John UCC. Others worked on the petition drive to keep the motto of the library facade, going door to door in their community located in a large agricultural area in northwest Illinois, about 25 miles west of Rockford.
"Libraries are places where all ideas are presented together with no comment, for patrons to discover and explore on their own," said Christina Fairman, a friend of St. John United Church of Christ, who first brought the community's attention to this issue. "The installation of the phrase 'In God We Trust' goes against that." She wrote a letter to the Library Board and to the local newspaper, in addition to speaking out at Wednesday's meeting.
"I believe that the library should be a place where a person can have the freedom of entering with an open mind," said Judy Garkey, a member of St. John UCC. "A library should provide the opportunity to learn and to explore and to challenge a person's predisposition. The Royal Library of Alexandria was one of the great resource centers of knowledge. The library was successful because people of different cultures, religions, and life experiences were anxious to learn from one another. We must keep our libraries a place of safe exploration."
"I believe with my whole heart that it is incorrect to force my beliefs and faith on another person," said Tim Campbell-Outcault. He and his husband, Tom were two of a number of St. John UCC members who circulated the petition. "It is one thing to tell my faith story face to face and another to take out a billboard and make everyone look at it. Every person on the face of the earth has the right to believe how they believe."
"There are many different religions practiced around the world, within the United States, and in my own community," said Andrea Schrock, another St. John UCC advocate. "I don't feel that it is fair to acknowledge the Christian faith's God and leave our Muslim, Jewish, and Indian community members feeling like their religion is inferior. The library is a resource in our community for all to enjoy and use and I oppose the idea of a statement that suggests one religion is more favorable than the others that are represented in my community."
Mike Smith, another St. John UCC member, agreed. "I believe that the library should be an apolitical place, welcoming to all."
Rev. Fairman said that just before the Trustees meeting, the petition opposing the motto had been signed by more than 350 Freeport residents, and another 150 people from across the country and the world. "If one reviews the names of on the petition, they will find religious leaders, at least three former Trustees of the Freeport Public Library, civic leaders in Freeport and Stephenson County, small-business owners, organizers in our downtown development, leaders in our recent community branding initiatives, school teachers and students, retirees, hard-working craftspeople, and folks from every walk of life in Freeport."
"I signed the petition for the following reasons," said St. John UCC member Deb Scott. "The library is a public building with information that includes all beliefs. And while I feel blessed to walk a path that includes trusting God/the Spirit with that walk, others will enter that building with a different belief system. They have as much right as I do to feel comfortable entering a place of such knowledge."
After reviewing the petition and listening to public comment, the Freeport Public Library Board of Trustees voted 5-4 to keep "In God We Trust" off the outside of the building.
"I commend the Board for hearing the will of such a large and diverse group of citizens," said Hank Fairman. "However, I remain concerned that this issue is not completely resolved. The Board passed a motion after the vote to investigate a display of the motto within the walls of the library. There will be more activism, more engagement, and more hurt relationships before this issue is resolved."
"I am amazed at the broad coalition that was so quickly gathered, and am thankful that the combined voice of the people was loudly heard," he continued. "From many voices, one. Or as the Great Seal of the United States says: e pluribus, unum. And so it was. And so it will be as this issue progresses."
"The Christ I know fought for social justice, openness, tolerance, and (most of all) love for one another," Garkey said. "If Christ loved diversity – I better help keep it alive."
---
Related News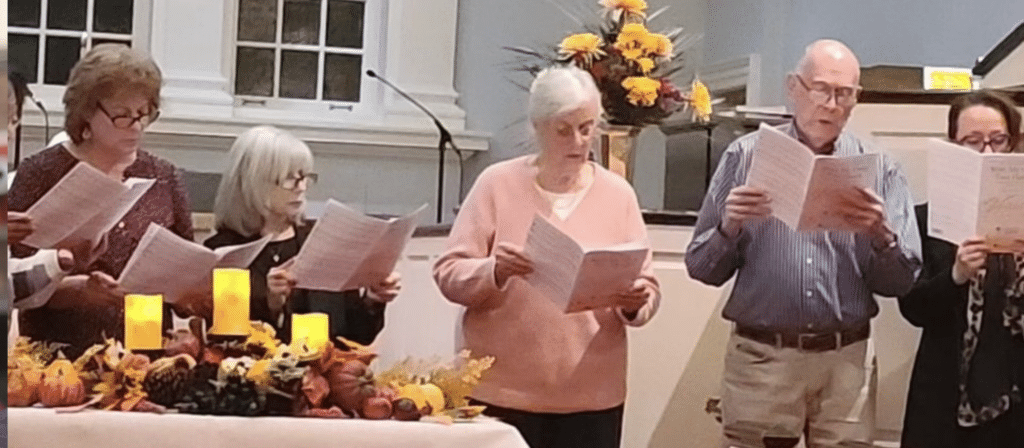 Many United Church of Christ congregations across the country participated in interfaith...
Read More