Hurricane Katrina reshaped Back Bay Mission
Back Bay Mission changed forever on Aug. 29, 2005.
On that day, this ministry of the United Church of Christ that serves the poor and marginalized people of Biloxi, Miss., was nearly destroyed by Hurricane Katrina, which roared through the Gulf Coast. Biloxi, a town of 6,500, was one of many communities along the Mississippi coastline where 65,000 homes were lost and 67,000 extensively damaged.
"They needed everything you can imagine," says the Rev. Shari Prestemon, Back Bay Mission's director from 2000-2013.
Back Bay Mission survived the storm, albeit with only one of its eight buildings still in working order. The other structures on the campus were knocked down, flooded and unsalvageable.
"There was no one who got through it without being affected in some way — whether it was loss of life or property," says Christopher Marlin-Warfield, church relations associate for Back Bay Mission.
Back Bay Mission has served the poor and marginalized people in the Gulf Coast for almost a century, with its ministry now focused primarily on home rehabilitation for homeless people. Marlin-Warfield said the mission has always adapted to respond to the needs of the community, but Hurricane Katrina changed Back Bay in a more profound way.
"We started in 1922 as this little church outreach to little kids, and every couple of decades, there's been a shift to meet a new community need," Marlin-Warfield said. After Hurricane Katrina, the obvious need was housing for families displaced from their homes, and the Mission did its part by helping rehabilitate or rebuild 162 homes to code.
"We drastically increased the size and reach of our ministries, and the focus shifted," he said. "I think our focus immediately after the hurricane shifted to housing and homeless issues that hadn't been focused on before — we hadn't ignored it before, but we weren't tightly focused on it. We were able to upgrade our housing for volunteers with a new Mission House and opened the Micah Day Center, and we upgraded the level of housing rehab and restoration we do. It was an ability to do things on a bigger scale."
The Mission House, which houses the volunteers that come to Back Bay Mission each week for mission work, and the Micah Center, a day center where homeless people can get hot food and shower, were both newly constructed buildings that opened in 2010.
Due to the total destruction Hurricane Katrina caused on campus, the mission suddenly was front-and-center throughout the wider church. Both financially and in terms of volunteers, the resources to Back Bay were much greater.
The mission's annual fund, Friends of the Mission, saw a tremendous increase in donations after Katrina, Marlin-Warfield explained. In 2004, the total contribution amount was about $260,000, and in 2006, the first full year after Katrina, it was $1.1 million — which doesn't include contributions that were donated specifically for Katrina recovery.
Prestemon remembers the aftermath of the storm "not because of how devastating it was, but more about how people rushed to our side, to help us rebuild as an organization and help us recover the community," she said. "It was really a stunning experience to be part of."
"We had several thousand volunteers in the years after Hurricane Katrina" said Marlin-Warfield. No records remain of the number of volunteers annually before the storm because they were destroyed.
This month, Back Bay Mission is commemorating the anniversary of Katrina in a variety of ways. "We have photos of the campus before and after the storm, we have some recognition of the incredible gifts that came through — some people even donated office trailers so that we could keep functioning, and we are sharing a video this week from folks from the mission here at the time and what they went through, and how it changed the mission and the Gulf Coast," Marlin-Warfield said.
"The mission wouldn't be what it is today without Katrina," Marlin-Warfield added. "We might be responding to something completely different."
This is the second story on the 10-year anniversary of Hurricane Katrina. Read the first story, about the UCC's disaster relief efforts, here.
---
Related News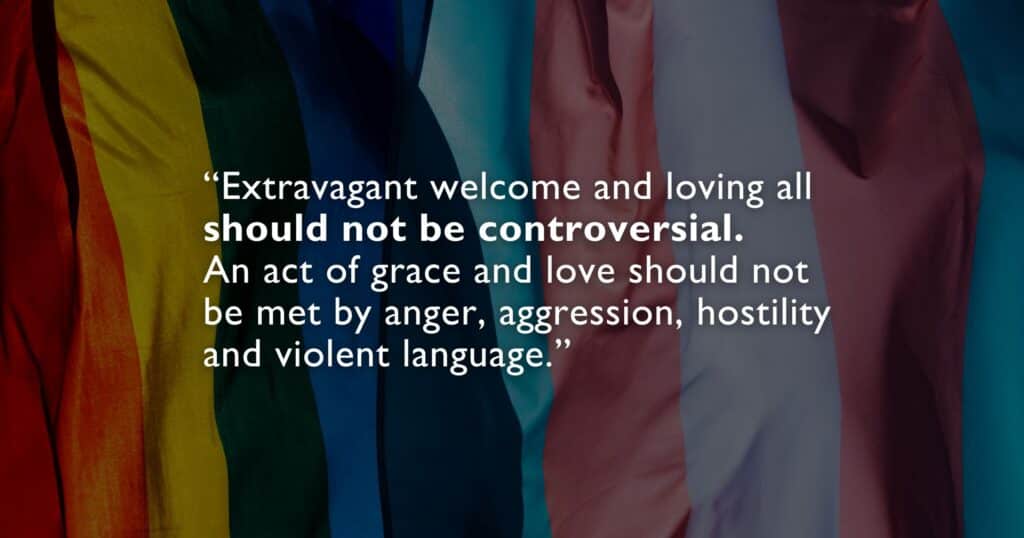 The United Church of Christ National Officers and the Conference Minister of the South Central...
Read More