Hidden Beauty
Listen to the podcast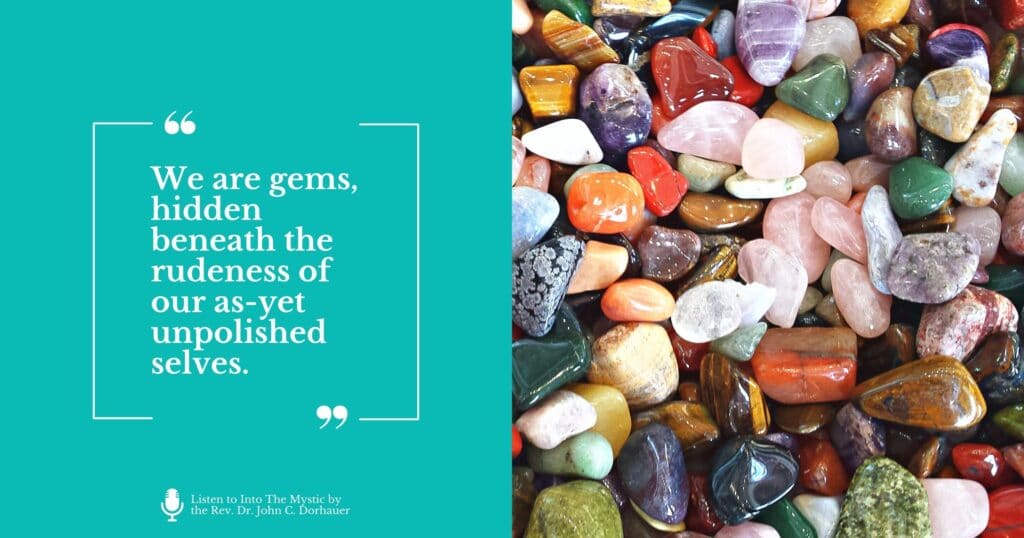 Read the transcript
What do being rude and being intelligent have in common?
Well, we have to start with a rock to figure that out.
When I was a child, I got a gift for Christmas. It was this tumbling machine that you would put a rock into. Turn the tumbler on and the rock would bounce around for a long time and come out shiny and polished. Some rocks just got smoothed out, but others revealed beautiful colors and patterns that made them appear luminous and spectacular.
What's that got to do with my question about the connection between being rude and being intelligent?
The Latin word for an unpolished rock is rudis. In Latin rudis meant a lump, an unpolished bit of debris that was of no use.
You can see in that the eventual meaning of the word rude. To be rude is to be, literally, unpolished or unrefined.
Today, we use it mostly to mean someone who is impolite. We call them rude when they are impolite, and we make a judgment about the quality of their character. It is a word that when used today speaks about what kind of person you are.
But let's go back to the root of the word. Those who held a rock didn't just see it as an object that would or could forever remain in that unpolished state. It could be altered into something beautiful.
Rudeness, in this sense, is less about who you are than about what you might become.
Which leads us to another word, one using the same Latin root: erudite.
In Latin, to become erudite is to become polished. It is literally the act of taking a lump and polishing it into a gem. Figuratively, though, it signifies the act of taking a rude person and polishing, refining, or educating until they become erudite.
Erudition is the quality of exhibiting intelligence. It is refining what was once rude until, through education, it becomes erudite.
I love that. I love it because I am fascinated by language. I love to learn not just what a word means, but how it evolved to take on its current meaning.
But I also love it because it suggests that any of us that exist in some rudimentary state, who bear the marks of the unpolished and the rude, can be refined or polished or educated into something erudite.
We are gems hidden beneath the rudeness of our as yet unpolished selves.
Too often we are our harshest critics. We beat ourselves up over the slightest errors we make. We fail to acknowledge an inherent worth that, theologically speaking, belong to those made in the image and likeness of God. We give up on ourselves too easily – and spend a good deal of our time in self-abnegation.
All the while God sees within us a beauty that the rough exterior belies. We are gems – whether hidden or manifest.
We grow.
We change.
We learn.
We take what was once rude and over time, with guidance and mentoring and education and experience, polish ourselves into stunning jewels. The journey from rudeness to erudition is as natural as the cultivation of a pearl. Look in the mirror each day and see the beauty within. Accept your inherent value and worth as a child of God on this, your journey Into the Mystic.
---
Related News
On October 13th, a delegation of UCC laity and clergy are scheduled to deliver more than 6,500...
Read More