Having faith in what will be: a tale of two churches becoming one
Local church closings can be a time of sadness, with a keen sense of loss and endings. But thanks to an insistence on being spirit led, two 113-year-old local UCC congregations' journey together blossomed into one church's legacy living on in multiple ways, and two church families thriving as one.
On Aug. 2, 2015, the former members of Dubbs Memorial UCC in Allentown, Pa., joined members of St. John's Fullerton UCC in Whitehall, Pa., in a welcoming celebration that included worship, a catered party, fun, and "red carpet photo ops," according to St. John's Consistory President Susan Rarich. The day was the culmination of two years of discernment, and the beginning of the new path the congregation now walks.
It began in 2013 with the consistory and staff of Dubbs Memorial, who knew that something had to be done.
"While we earnestly wanted to see Dubbs continue as a viable inner-city church, the reality was that, even after reducing many of our costs and bills, we could not continue to exist by taking $40,000 to $60,000 or more out of our Endowment Fund every year to meet our budget and our expenses," said Carol Raszler, long-time member of Dubbs and part of the planning committee for its future.
After several conversations with new church starts in the area and with the UCC's Penn Northeast Conference, the committee decided that it should begin "a process of discernment to learn and see where God might be leading us," said Raszler. "We determined that one of the greatest assets of our church is our church family. What was more important –– the building, or keeping our church family together?"
A careful process
Help came in the form of the Rev. Alan Miller, conference minister of Penn Northeast, who met several times with the congregation. As a result of its meeting with Miller, Dubbs decided to seek out thriving area churches its members could possibly join. Enter St. John's Fullerton, one of three congregations Dubbs contacted.
"I got a call from the Rev. Carl Seigfried [Dubbs interim pastor] telling me that the congregation was getting ready to make some big decisions about their future," said the Rev. Becky J. Beckwith, St. John's senior pastor. "They were interested in talking with some individuals in leadership, along with me, about Dubbs closing and becoming part of St. John's."
Members of the two congregations met twice initially –– once at each church. "We immediately enjoyed each other's company," said Beckwith. "We shared stories –– lots of stories –– about each other's congregations."
Dubbs Memorial Community Center
Though the meetings were successful, the two congregations agreed after the second gathering to not meet again until Dubbs had finished its explorations with the other churches and made a decision. Beckwith said she made clear that St. John's was not interested in Dubbs' money. "We were interested in people," she said. "We did not want to get into any bidding war over who gets new members or money. We wanted what was best for them. The process had to be spirit led."
After extended visits with the other churches, the Dubbs Planning Committee knew that "all three churches were good choices," said Raszler. "We reminded each other of our original goal and task in keeping our members together. After much prayerful thought and consideration, the Planning Committee decided that St. John's would be the best fit for our congregation."
At the end of 2014, Dubbs voted to close and join St. John's, and six months of transition work began –– a celebration of Dubbs' history, plus preparation for the influx of new members at St. John's. Members visited each other's churches, and were welcomed by both congregations.
A "spectacular reunion weekend" was held in May 2015 to celebrate Dubbs' heritage, and included an open house, memorabilia room, and meal, said Marion DeMilio, Dubbs' church historian and chair of the event. Particularly meaningful was information provided by Barry Dubbs, grandson of the pastor for whom Dubbs Memorial was named. The weekend was capped off by a worship service that "was inspiring and emotional, with [former] Pastor Bill Thomas –– who, at 94 years young, delivered his testimonial sermon from the pulpit. This was a truly happy time."
The final event at Dubbs was a cornerstone service held in July, when a 1903 cornerstone was replaced with a new one that included both original and new items from the church's 113-year history.
"We felt it was important to leave [the Dubbs building] with pride and with dignity, forever carrying Dubbs Memorial United Church of Christ in our minds and in our hearts," said Raszler.
During the August welcoming worship service, more than 130 people from Dubbs became members of St. John's. Beckwith asked both new and old members to stand and make promises to each other.
"We all faced each other –– instead of looking forward, we looked at each other," said Beckwith. "I asked everyone to look into eyes and faces" as they made their promises of membership.
A new home
UCC St. John's Fullerton UCC 
In the months since the welcome worship, the former members of Dubbs have become active in the life of their new church home. Long-time St. John's members have made a point to reach out to the new members to make sure they are feeling welcome, and to deal with any concerns. As a result, many new friendships have bloomed.
"Although some [Dubbs] members felt tired, burned out –– so they said –– they immediately became active in our committees. Most of our committees now have new members in them," said Rarich. "Our choirs now have added voices, particularly in the men's vocals. Their service is very much needed, welcomed, and greatly appreciated. They bring their resources of materials, service and ideas to nearly every committee table."
Rarich noted that these days, St. John's members sit old and new mixed together in worship.
The Dubbs church building, renamed the Dubbs Memorial Community Center, is now home to the Lehigh Conference of Churches, and still houses a magnificent wood sculpture –– the only surviving remnant of a 1959 sanctuary fire. A beautifully framed photo of the sculpture hangs in St. John's sanctuary. The Dubbs organ went to St. Matthew's UCC in Kunkletown, Pa., who, in turn, gave its organ to a church in Palmerton, Pa., that had no organ. Dubbs' financial assets were divided among nine charitable organizations, including St. John's, where it's helping to develop extended parking for the swelling size of the congregation.
"They gave it all away," said Rarich. "Their gifts of materials, wealth and service will be giving for a long time."
"This is a great model of church closure and legacy, as well as extravagant welcome of one church to another congregation," said the Rev. David Schoen, recently retired team leader of the UCC's Congregational Assessment, Support, and Advancement Ministry.
And just this past Christmas, special care was taken by church members to "create something wonderful" from the mix of new and old decorations, said Beckwith.
"The majority of our members transferred to St. John's UCC Fullerton, where we will continue worshipping God together with our brothers and sisters in Christ," said Raszler in her transition team report. "Our ministry will still continue at [the Dubbs building] through the mission and work of the Lehigh Conference of Churches. It's been said: 'Accept what is, let go of what was, and have faith in what will be.'"
---
Related News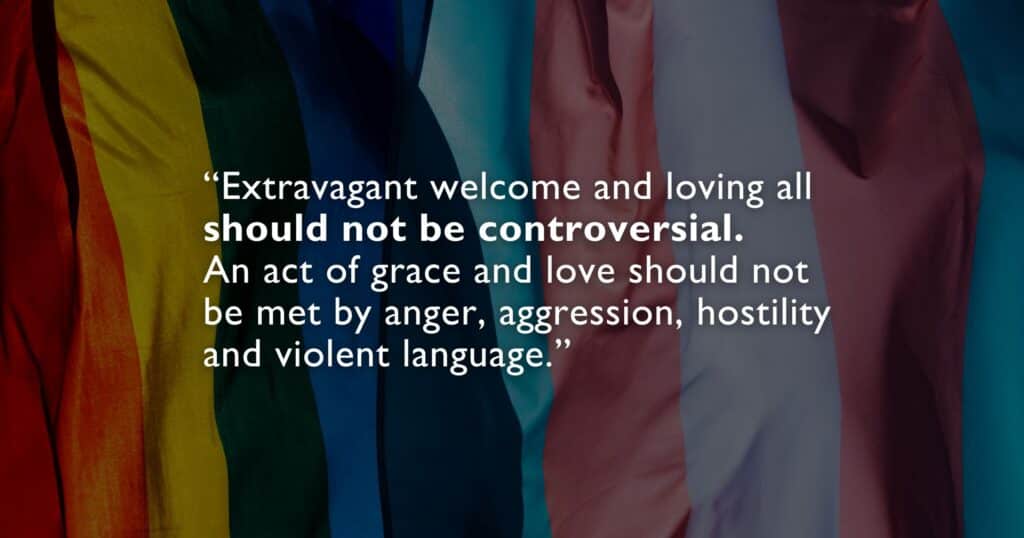 The United Church of Christ National Officers and the Conference Minister of the South Central...
Read More