UCC leaders speak out for affordable health care for all during interfaith vigil at U.S. Capitol
Leaders, clergy and members of the United Church of Christ shared personal stories and drew parallels to Scripture Thursday during a 23-hour prayer vigil at the U.S. Capitol in Washington, D.C., as Senate Republicans continued drafting a law to repeal and replace the Affordable Care Act.
A diverse group of faith traditions organized the vigil when it appeared that the Senate would vote on a bill that could strip a projected 22 million Americans of their health insurance coverage. Although the measure was pulled from consideration as the vigil was beginning, Senate Republicans worked Thursday on a new version before recessing for their Fourth of July break.
The urgency of the issue was underscored as the UCC's top leaders broke away from a meeting of the UCC Board in Baltimore to travel an hour to Washington to lend their voices to the gathering. Sandy Sorensen, director of the UCC advocacy office in Washington, told participants that "this shows how much we value health care for all."
The Rev. John Dorhauer, UCC general minister and president, described how his adult son, a self-employed musician, and his daughter, who suffered a traumatic brain injury as a child, could face the loss of their health care coverage if the Affordable Care Act (ACA) is repealed. "When did we choose to become this America?" he asked.
Dorhauer criticized Senate Republicans for excluding Democrats from their deliberations, for drafting the bill "behind closed doors," and for focusing on tax cuts for the wealthy. Dorhauer said that while the ACA is "not perfect," it still provides insurance to 22 million more people than the number who would be insured if the Senate bill became law, according to a Congressional Budget Office analysis. "Health care is not negotiable," he said. "It is a human right."
The Rev. Traci Blackmon, interim executive minister for Justice and Witness Ministries, said that as a pastor and nurse, she is grateful that Rep. Steve Scalise (R-LA), the House Majority Whip, has been able to "receive the care he needs" to recover from the wounds he suffered when he was shot during a June 14 practice of the Republican congressional baseball team. But, she said, "every child needs the care he needs." Blackmon said that 72 percent of the cost of Scalise's care is subsidized, while millions of Americans would lose their coverage if the ACA is repealed. "Those in power," she said, "will always have a fallback plan."
Blackmon recalled Christ's challenge to the money changers in the temple—people "who were doing things that were unjust, who were doing things that were unrighteous, who were doing things that were unfair, who were doing things that benefited them at the expense of somebody else. And then running into the temple to hide as though they could cover themselves under the cloak of religion. Religion is neither right nor wrong. Religion is just, if it is for God."
Blackmon concluded, "No one in the United States of America should go without health care. That, my friends, ain't right religion."
Rev. James Moos, executive minister of Wider Church Ministries, framed the health care debate in the context of broader concerns.  "Access to health care," he said, "is not a standalone issue. The fact that it is up for debate is part of a broader illness that is affecting our whole society and our government. And we cannot let it metastasize."
Moos cited proposed restrictions on the access to health care of millions of women "in the name of life," and "so that the richest people in America can receive a trillion-dollar tax cut;" the reinstatement of the president's Muslim travel ban "for so-called national security" and its potential impact on Syrian refugees; and attacks on the rights of LGBTQ people as examples of the wider societal "sickness" today.
The vigil began on Wednesday under the leadership of the Friends Committee on National Legislation. As the hours passed, representatives of other faith communities—including Jews, Methodists, Catholics, Native Americans and others—took turns leading songs and prayers, and sharing stories about persons who faced challenges obtaining health care.
Sen. Jeff Merkley (D-Ore.) stopped by the vigil in the morning as the Pan African Church Leaders and Bread for the World handed off leadership of the gathering to the United Church of Christ. Merkley said, "I have never seen a piece of legislation that could do so much harm to so many." Merkley encouraged participants to continue their grass-roots activism and to make their voices heard during the congressional recess. The senator observed that no other major country "has the kind of health care stress" that the United States does.
Fay Bailey, a member of the Friends Meeting House of Virginia Beach, VA, was one of those who attended the vigil from its start on Wednesday afternoon.  She said she had been motivated to attend because she was "so upset at what's going on. It's unjust, unfair and inappropriate."  Bailey said she had learned more about the issue over the hours of the vigil and is now motivated to do more. "I don't think people are aware of the damage" the legislation would cause.
Other UCC members who addressed the vigil were Rev. Michael Schuenemeyer, executive for health and wholeness advocacy; Rev. Jason Carson Wilson, a justice and peace fellow with Justice and Witness Ministries; Rev. Jessica Palys, pastor of First Congregational UCC in Hastings, Neb.; Rev. Michelle Torigian, pastor of St. Paul UCC in Cincinnati, Ohio; and Lisa Griffith Tierney, a seminarian who serves with the Program for All-Inclusive Care for Elderly People (PACE) in Des Moines, Iowa. Speakers shared stories about their own experiences dealing with the high cost of health care, and drawing lessons from Biblical stories of healing.
UCC national officers encouraged delegates and visitors heading to Baltimore for General Synod to attend the vigil. A quick roll call revealed that people traveled from Pennsylvania, Minnesota, Ohio, Vermont, Louisiana, Missouri and Arizona to attend.
Participants were also encouraged to take time to make a call to their senators. Send the text message "UCC Act" to 52886 to connect with your representatives about the issue.
Sara Fitzgerald, a Synod newsroom volunteer, is a member of Rock Spring Congregational United Church of Christ in Arlington, Va.
---
Related News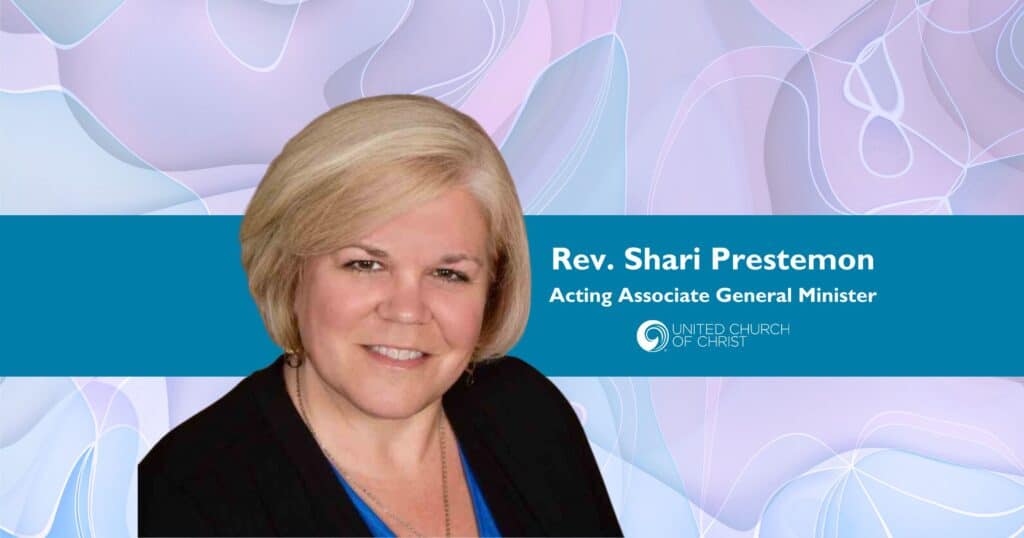 A new United Church of Christ national leader has been called. The UCC Board voted in a...
Read More