UCC Honors Standing Rock Youth Water Protectors
The United Church of Christ presented the inaugural Movement Makers Award to the youth of the Standing Rock Water Protectors on Saturday, July 1, to a standing ovation from the entire house. Ten young people stood as representatives of their movement, testifying both to the work they have done and to their commitment in the continuing struggle.
Daniel Grassrope had been among the young people who delivered a petition to the Omaha office of the Army Corps of Engineers, urging them to divert the route of the Dakota Access Pipeline away from the Standing Rock people's water supply and its sacred ground. The cause came at a time when he was looking for focus.
A regular runner, Grassrope had been wondering how he could make his paces serve a purpose. He considered and rejected several before being asked to join the run to Omaha. "I kept going and going," he said in an interview.
"Water is not a trademark or an accessory," he realized as the miles passed. "It is a necessity and given of life.
Jasilea Charger found motivation for herself and her comrades in the movement. "Whenever you push someone out of their comfort zone, you do it because you never know how it will change their life." In the case of the people of Standing Rock, that simply meant preservation of clean water.
In making the presentation from the Synod stage, Acting Executive for Justice and Witness Ministries the Rev. Traci Blackmon quoted a vision of Crazy Horse, which he shared with Sitting Bull just before his murder. "I see a time of seven generations when all the colors of humankind will gather under the Tree of Life, and the whole earth will become one circle again. In that day, there will be those among the Lakota who will carry knowledge and understanding of unity among all living things and the young white ones will come to those of my people and ask for this wisdom. I salute the light within your eyes where the whole Universe dwells. For when you are at that center within you and I am at that place within me, we shall be one."
Holding their awards, whose acrylic slopes gleamed like fresh waters, Terrell Catt, Andreanne Catt, Jasilea Charger, Morgun Frejo, Daniel Grassrope, Lauren Howland, Wambli Red Bird, Joseph White Eyes, and Eryn Wise raised their hands skyward and proclaimed:
We stand! With our brothers! With our sisters!
We stand! With our people! For one nation!
We stand! For water! For life!
We stand! We stand! We stand!
The Rev. Eric Anderson is a volunteer with the United Church News team for this, his sixth General Synod. He joyfully serves as pastor of Church of the Holy Cross UCC in Hilo, Hawai'i. 
---
Related News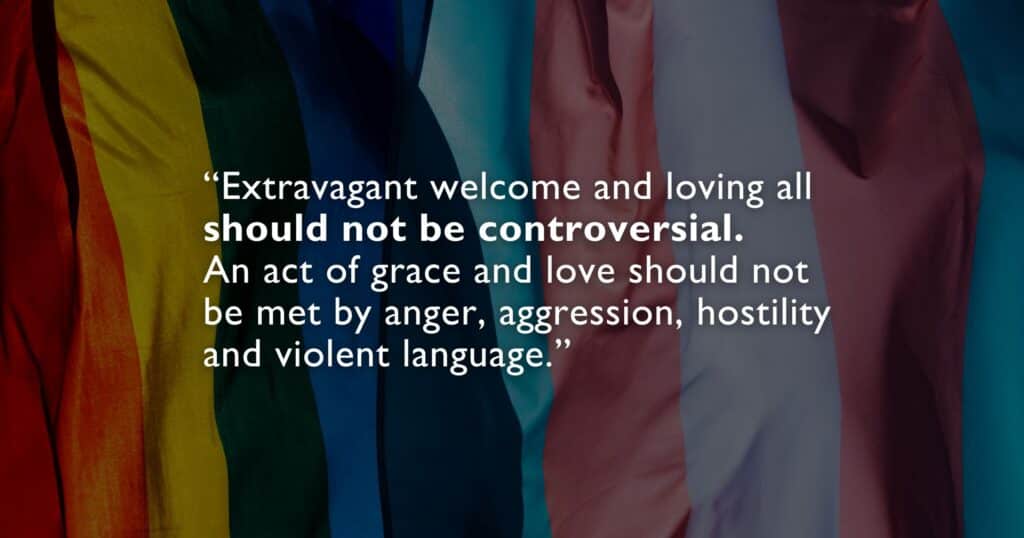 The United Church of Christ National Officers and the Conference Minister of the South Central...
Read More