Greensboro church building a tiny house for a homeless veteran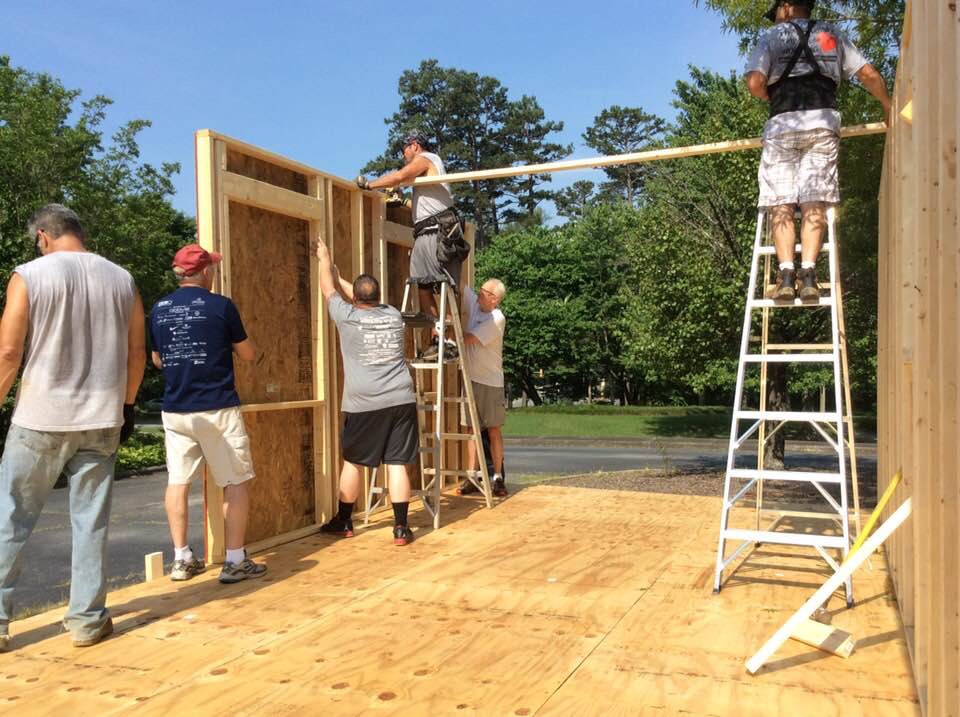 A homeless veteran in Greensboro, North Carolina will soon have a cozy place to call home courtesy of a United Church of Christ congregation and supportive community volunteers.
"Peace Church was looking for a mission project that all of our members could participate in, in one way or another," said the Rev. Tom Warren, church pastor. "We started talking to the people at Tiny Houses Greensboro (a local nonprofit building safe, affordable, permanent housing), went to a few of their meetings and we partnered with them to specifically offer a place to live to a homeless veteran."
So the people of Peace United Church of Christ in Greensboro took on a construction project, one where they would begin building a tiny house in the Church parking lot.
"A ministry of service to others has always been a vital expression of our faith," said Cindy Spillers, chair of the Peace UCC church mission council. "We felt a need to find a project to bring us all together as one to promote self-understanding as a congregation and to foster our connection with each other. When we learned of the large number of homeless veterans in Greensboro, we felt called to do something about it."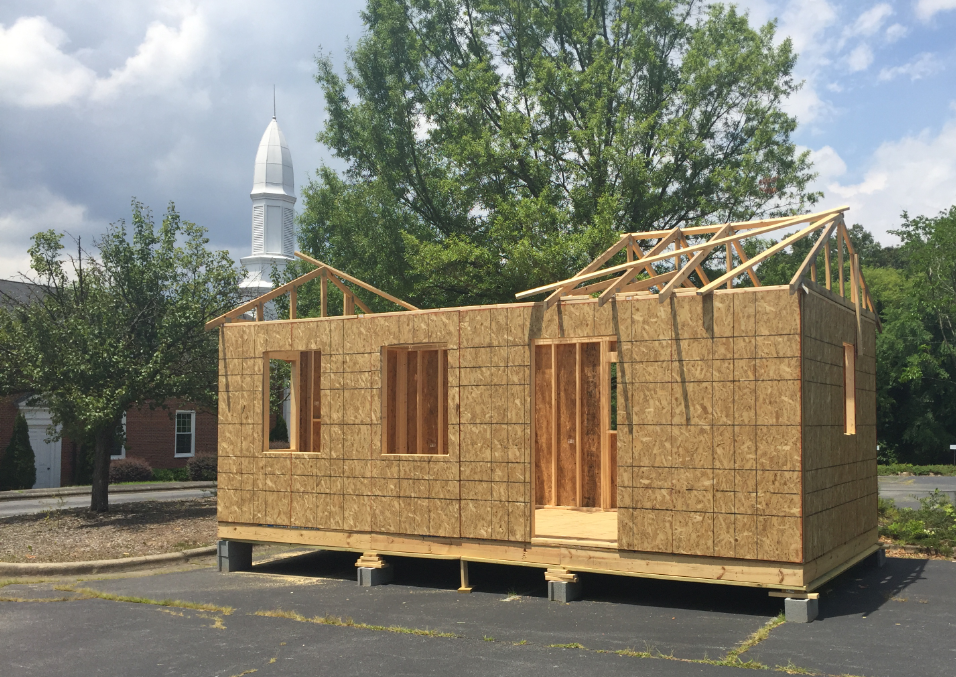 After Warren and Spillers found out there are 53 homeless veterans living on the streets in Greensboro, they pitched the idea of building a home for one of them as a summer ministry. Members of Peace Church got immediately on board. In fact, when Jim Spillers, Cindy's husband and war veteran, got wind of the idea, he decided to fund the entire project and wrote a check for $20,000.
"I think if a person is dodging bullets or doing anything else in the military and then needs help, I want to be part of it," Jim Spillers said. "I feel very blessed that I am able to help. I may become more involved in future projects for the homeless."
Peace Church has had a prototype of the project – a finished tiny house – parked on the church lawn since Easter to generate interest and excitement in their community. So when congregants actually started construction three weeks ago, they had lots of help.
"We work on it Saturday mornings from 8-2," Warren said, "And every Saturday we have people show up at the project site to help us. These are community members who have nothing to do with our church!"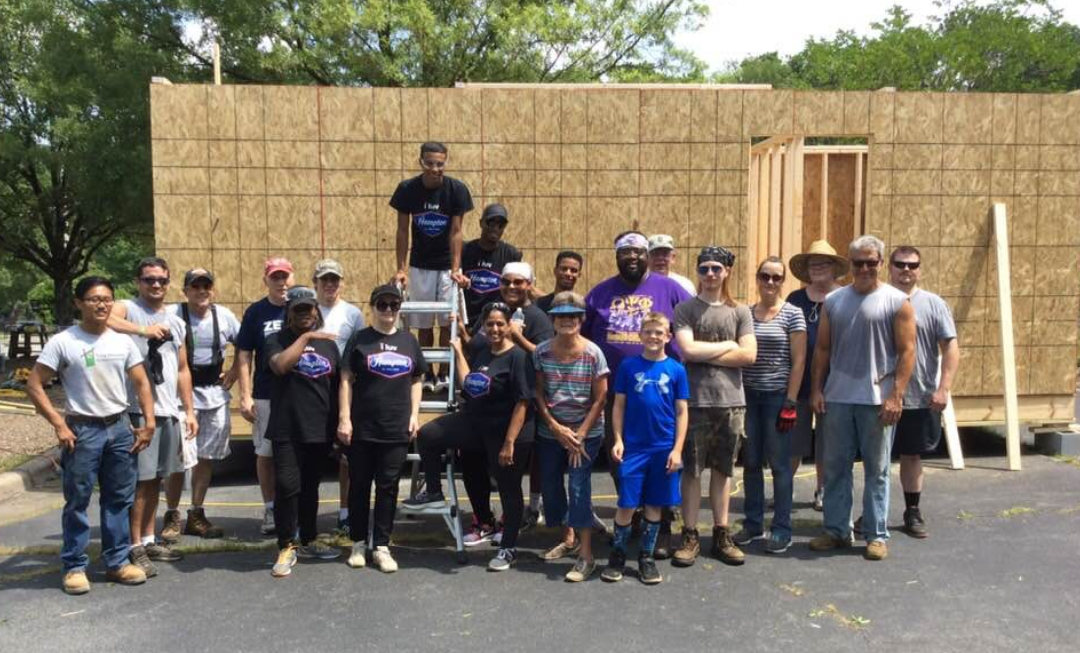 "Because building a tiny house involves a wide range of talents, everyone from children to older, inactive adults has an opportunity to participate," said Cindy Spillers. "Children raised funds by making jewelry and selling it at our Spring Carnival. Older children helped at the work site. Preparing food for volunteers, donating funds, recruiting friends and family to help, lending tools, providing skilled labor, and publicizing the event require all of us to get involved."
David Murray, part of the Peace Church Kitchen Krew, is making sure everybody stays well-feed and hydrated. "It's been exciting. Tom Bader, the construction superintendent, said he's never seen so much done so quickly," he said. "We have people walk by and see what is happening, and they ask, 'Can I come work on it?' The inner feeling you get when you see a bunch of people work together to help one person is amazing. That has certainly happened."
After raising the walls of the tiny house on church grounds, Peace Church volunteers moved the building and put it on a foundation, where it can be framed in, finished and connected up to utilities. Tiny Houses Greensboro has created a neighborhood on a donated city block where there will be six small homes eventually.
When finished in late August, Peace Church's tiny house will have 340 square feet of living space on one level; a small living room and kitchenette complete with a kitchen sink, granite countertops, a small shower in a small bathroom, a stackable washer and dryer, and a small bedroom.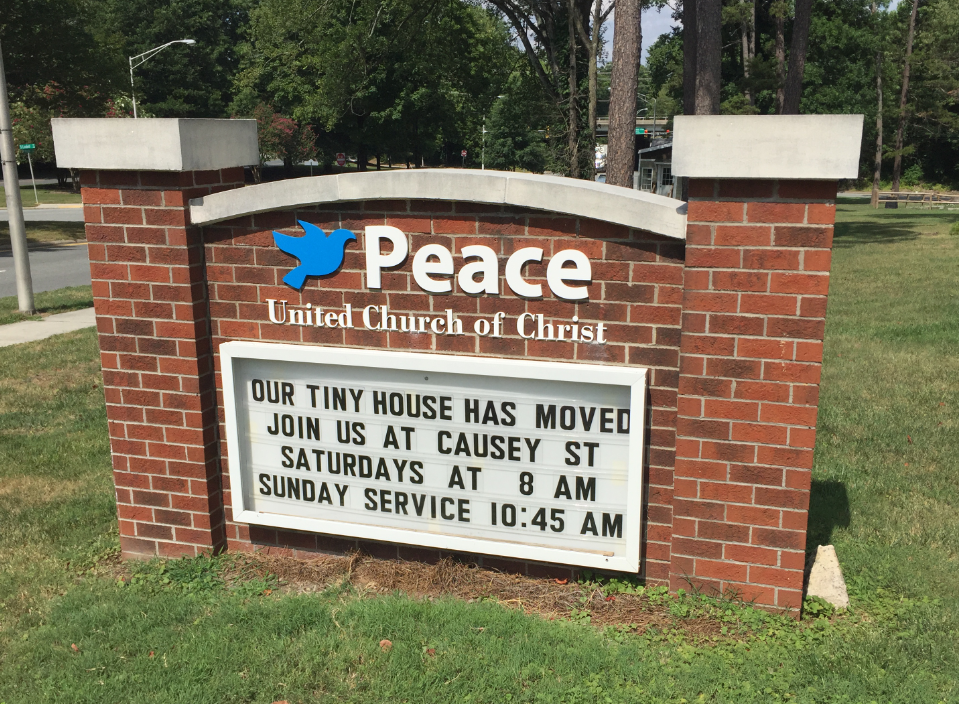 "We will get it move-in ready," Warren said, "Provide towels and linen, furniture and a refrigerator filled with food. Then our responsibility is over, but our dedication of the project is not. We hope to develop a relationship with the veteran, whoever he or she may be."
Warren said the idea is to put a roof over one's head so that person can get back on his or her feet. Give a veteran a home, without a time limit, "to take the pressure off so they can find work, counseling and get medical and other help they may need with a safe, secure place to live, tied to a network of social agencies in town. Our house is permanently dedicated to a veteran. (Even once the first tenant moves on) it will always be a place for homeless vet to live."
"I hope our congregation will continue to have an impact on solving the problem of homelessness by raising awareness of a practical solution and to encourage others to volunteer with Tiny Houses Greensboro," Cindy Spillers said. "The project has connected our congregation to the larger community in a new, exciting venture. It has enhanced our visibility in the neighborhood. Working together helps us to connect with each other, understand each other, and to grow."
'It's been really inspirational to me," Murray said. "I don't like handouts. I love hands up. I want to help someone get back up. People who are downtrodden can be uplifted. It's an amazing ministry. I am more proud of this mission than anything else we've ever done."
---
Related News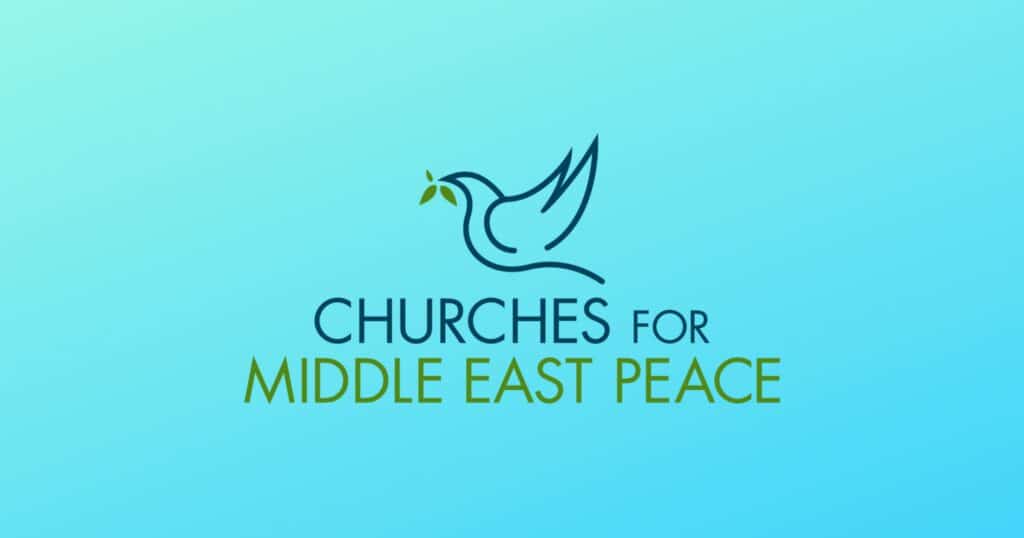 The following statement was issued Dec. 2 by Churches for Middle East Peace (CMEP), of which...
Read More