Grass That Grows Thru the Crack: Gratitude Amid Hard Times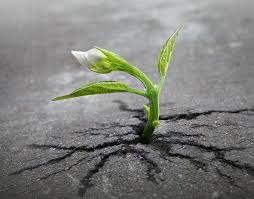 More than one classic cartoon character has been portrayed as being so beset by misfortune that he is followed by a perpetual rain cloud above his head everywhere he goes. For those concerned about environmental justice, this past year could have easily induced the feeling that our nation has a perpetual cloud hanging over its head—a toxic cloud to be precise. In a recent interview, Bill McKibben observed how the Trump administration has wasted no time in "dismantling 30 years' worth of environmental regulation."
In the midst of all of this, I believe there is a case to be made for churches to serve as places not only of prophetic resistance but also thanksgiving, as counterintuitive as that might sound. Gratitude in church need not be a theologized form of "positive thinking" that seeks to avoid reality. Instead, it can demonstrate the human capacity to recognize and celebrate the stubborn goodness of life that somehow manages to sprout and grow despite the circumstances. Malvina Reynolds captured this sentiment the best in her song "God Bless the Grass":
God bless the grass that grows thru the crack.
They roll the concrete over it to try and keep it back.
The concrete gets tired of what it has to do.
It breaks, and it buckles, and the grass grows thru,
And God bless the grass.
God bless the truth that fights toward the sun.
They roll the lies over it, and think that it is done.
It moves through the ground and reaches for the air,
And after a while, it is growing everywhere,
And God bless the grass.
God bless the grass that grows through cement.
It's green, and it's tender, and it's easily bent.
But after a while, it lifts up its head,
For the grass is living and the stone is dead,
And God bless the grass.
God bless the grass that's gentle and low.
Its roots they are deep, and its will is to grow.
And God bless the truth, the friend of the poor,
And the wild grass growing at the poor man's door,
And God bless the grass.
---
The Rev. Dr. Brooks Berndt is the Minister for Environmental Justice for the United Church of Christ. He can be found on Twitter as @The_Green_Rev.
---
Related News
Slavery in its various forms is an age-old institution, as old ashumancivilization itself, and...
Read More