Antwone Fisher to keynote General Synod Gala for literacy
When the United Church of Christ General Synod gathers this summer in Cleveland, the denomination plans to sharpen its focus on literacy advocacy, using a celebrity keynote and the proceeds from an evening fundraiser to kickstart a literacy grants program.
"A Place Like This" — the General Synod Gala — will call attention to the unexpected places where low literacy rates impact people's lives as it raises funds to directly support local literacy programs in congregations of the Ohio Conference of the UCC.
The event, which will take place Saturday, June 27, at 5 p.m. in the Grand Ballroom of the Cleveland Convention Center, is co-hosted by the national setting of the church and the Ohio Conference of the UCC.
"The General Synod Gala will present a lively opportunity for the people of the church to gather, engaged in fellowship with one another and united in spirit," said Cheryl Joseph Williams, director of the UCC's Office of Philanthropy and Stewardship. "In light of the fact that, even now in 2015, some 30 million people in our country cannot read, literacy will be raised up as a missional focus at General Synod. In support of that focus, dollars raised from the Gala will be used to launch a robust Reading Changes Lives grants program."
"A Place Like This" will feature a keynote address from noted director, screenwriter, author and film producer Antwone Fisher.
The Cleveland native, born in an Ohio prison, victimized by long-term child abuse and raised in foster care, has gone from being one of the homeless on the streets of Cleveland to becoming a prolific writer with a passion for literacy. After serving in the U.S. Navy for 11 years, and as a federal correctional officer, Fisher started his writing career with Sony Pictures.
"Mr. Fisher's story is a provocative one that will compel us to consider some of the social justice issues of this day, such as literacy, in a fresh way," Williams said. "Those who attend the gala can know that, by their very presence, they become a part of a call to action to address literacy across the breadth of the church."
Fisher has worked in Hollywood for 20 years as a writer and producer, with14 writing projects or assignments with major studios. Among those projects is the feature film "Antwone Fisher," which he wrote based on his autobiography, and was directed by and starred Oscar-winning actor Denzel Washington.
Fisher received the Humanitas Prize in 2003, the Screenwriter of the Year Award from the National Association of Theater Owners, has been listed in Variety's "Fifty People to Watch," named among Fade In Magazine's "100 People in Hollywood You Need to Know," and is a recipient of an honorary doctor of humane letters degree from Cleveland State University.
Fisher continues to work as a director, author, poet, lecturer, college professor, movie producer and screenwriter. His most recent book, A Boy Should Know How to Tie a Tie: And Other Lessons for Succeeding in Life, was published in 2010. Fisher also teaches in the UCLA Extension Writers Program, the country's largest continuing education writing program.
His hometown appearance at General Synod 2015 will help support the Reading Changes Lives grant program, which will be managed by the Ohio Conference in partnership with the UCC national offices to fund new or existing literacy programs in area congregations that work to increase literacy rates and connect literacy with other social justice issues. Grant applications will be available on July 1, with grants awarded in one-year, renewable terms for up to $3,000.
One in every two Cleveland adults has literacy skills below the minimum standard—a statistic that hasn't changed since 1990. Three of five area public schools do not meet the state minimum requirement for reading at a fourth-grade level. 
"The theme, 'A Place Like This,' comes from the United Church of Christ's reassurance that whoever you are, wherever you are in life's journey, you are invited to bring your whole self to the UCC – you can know that you are home in 'a place like this'… that good things happen here, that literacy can happen, that lives are changed for the better in a place like this," Williams said. "I hope that as many as possible will join us for a delicious meal and refreshing conversations with old and new friends that inspire us to grow and exercise our faith."
Table packages to the gala are available through Synod sponsorship. Individual tickets, available for $150, include dinner and the keynote address, and can be purchased online or by contacting Mary Paxton in the Office of Philanthropy and Stewardship, via email or at 216-736-2140. Churches or organizations that do not wish to sponsor may purchase a table for eight at a discounted price of $1,100.
---
Related News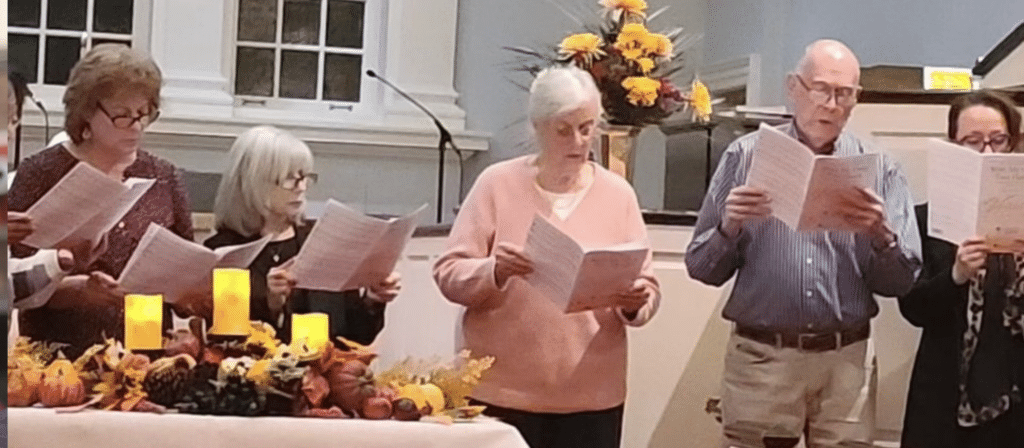 Many United Church of Christ congregations across the country participated in interfaith...
Read More