General Synod's Sacred Conversations on Race
The issue of racism has surfaced in communities around the country recently, with public protests surrounding the deaths of black men at the hands of police taking place in Ferguson, New York, Baltimore and Cleveland. When Cleveland, home of the denomination's national offices, hosts the General Synod of the United Church of Christ at the end of this month, the church's governing body will speak to the issue of racism once again through its pronouncement of resolutions and public witness calling for fairness of all people, regardless of their skin color.
The Rev. M. Linda Jaramillo, executive minister of UCC Justice and Witness Ministries, says that people of faith are called to erase racism. "The Bible tells us in Galatians 2 that 'God shows no partiality'," she said. "If I truly understand and believe this, then it is my Christian obligation to work toward the eradication of this societal blight based upon one's skin color."
The Rev. Geoffrey A. Black, UCC general minister and president, believes that addressing racism through faith requires a mix of justice and peace. "I discussed this in a pastoral letter at the end of 2014, and I still think that the struggle for justice and peace are linked," Black said. "To engage in the struggle takes courage and a renewed commitment to advocacy and action, to deepening racial awareness by engaging in sacred conversation, and to truthfully examining – then dismantling — the systems of privilege set in place by racism. During this General Synod in Cleveland, we will be on that journey and joined in that struggle together to find and build a beloved community."
Three resolutions dealing with issues of racial injustice will focus the church's attention on addressing institutional racism and economic injustices. In all, there are 15 proposed resolutions for adoption during the five-day gathering from June 26 to 30 in Cleveland (With one resolution already sent directly to an implementing body).
"With the presentation, debate, and vote on these new resolutions, the United Church of Christ continues to sound the alarm as it pertains to racial injustice in this country, and abroad," Jaramillo said. "The fact of the matter is that the UCC has been a prominent leader in conversation on race, racism, and reconciliation from the beginning of our life as a united and uniting denomination. General Synod 30 is certainly no different."
One of the proposed resolutions, submitted by a mix of conferences, associations and Justice and Witness Ministries, will ask the church to "identify the New Jim Crow as a critical human and civil rights issue in the United States." It calls on the church to eliminate racism in all forms by ending the War on Drugs and stopping mass incarceration because they disproportionately affect communities of color, end bias in arrests and sentencing, and restore voting rights for people who have completed their prison sentences.
Another resolution, "
Dismantling the New Jim Crow
," comes from five different conferences and also asks the church to name mass incarceration as a civil and human rights issue because of its disenfranchisement of people of color, youth and people with limited economic means.
According to the resolutions, African American males make up only 6 percent of the U.S. population, but account for 40 percent of those in prison or jail. In the last 10 years, there has been an increase of 219 percent of incarcerated Hispanics. But the bias isn't limited to racial lines; people with mental health conditions comprise 64 percent of the prison system nationwide.
Finally, the Central Atlantic Conference is asking the church to pressure the NFL and the Washington, D.C., franchise to change the team's name from the racially derogatory term "Redskins." The resolution, adopted by the conference in June 2014, also calls on the church to boycott all of the team's games—eight at home, and eight of which are on the road in other cities (two games in the New York area, Atlanta, Boston, Charlotte, Chicago, Philadelphia and Dallas)—and team merchandise bearing the nickname and logo until they are changed.
Supporters of the team's current name and logo, particularly the franchise owners, management and its fans, say the name honors the history of Native Americans and that it is not meant to be offensive.
"These are Sacred Conversations on Race in action," said the Rev. Elizabeth Leung, UCC minister for racial justice. "Our Christian faith tells us that we are all created in God's image. These actions are a spiritual resistance to the systemic racism in sports, media, and criminal justice that disfigure God's image in all of us. These spirited actions inspire us to stay engaged with each other in the long run, to a lifestyle that is about racial equity and justice for all."
"Together, we can generate conditions that allow for the fullness of life for those who have suffered racism's destructive impact," Leung said.
In addition, Justice and Witness Ministries, the UCC Council for American Indian Ministries and the Cleveland Committee of 500 Years also plans to hand-deliver signed petitions to the offices of the Major League Baseball franchise the Cleveland Indians, whose offices are in downtown Cleveland. The petitions renew the call to change the team's mascot, a cartoon caricature of a Native American named "Chief Wahoo," and the team name. While the ball club does not have any home games while General Synod is in session, JWM leaders believe that this witness will still be powerful.
Recently, UCC national officers called for accountability in Baltimore in response to unanswered questions surrounding the death of 25-year-old Freddie Gray, who died from a spinal injury on April 19, which he suffered while in the custody of the Baltimore Police Department.
The officers also called to expose discrimination in Cleveland's police department after the acquittal of an officer involved in a 22-minute police chase with 137 gunshots fired, which ended in the deaths of an unarmed black man and woman. They also denounced the killing by police in November of a 12-year-old black child, carrying a toy pellet gun in public, and have planned a service of lamentation during General Synod.
"I believe God, in all Her wisdom, will continue to make Her presence known this summer in Cleveland, in and through the involvement of the UCC, community partners, and local municipalities as God strives to do a new thing for the betterment of all people, no matter their race, color, or ethnic origin," Jaramillo said. 
---
Related News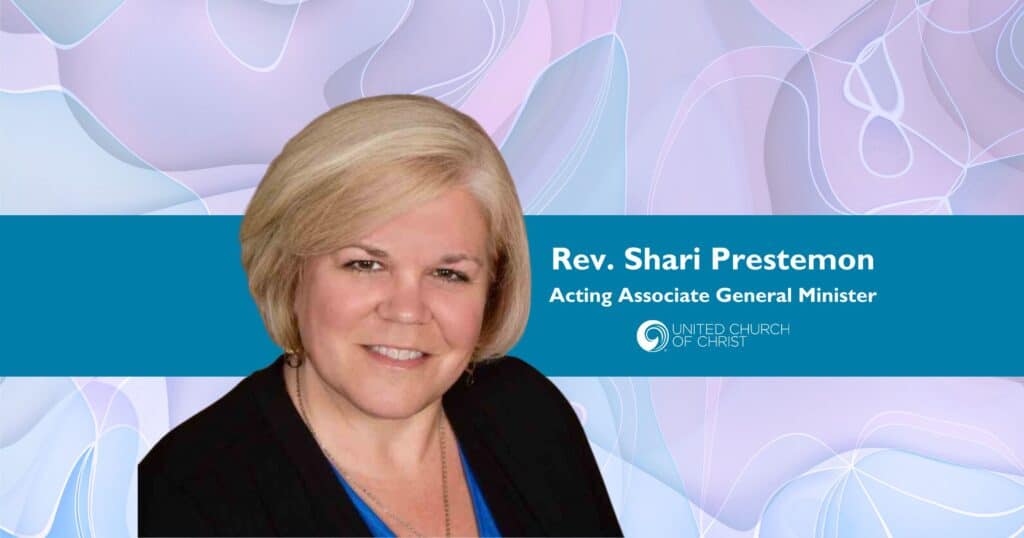 A new United Church of Christ national leader has been called. The UCC Board voted in a...
Read More