From housing to hair care, new Adese class sees business as force for community uplift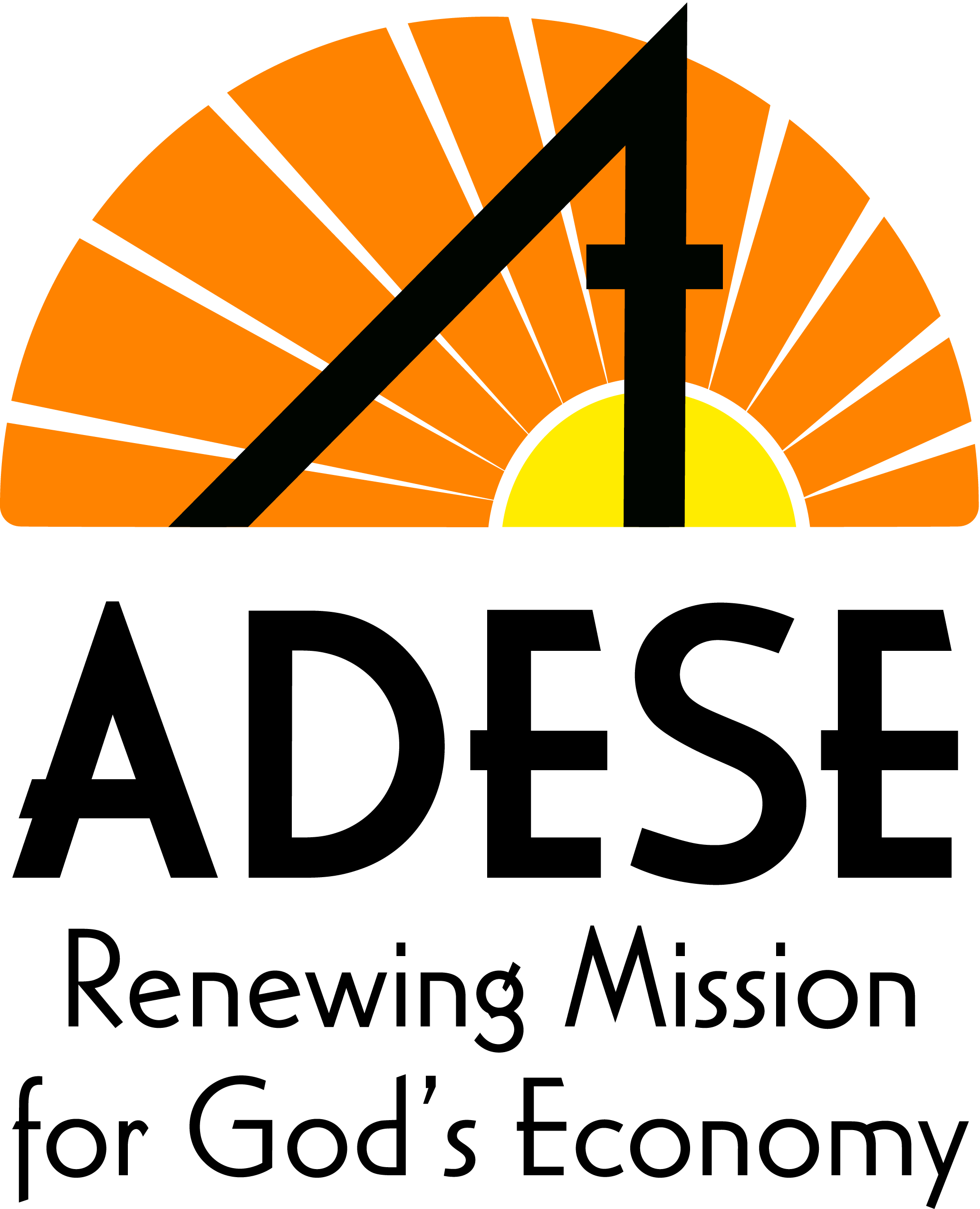 Eleven clergy and laypeople who believe business can be a force for justice have been named to a new class of United Church of Christ Adese Fellows.
With support from each other and a national UCC faculty, the 2020 cohort of Adese Fellowship participants will pursue projects ranging from housing, employment and mentoring programs for people in need to a publishing operation and a line of toxin-free hair products.
Operated by the Church Building and Loan Fund with support from other national UCC ministries, Adese is a yearlong program. Through retreats, videoconferences and site visits, participants "gain clarity about themselves and their venture, prototyping and testing their concept, and building a team," according to the program's website. "At the intersection of faith and enterprise lies opportunity," reads one of its slogans.
Adese takes a faith-related approach, but participants are not all UCC members and their projects need not be church-based. Theological study is a core part of its curriculum, along with practical and community-building aspects. "Adese embraces the idea that whatever ignites faith, eliminates poverty and redeems creation is what the mission of the church is all about," said the Rev. Patrick Duggan, executive director of CBLF, who serves as a mentor.
Pronounced "ah-deh-say," the fellowship's name is from the Amharic language, from the horn of Africa. It means "renew." That is what this year's participants hope will happen to them and the communities they serve.
How to house and help the homeless
"It is really just a project on paper at the moment," said the Rev. Christina Siva, describing Alex's Place, a nonprofit housing-and-helping venture she envisions in rural Banning, Calif., an hour east of Los Angeles. "I'm really excited to have the fellowship, to give me the push to put the time and energy into it to make it happen." She'll pursue the project in 2020 while continuing her quarter-time pastorate at Congregational Church of Fullerton, UCC.
The Banning area, where Siva lives, already had a homeless population when more people arrived recently, having been relocated from rain-flooded homeless camps elsewhere. Inmates released from a local jail also regularly struggle to find homes. New housing is being built, but it is priced for commuters to other cities. Most social services are 30 minutes away by car. "I see a lot of long-term homeless people – familiar faces on the street," Siva said. "The east side of Banning is especially poor and has empty lots full of trash, where we could create affordable housing or free housing and not only meet a need but actually improve the community."
Siva hopes to use Community First of Austin, Tex., as a model. It's a planned village that offers homeless people diverse housing and community-building opportunities. She was inspired by an online video about Community First. She learned about Adese while serving as a delegate to the 2019 UCC General Synod in Milwaukee and applied.
She looks forward to figuring out structure and funding for Alex's Place, named for her late brother, "a generous soul who struggled in life and could connect to anyone." In addition to housing, she imagines working with area partners to create a community center offering mental health services, recovery groups and more.
Research will be part of her Adese work. "I really need to connect with homeless individuals in our area to look at what services we should be providing," she said. "And beyond the homeless population, we have a lot of people living on the edge who could benefit from services that would keep them from becoming homeless."
'Rejuvenated to believe in myself'
Renita White of Chicago is a social entrepreneur who says Adese helped her realize her dream – "to employ people and make sure people get employed." Raised on and still a resident of the city's South Side, she saw the human good her parents and grandparents did as grocery store owners. "I always say they were social workers," White said. "What stood out for me was how much they did to help people. I saw all the people they employed, all the discounts given on groceries," especially when neighbors faced layoffs or other hard times.
When White joined Adese's inaugural 2018 cohort, she already had years of experience as a creator of workforce development programs at a UCC-related Chicago agency, UCAN, and as a private consultant. She incorporated Of Color, Inc., in 2016, "but I didn't do anything with it." Adese helped her focus on her dream as she honed her business model.
"Adese was one of the entities that helped me to realize that I had the skills, knowledge and support to step out on my own," White said. "Through Adese literature and teaching, I was rejuvenated to believe in myself. With this belief – and with mentors, coaches, family and friends, a true team – I have been able to move forward to build what has been in me to do all along. "
White left UCAN in March 2019 and is now set to launch a nonprofit, Of Color, Inc., in 2020, helping people in economically challenged South Side neighborhoods imagine careers, build skills, get jobs, stay employed and start businesses. With startup grants now written and a website in development – and backed by savings from her years of consulting – she will gradually roll out a variety of programs, "linking people to learn-and-earn opportunities, then a sustainable job with benefits, certification programs or institutions of higher learning."
White's goal for Of Color, Inc., "is to serve 1,000 people annually and 1 million by the year 2030." Its offerings will eventually range from an elementary-school career curriculum for ages 10 and up to a commercial cleaning service that will employ adults while also giving them job-readiness training. "We will also provide seminars that help young and old entrepreneurs start their own ventures," she said. "Sometimes people don't know what to do. They have a really good idea, but they don't know how to take it any further. One of the things I love is to share what I know." She has already been invited to help mentor the next Adese cohort.
Class of 2020's diversity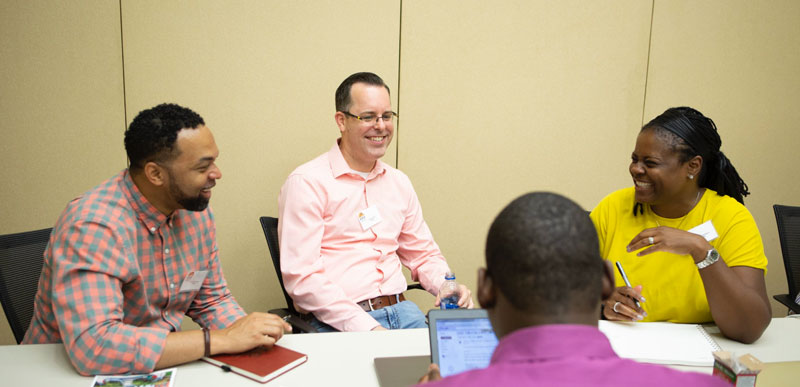 Launched in 2017, the Adese program took on its first class of 14 participants in 2018, then took a year's break in 2019 to evaluate. The new cohort includes five UCC'ers, a dually affiliated UCC and Christian Church (Disciples of Christ) minister, a Roman Catholic and four people who identify themselves either as nondenominational or simply Christian.
The 2020 Adese Fellows are:
• The Rev. Darnell Fennell, Houston. The Neighbor-Hub, a co-working hub for black-owned small businesses, disrupting legacies of inequality.
• Briana Ford, Chicago. OWAN, providing a bridge to employment opportunities for residents in the Englewood and West Englewood neighborhoods of Chicago.
• The Rev. Rachel Hackenberg, Shaker Heights, Ohio. Open Waters Publishing, serving a non- and multi-religious audience with books that explore new and evolving conversations.
• Alison McCrary, New Orleans. Re-Entry Mediation Institute of Louisiana, seeking to decrease recidivism rates and improve a person's transition home from incarceration with the sustainable support of positive relationships with loved ones.
• The Rev. Michael Malcom, Birmingham, Ala. People's Justice Council, engaging, equipping and empowering communities to fight for themselves.
• Sandra Mosley, Gary, Ind. No Harm Natural Hair Care Products Institute, offering natural, chemical-and-toxin-free hair care products to black-owned businesses nationwide and to black women via a mobile app subscription.
• The Rev. Brian Murray, Baltimore. New Covenant Impact/Innovation Hub, bringing needed services for community improvement to an underserved area.
• Rachel Parker-Chavez, Los Angeles. Our Community Village, providing affordable, eco-friendly housing, ongoing support and inclusive community for young adults transitioning out of foster care in Los Angeles County and beyond, with an emphasis on self-sufficiency and upward mobility.
• Keshia Phillip, Brooklyn, N.Y. Coditivity, providing quality comprehensive faith-based mentoring, skills training and support to underserved, at-risk youth.
• The Rev. Naomi Schultz, Campbell, Calif. To develop long-term, life-giving and impactful relationships between diverse individuals and groups working to reduce economic injustice in Santa Clara County.
• The Rev. Christina Siva, Banning, Calif. Alex's Place, serving the homeless and housing insecure in Banning by providing a place to live and gain access to the resources and services needed to establish greater financial security.
---
Related News
On a recent trip to Palestine and Israel, the Rev. Allie Perry was part of a delegation that...
Read More