Four preachers to lift up 'the unexpected' at General Synod 2015
"As a group, they are diverse in their ministry settings, in their ethnicity and where they come from," said the Rev. Ivy Beckwith, team leader for the UCC's Faith Formation Ministry. "They're a good representation of the UCC and its priorities, and its ecumenical spirit."
The scriptural inspiration for the General Synod theme "Unexpected Places" comes from Genesis 28: 15-16, part of which reads, "Surely God is in this place, and I did not know it." Registration for General Synod 2015, the 30th biennial gathering of the denomination that takes place June 26-30 in Cleveland, opens on Tuesday, Sept. 8.
The Rev. Molly Baskette, a young UCC pastor from Massachusetts with a knack for church revival, delivers the opening sermon Friday evening, with Bishop Dwayne Royster, a community organizer and pastor of a Philadelphia UCC congregation, preaching the Sunday community worship service. The Rev. Mitri Raheb comes from Jerusalem, with the Middle East a topic of conversation throughout General Synod. He preaches Monday evening. The Rev. Sharon Watkins of the Christian Church (Disciples of Christ) will offer the closing sermon on Tuesday. Watkins is preaching at General Synod, while the Rev. Geoffrey A. Black, general minister and president of the UCC, will preach at the Disciples' General Assembly a few weeks later.
"I'm sure they'll have some interesting things to say about finding God in the unexpected places from which they come," Beckwith said.
Here's background on all four preachers in the order they will present their sermons:
The Rev. Molly Baskette, opening worship, Friday, June 26
Baskette has served as lead pastor of First Church Somerville UCC in Somerville, Mass., since November 2003. She is also the author of the recently-published book "Real Good Church: How Our Church came back from the Dead and Yours Can, Too." A recent cancer survivor, Baskette blogs about cancer, motherhood, and ministry at the Holy Spirit Portal. She also blogs about crazy theological questions asked by kids, and is working on books about cancer, God and children. Baskette is also a staff writer for the UCC's Feed Your Spirit site.
Bishop Dwayne Royster, Sunday worship, June 28
Royster is the executive director of POWER (Philadelphians Organized to Witness, Empower and Rebuild) and founding pastor of Living Water United Church of Christ located in the North Philadelphia section of Philadelphia. Royster is an advocate for preparing congregations for the ministry of availability, saying that, "Ministry should not be limited to Sunday mornings. Sunday is a time of worship. Ministry should be done Monday through Sunday at the bus stops, at the supermarkets, in workplaces, at soccer games – wherever people are."
The Rev. Mitri Raheb, Monday worship, June 29
Raheb, a partner of the UCC from Jerusalem, is a Palestinian Christian and pastor of the Evangelical Lutheran Christmas Church in Bethlehem (a member church of the Evangelical Lutheran Church in Jordan and the Holy Land). He is one of the co-authors of the Kairos Palestine document, a document that is a plea from Palestinians for help from the international community, and serves as a guide for the wider church's advocacy and awareness efforts in Palestine-Israel.
Since 1992, Raheb has founded and led a number of projects and institutions serving the social needs of Palestinians living in the Bethlehem area, focusing on women, children, youth and the elderly.
The Rev. Sharon Watkins, closing worship, Tuesday, June 30
As the general minister and president of the Christian Church (Disciples of Christ), Watkins is an inspirational preacher, teacher and facilitator who shares her skills in a variety of religious and ecumenical settings.
Upon her election in 2005, Watkins was the first female head of a mainline denomination. At the 2011 General Assembly, she was re-elected to a second six-year term that extends her leadership to July 2017.
General Synod registration opened Monday, Sept. 8 for delegates, exhibitors, visitors and staff.
Hotels and optional dining choices (formally sponsored meals) will also be available. New and exciting information on speakers, worship, service work and exhibits will be coming soon, so make sure you bookmark the General Synod website and check in regularly.
Registration for Youth@GS groups opens Oct. 15.
---
Related News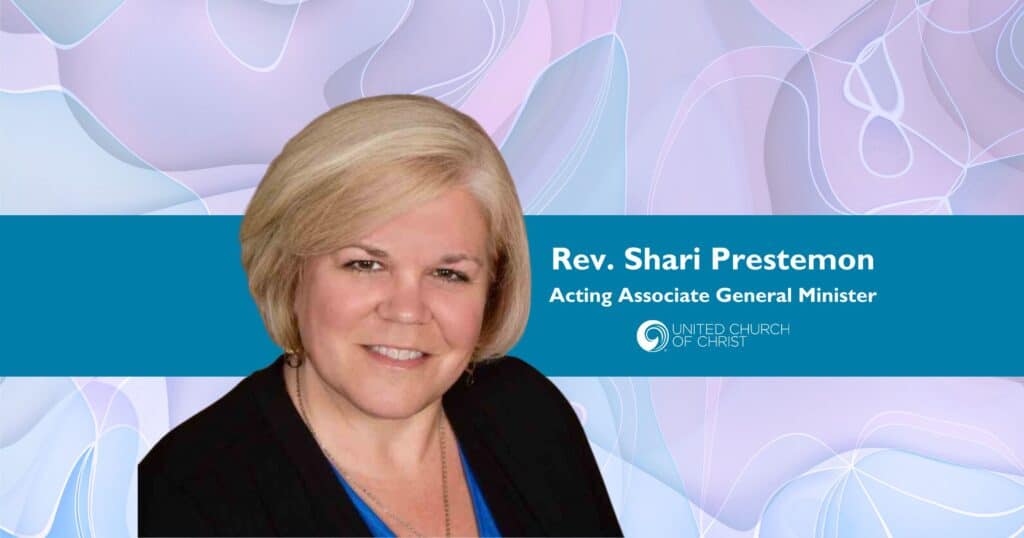 A new United Church of Christ national leader has been called. The UCC Board voted in a...
Read More