UCC, Disciples partner to bring clean water, justice to Flint, Mich.
As the potable water crisis in Flint, Mich., deepens, two Christian denominations are partnering to provide solutions.
The Michigan Conference of the United Church of Christ, the Disciples' Week of Compassion, and the Michigan Region of the Christian Church (Disciples of Christ) announced Jan. 18 the launch of "The Gospel in Action –– Flint," a joint effort to help provide water to the more than 50,000 households in Flint who have not had clean water for almost two years.
The partnership includes providing water to Vermont Christian Church in Flint, which has been designated a water distribution point.
"We have a history of working closely with the Disciples," said the Rev. S. C. Campbell Lovett, UCC conference minister in Michigan. With this joint effort, "we are living out that partnership in a powerful way." The conference staff delivered water to Vermont Christian Church Jan. 19, and also stopped by Woodside UCC in Flint to deliver much needed funds for that church's water filter distribution program. Additionally, UCC Disaster Ministries has provided a $3,000 Solidarity Grant to Woodside.
The water problems began in Flint in 2014, when the governor-designated emergency manager of the city approved drawing water from the Flint River instead of purchasing water from Lake Huron via Detroit, an effort to save the city money. According to Kathleen Reid, a member of Woodside UCC's Water Accessibility Committee, Flint's filtration plant was not equipped to treat the warmer river water, resulting in toxic water streaming through the city's pipes.
Residents complained that the water smelled foul and looked dirty, but that was mostly caused from the high iron content in the water. What residents couldn't see was worse: since April 2014, the untreated, highly corrosive river water (which violated federal law) has caused lead from the aging pipes to leach into the city's water supply, according to a report released by Marc Edwards, an engineering professor at Virginia Tech and an expert on municipal water quality, who studied the water supply under a National Science Foundation grant. His report found that Flint water was "very corrosive" and "causing lead contamination in homes."
With additional research on blood lead levels in area children, done by Dr. Mona Hanna-Attisha, a pediatrician at Flint's Hurley Medical Center, worries of lead poisoning and its effects on the city's children are now at the forefront of discussions.
"This was a disaster waiting to happen with the appointment of the emergency financial managers in cities [with large percentages of] poor and African-American residents. The powerful disenfranchised minority citizens and then made decisions without citizen input," said Lovett. "And nobody is being held accountable. This is what [former UCC Commission for Racial Justice leader] Ben Chavis called 'environmental racism.'"
According to Lovett, Michigan State University is embarking on a 5-to-20 year study on the effects of the high levels of lead on schoolchildren, which are irreversible. Lead poisoning causes neurologic damage and affects every organ system in the body, according to the Centers for Disease Control and Prevention. It can cause lowered IQs, behavior difficulties, and even death in extreme cases.
Additionally, said the Rev. Deb Conrad, pastor of Woodside UCC, Flint historically has been a union stronghold that non-union supporters have tried to break down. When industry was strong in Flint, it meant lots of tax revenue for the state and "the state loved Flint." With the revenue gone, she said, the city has been abandoned by the state. So the complaints from the city's residents and experts about the water supply were debunked and ignored for months. CNN reported Jan. 13 that city residents "were kept in the dark for 18 months."
Although the water sourcing was switched back to Lake Huron in October 2015, said Lovett, the damage to the pipes –– and to the residents of Flint –– can't be reversed, and lead levels are still high. Lead continues to leach into the water system, and the city –– along with groups like "The Gospel in Action –– Flint" and Woodside UCC –– are passing out water, as well as filters and replacement cartridges, to residents.
With all the well-meaning water contributions will come a plethora of plastic. "There will be a vast environmental impact of millions of bottles of water going into Flint," said Lovett. To troubleshoot the situation, he and the Rev. Eugene James Jr., the Disciples' regional minister for Michigan, are discussing ways the two denominations can assist in recycling efforts for the city.
But the larger issue of this poor, predominantly African-American community becoming disenfranchised by the government and suffering health consequences remains. "Charity can only take one so far," says Conrad. "Justice is needed."
Donate to the UCC's Emergency USA Fund.
---
Related News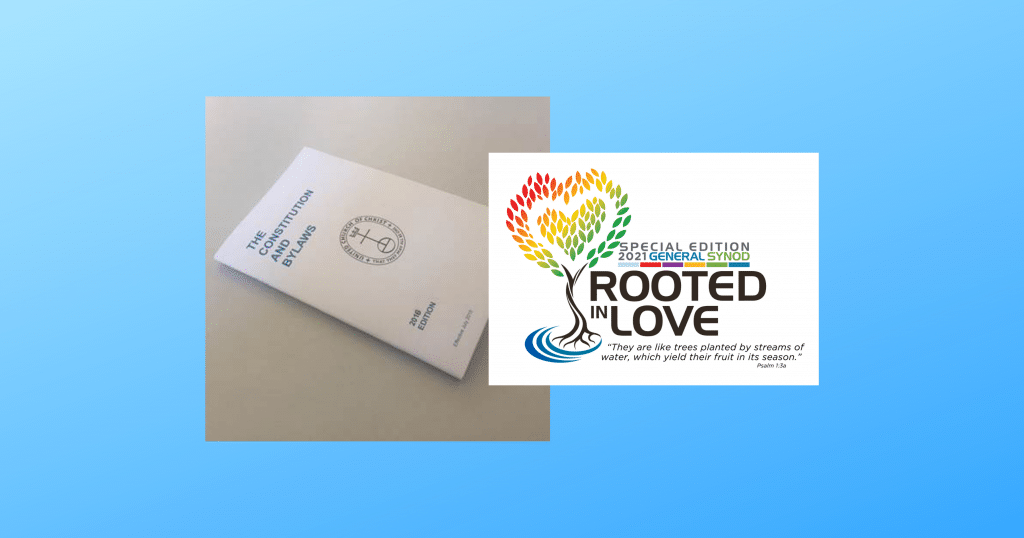 United Church of Christ delegates cared enough about Robert's Rules of Order to give them a...
Read More