Love wins at LGBT-friendly New Hampshire church
Love trumps all. The Rev. Eliza Buchakjian-Tweedy, pastor of First Church Congregational United Church of Christ, wants to spread that message far and wide as a way to say thank you to supporters around the world. Her Rochester, N.H., congregation, which received more than 70 LGBT rainbow flags from all over after its flags were stolen, will recognize the support and solidarity it received by commemorating those gifts.
First Church Congregational will celebrate a welcoming love for all people on Sunday, Sept. 7, when the church hosts a "Sunday of Extravagant Welcome" to recognize diversity within the church and around the Rochester area.
The event comes after First Church Congregational was victimized twice in July by the theft of rainbow flags that symbolize the church's Open and Affirming commitment to welcome people of all races, classes, nationalities, genders, gender identities, and sexual orientations. Since the thefts became public, replacement rainbow flags and banners have streamed into First Church Congregational from across the United States and around the world from places such as Canada, France and Germany.
The world-wide support has left Buchakjian-Tweedy feeling "overwhelmed."
"To see this outpouring of love and support — the Gospel promises that loves trumps all, that love wins over hate, love wins over anger, and love wins over death — what we have is God's kingdom shining through this small church in a small state," she said.
The Sunday of Extravagant Welcome will also reaffirm First Church Congregational's commitment to welcoming all people without exception, and thanking those who generously supported the church. Buchakjian-Tweedy will say a few words to mark the occasion, and then those assembled will gather on the church lawn to decorate the church with the six dozen rainbow flags it received. The event is open to the community.
First Church Congregational, which was founded in 1731, became an Open and Affirming Congregation in 2002. The first theft of a rainbow flag occurred in 2013, during the week of Fourth of July. When it happened again multiple times this summer, she reported it to local police. The story eventually went viral, prompting the donations of dozens of rainbow flags.
"I've gotten handwritten notes from people I've never met, flags from complete strangers," Buchakjian-Tweedy said. "To take something they read on the internet and respond in a physical and tangible way, this speaks to something profound within people."
Buchakjian-Tweedy plans to share a few donated rainbow flags with nearby churches, who are "changing their signs to say, 'We stand with First Church Congregational,'" Buchakjian-Tweedy added.
"If we can reach just one teenager, scared and alone, contemplating suicide, we will have done our job," Buchakjian-Tweedy said. "The United Church of Christ — a denomination with a long history of social justice work — holds that 'God is Still Speaking' and that churches are still called to strive for a just and compassionate world for all of creation, most especially for those who have been historically marginalized and excluded from the Church."
---
Related News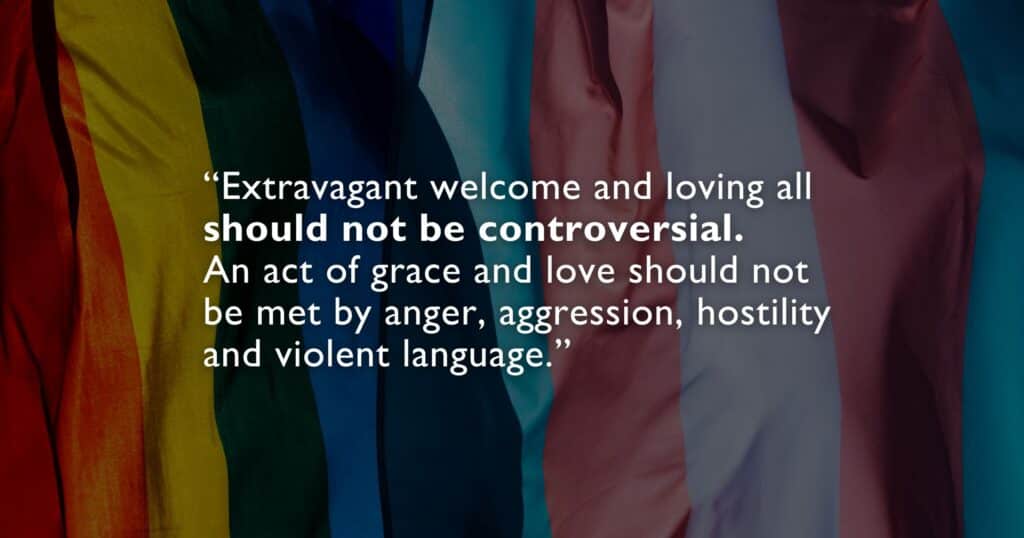 The United Church of Christ National Officers and the Conference Minister of the South Central...
Read More