Final worship service helps church grieve and celebrate Cleveland building and chapel
In a special March 13 webcast, the United Church of Christ said a prayerful farewell to a place made sacred by work and worship.
Live from the church's Amistad Chapel in downtown Cleveland, UCC leaders marked the end of two eras and the start of a third:
They said a formal goodbye to 700 Prospect Avenue, home to many national UCC ministries since 1990. The building is up for sale as the church moves its offices to leased quarters elsewhere downtown.
They gave thanks for the chapel itself — home, on the ground floor of the building, to many worship services and events since 2000.
They acknowledged sadness. "We come to worship one last time in a place we love and whose closing we grieve," said the Rev. John Dorhauer, general minister and president, as the service began.
And they looked ahead. In "from this place," a poem she wrote for and delivered during the service, the Rev. Karen Georgia Thompson, associate general minister, expressed "hopes for the future surpassing our memories of the past." The complete poem is here.
Hundreds of people tuned in to the webcast via Zoom, YouTube and Facebook Live. A recording of the service is here.
Stations of the Amistad
The service was designed with a virtual audience in mind, and with in-person attendance limited as a COVID precaution.
In a key section of the ceremony, five liturgists moved around the chapel. They paused in significant places to honor memories and symbols. Among them:
At the entryway fountain, the Rev. Janet Ross — pastor of Amistad UCC, the congregation that worshipped there each Sunday in recent years — described the welcoming symbol of water. And young Dominic Ilodi gave thanks for his baptism as a member of that church: "I hope for my life to be a witness for Jesus that started here … and will continue wherever my life takes me."
At the ramp to the chapel's upper level, the UCC's social commitments were noted, including justice for people with disabilities. "As God leads us into a new future, in new spaces and places, may our life together be accessible to all and welcoming, inclusive, supportive and engaged," said the Rev. Sarah Lund, UCC minister for disabilities and mental health justice.
Between the Bedient pipe organ, custom-built for the chapel, and the grand piano, years of music in many styles were remembered. "Every note sung still rings in the spirit of God," said the Rev. Tracy Howe, UCC minister for congregational and community engagement, by video. "May this legacy fill us and make us strong in vision and bold in new songs."
Beside floor-to-ceiling windows, the Rev. Geoffrey Black, retired general minister and president, named years of worship and other gatherings — with a view. "As we worshiped here, the world could look in," he said. "Thus, we bore witness to the world that God was present and God was still speaking."
In a nook filled with artwork depicting the Amistad rebellion of 1839, the Rev. Cheryl Lindsay — UCC minister for worship and theology who coordinated the service — noted that "we will carry this story with us," including the artwork, to the UCC's new office space.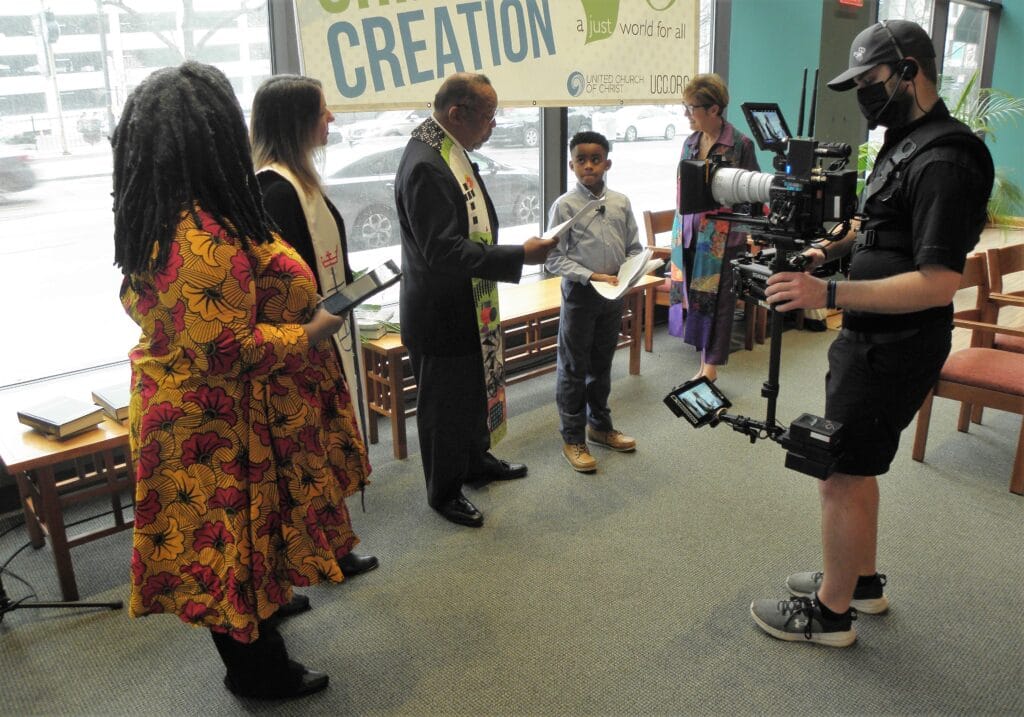 Entire building's transformation
Words of thanks and release ended the visit to each station, and worshipers sang a response asking that they each be made "a living sanctuary." Throughout the service, greetings and prayers — by prerecorded video — came from people young and old.
One of them was the man who was installed as UCC president in a Cleveland ceremony in March 1990 — on a weekend that also celebrated the opening of the UCC's then-new offices. The Rev. Paul Sherry, now 88, recalled 700 Prospect as a place where, for the first time, staff members of many UCC agencies worked together under one roof. They had previously been in three different buildings around New York City — and some came to Cleveland from a St. Louis office as well.
Sherry's remarks and other aspects of the service recalled how the former Ohio Bell building evolved in the hands of the UCC. It became a combined space — eventually known as the Church House — for lodging, meals, meetings, mission offices and worship.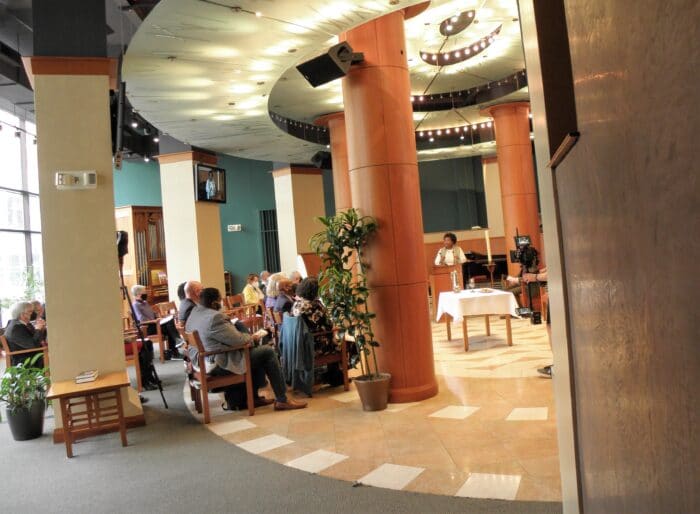 The transformation started on a parking lot behind the building, where the UCC built the nine-story Radisson Hotel at Gateway (now known as Hotel Indigo), completed in 1997. A corridor — leading past a creatively designed "Meeting House" — connected the hotel to the office building and more new rooms, including a renovated lobby. For years, the Executive Council — a forerunner of today's UCC Board — met at the Church House. So did dozens of mission-agency governing boards, ecumenical groups and special UCC committees and task forces.
Communicating faith and history
The Church House was completed with the dedication of the chapel in May 2000. Imagined by a group of UCC architects, it involved removing the walls and ceiling of an old storage area that, years before, had been a dispatch center for phone-repair trucks. A former mezzanine above it also was removed to make room for the chapel's high ceiling.
Glass and lights over the center of the chapel brightened the space. So did the large windows — overlooking Prospect Avenue on one side and a peaceful courtyard on the other. Filled with African Iroko woodwork and Jerusalem stone, the chapel was more than a place for worship and meetings. It was an interpretive center.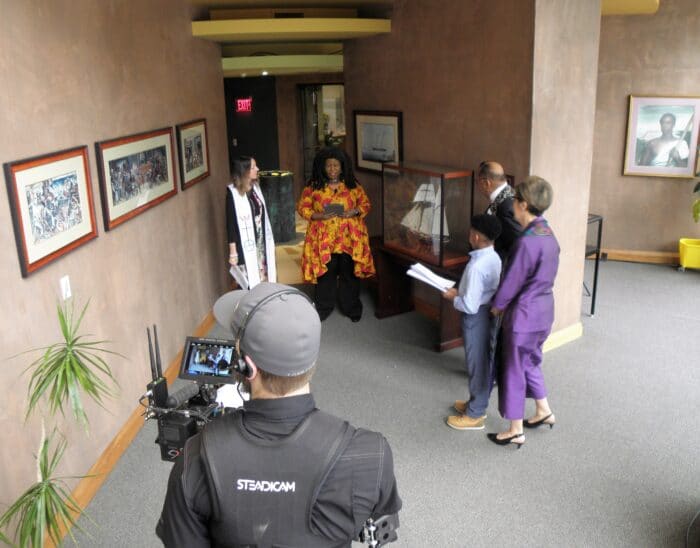 Its architecture and artwork were rich in UCC faith, history and symbolism. It especially conveyed the Amistad story. Captives aboard a schooner mutinied against human traffickers — and were eventually aided in their freedom fight by ancestors of today's UCC.
The chapel hosted hundreds of worship services for staff and Church House meeting attendees. And it was the launching place for tours for visitors from around the country and the world.
A downsized national staff and fewer governing bodies in recent years prompted new decisions about property. The UCC sold the hotel in 2019. Hybrid and at-home work styles — a product of the COVID-19 pandemic — helped prompt the 2021 decision to sell the office building. The offices will move to leased space at 1300 E. Ninth Street in downtown Cleveland. A build-out there, now underway, is estimated to be finished in May 2022.
'All journeys on with us'
Twenty-two years may be a short life for a sanctuary, especially in a denomination that includes church buildings that are hundreds of years old. But the chapel had a strong impact nonetheless, judging by comments posted by webcast viewers from near and far.
Lana Sue Ka'opua of Honolulu remembered a gathering in the chapel "of Pacific Islanders from all over the world. … The UCC acknowledged us all. We sang in our Indigenous languages and praised our Lord, our church, as one."
Wolfgang Diezran said he came to Cleveland from Germany "several times" as a partner-church guest. He recalled "wonderful services in that chapel with this fantastic interior and history and people."
The Rev. Doris Powell of Euclid, Ohio — a UCC treasurer, now retired, who was also installed on that March 1990 opening weekend — said she "loved giving tours to visiting UCC members and friends: boards, confirmation classes, vacationers. Even curious Clevelanders who observed us through the windows and ventured in."
"I remember getting the tour of Amistad Chapel when I visited during seminary, and some wonderful services there when I was part of the national staff," said the Rev. Meighan Pritchard of Seattle. "I am thankful for the amazing people I met in that building. Blessings on the new space."
"It may be time for this sacred place to close, but it is a gut punch, nonetheless," said the Rev. Pamela Canzater of Birmingham, Ala. "Thank you for helping all of us to move on."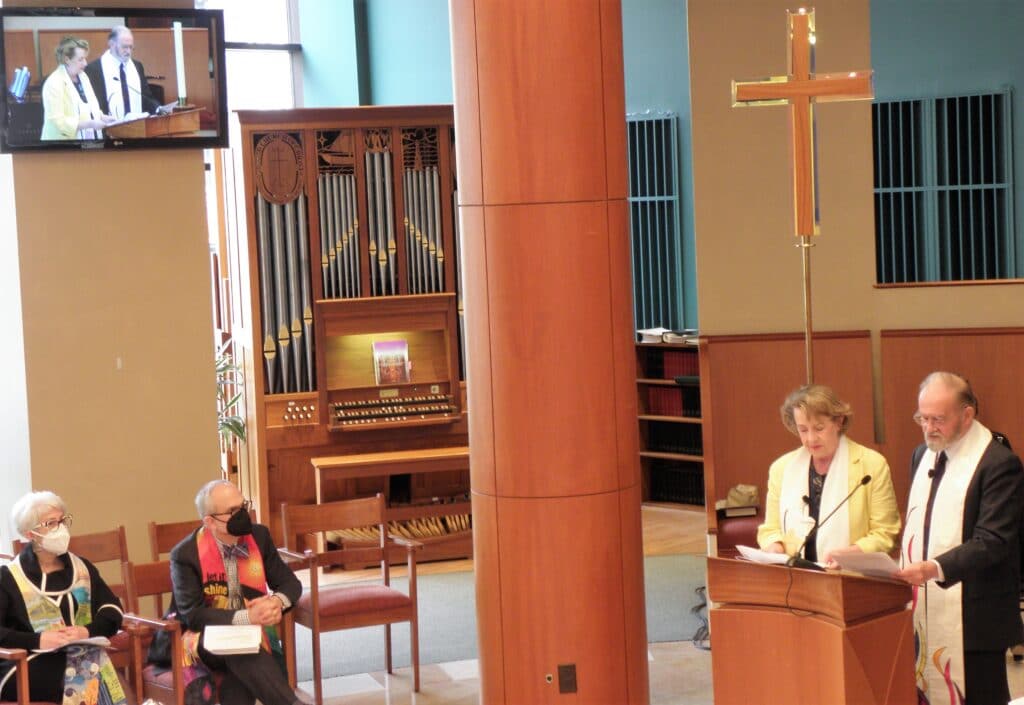 Moving on was indeed a recurring theme of the service. It was heard in a song Howe wrote for the service and performed by video, backed by a virtual, recorded choir. In one verse, she sang, "We celebrate what was — a chapel for a faithful time — and what we will carry on, a faith we still define."
The theme came through, too, in a benediction and commissioning read by two past national staffers — the Rev. Robert "Rip" Noble and the Rev. Charlotte Still Noble. "Nothing is left behind," it began. "All rests in God and journeys on with us."
---
UCC News Director Connie Larkman contributed to this article.
Content on ucc.org is copyrighted by the National Setting of the United Church of Christ and may be only shared according to the guidelines outlined here.
---
Related News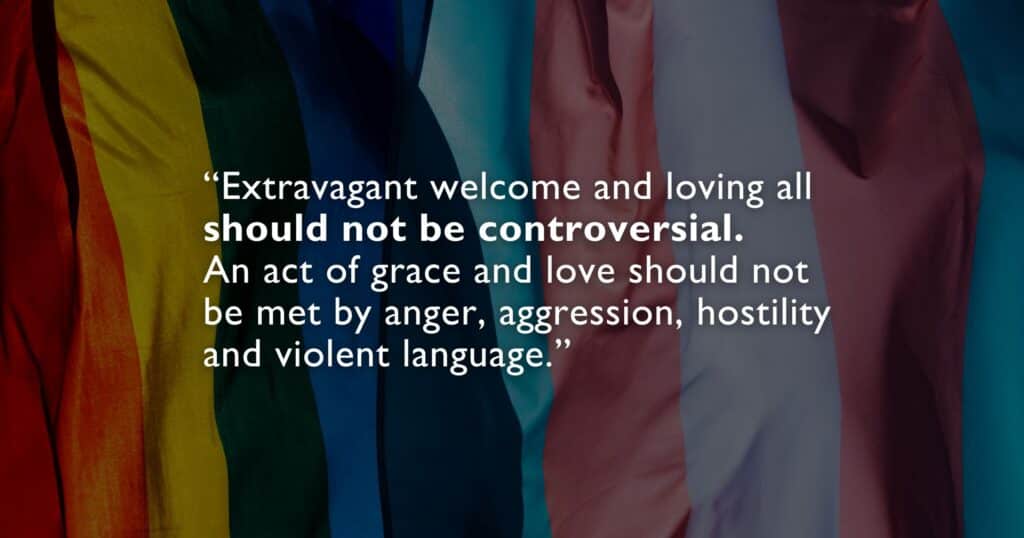 The United Church of Christ National Officers and the Conference Minister of the South Central...
Read More