Film and conversation shed light on LGBTQ journeys and church's role
The film "Mama Bears" featured a transgender girl, a gay man, a same-gender-loving woman, and their mothers — all from conservative churches.
Then a panel of local people reacted. Among them were a gay pastor, a transgender man and a nonbinary, gender-fluid person — all United Church of Christ members.
The live screening and the discussion of the documentary both happened April 6 at the Cleveland International Film Festival. The 90-minute film, making the rounds of U.S. film festivals this spring, places a special focus on moms who speak up — often tenaciously — for their queer kids, whether young or grown.
Prompting that kind of conversation at festivals, in churches, and in LGBTQ contexts is the goal of the film, its producer and director said.
Panel's insights
The live Cleveland showing had three UCC sponsors: the church's national ministries, the Open and Affirming Coalition, and the Living Water Association of the Heartland Conference. It drew about 100 people to the Mimi Ohio Theatre downtown.
About 20 of them attended the panel discussion afterwards. It was moderated by the Revs. Michael Howard, the association's minister for faith in action, and Joanna D'Agostino, senior minister of Lakewood Congregational UCC. They invited insights from four other panelists. Each had specific experience with the film's themes.
'Always known who I am'
The film was frank about the mothers' conflicting feelings. Each came from a faith tradition that condemned queer children as a sign that evil had entered her family. The film illustrated that context. It opened with clips of preachers and politicians pounding pulpits, condemning homosexuality, and denying transgender realities.
The film showed each "mama bear," in time, finding a way to support her child — publicly, or, in one case, quietly. They sometimes faced community ridicule and alienation from families and churches of origin. But the film showed joy, too, found in new networks. One example was the Mama Bears movement, which started as a private Facebook page and now has thousands of followers. Another was Free Mom Hugs, in which mothers of queer children show up at LGBTQ events and venues to show some love.
The Cleveland panelists reinforced that insight — that it all takes time. "Coming out isn't flipping a switch," Ullinger said. "It's a process." And that may be true for LGBTQ people's parents, spouses and other loved ones — precisely because of cultural pressures described in the film.
One featured example was that of Texas grade-schooler Kai Shappley and her mother, Kimberly. Assigned male at birth, Kai insisted from age 3 onward that she was a girl. Kimberly went from punishing Kai for saying so to researching gender dysphoria and other transgender experiences. The film showed Kimberly emerging as an outspoken, award-winning advocate for trans rights — including her daughter's.
Nash, who began his transition in 1998, moved to Ohio from New England in 1999. He described a similar awareness to Kai's. "I've always been transgender," he said. "The label may have been different when I was born. But I've always known who I am." And yet, he said, loved ones often need space to adjust to their children's realities. "You have to give them time to process," he said.
Rainbow-flag cautions
One panelist offered cautions to LGBTQ people and families who may be church shopping.
Schultz, who also came from a conservative Christian background, said she has learned to be suspicious of churches that say, "You're welcome no matter what." That, she said, can be a subtle suggestion that they're offering a welcome despite people's identity. And "hanging a rainbow flag" means little if the people inside are "acting like it's a gift" for them to be offering a welcome to LGBTQ people.
Even many truly Open and Affirming churches "still have a lot of work to do" to achieve genuine, sensitive, thorough inclusion, Thompson said. Part of the work, he said, is understanding that "it's a different experience for those of us who step aside from the church and then come back to it."
Visibility can be powerful, Ullinger said. She and her family had visited several churches before arriving at Silver Lake one Sunday. Seeing a trans woman there at the door — in the prominent role of greeter — was an initial signal that "I'd found my new home," she said.
'God knows my heart'
"Mama Bears" filmmaker Daresha Kyi said she hopes the film sparks similar discussions everywhere. "Since I first conceived of the film it has been my goal to share it with both the faith and LGBTQ communities, both separately and jointly, with the goal of sparking much needed conversations on acceptance and inclusion," she told UCC News.
Many LGBTQ people are confident in both their faith and their identity, panelists said, and getting that message across can be one important outcome.
Despite the rejections some have experienced in church, "God has never failed us," Thompson said.
"God knows who I am," Nash said. "God knows my heart. And I always have known that God knows my heart."
"Mama Bears" is still available for online viewing during the streaming period of the Cleveland festival, April 10-17. Tickets are $10. More April showings — in person and/or via stream — are set at festivals in Arizona, Florida, Kansas, Missouri, North Carolina, Oregon and Washington. A list is here.
---
UCC News Director Connie Larkman contributed to this article.
Content on ucc.org is copyrighted by the National Setting of the United Church of Christ and may be only shared according to the guidelines outlined here.
---
Related News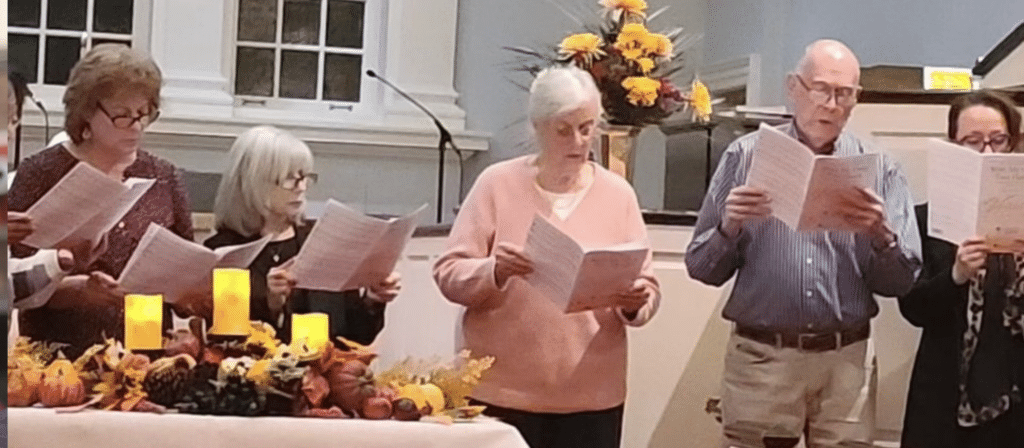 Many United Church of Christ congregations across the country participated in interfaith...
Read More