Everett C. Parker, the UCC's trailblazing broadcast reformer, dies at 102
The Rev. Everett C. Parker, a pioneering broadcast reformer, died Sept. 17, 2015 in White Plains, N.Y., at the age of 102.
Everett Parker's reputation as an advocate for the public's rights in broadcasting is forever linked to his successful legal challenge to deny the license renewal of WLBT-TV, Jackson, Miss. In a landmark decision in 1966, a federal circuit court ruled that citizen groups have standing (the right to be heard and appeal to the courts) before government regulatory agencies such as the Federal Communications Commission.
"Everett Parker is one of those heroes of mine whose dedication to justice both inspired and informed me," said the Rev. John C. Dorhauer, general minister and president of the United Church of Christ. "Unlike others for whom strong rhetoric was enough, Everett always looked for action that mattered. He was one who got things done – and his commitment to the groundbreaking work on ensuring that every marginal voice would have access to the airwaves not only mattered, not only matters still, but was something almost every other justice advocate missed. He didn't. We mourn his passing at the same time we celebrate his legacy. His mark on the denomination and our country is indelible. It will stand the test of time."
After WLBT refused in 1962 to broadcast then-lawyer and future Supreme Court Justice Thurgood Marshall, black leaders in Mississippi Gappealed to Parker, then head of the Office of Communication of the United Church of Christ. A former reporter, broadcasting executive and advertising agency head, Parker had already made his reputation as a defender of human rights and freedom of speech, an outgrowth of his Calvinist heritage.
Parker knew that a broadcast licensee is required to serve its viewers in the "public interest, convenience or necessity," so he orchestrated a study of the station's programming and found that it didn't comply. He petitioned the FCC in 1964 to deny WLBT's license renewal. The Commission denied his petition on the grounds he and the Office of Communication had no standing with the FCC –– only those with direct economic standing could approach the FCC.
Parker went to the court to reverse the FCC on grounds that it was unconstitutional to deny OC standing. Following the 1966 landmark decision by the court, the FCC still wouldn't relent. Parker went back to court. In a second blistering decision in 1969 the Court vacated WLBT's license and directed the Commission to find a new owner.
"After nearly five decades of operation," Chief Justice Warren E. Burger, wrote in a scathing denouncement of the FCC, "the broadcast industry does not seem to have grasped the simple fact that a broadcast license is a public trust subject to termination for breach of duty."
Stations suddenly began paying attention to serving their entire constituency, particularly people of color. Buoyed by the court decision, groups in hundreds of communities, helped by the church office, negotiated with stations for better programs and news coverage.
Under Parker's leadership, other church-initiated reform programs followed. In 1969, the UCC Office of Communication, Inc. successfully petitioned the FCC to adopt equal opportunity regulations (EEO) protecting people of color and women. OC started the first career-awareness program to introduce high school students of color to broadcasting and a consumer coalition to deal with the restructure of the telephone system and the introduction of new technologies.
"Everett's lifelong clarity and insistence that ethics, accessibility, diversity and social justice are central to, not peripheral to, a fair and effective media forever changed the landscape of broadcast journalism in this country," said the Rev. J. Bennett Guess, a national officer of the UCC who formerly served as executive director of OC, Inc. "By challenging previously unchallenged assumptions about media ownership and access, he altered the course of U.S. media history and skewed it toward fuller inclusion for all people. His remarkable courage and tenacity will be forever remembered by history."
Parker directed the UCC's Office of Communication until his retirement in 1983. George Dugan, the late religion reporter of The New York Times, called it "the best public relations office in the business." One of its most successful PR campaigns was the exoneration of the Wilmington 10, nine young black men and a white woman, including the Rev. Benjamin F. Chavis, who were falsely convicted of arson and conspiracy during racial turmoil in Wilmington, N.C.
Parker's media campaign in the world press brought scorn and embarrassment to North Carolina and the United States. Every major print and broadcast outlet, including a crew from East Germany, trooped to Central Prison in Raleigh for interviews, causing the warden and the U.S. State Department to complain about the bad press. The Wilmington 10 were eventually freed by a federal court and, in 2012, were pardoned by then-N.C. Governor Beverly Perdue.
Parker was quick to give the United Church of Christ a public identity on radio and television, producing children's Bible radio and television series, as well as "Tangled World," the first TV series to explore ethics in contemporary life. With Westinghouse Broadcasting, he produced the award-winning PBS series, "Six American Families" and its sequel "Scenes from a Life Time."
After retirement, Parker continued to be a forceful advocate. Through lawsuits, petitions, proposed rule makings before the FCC, and testimony at the FCC and before Congress, he fought for retention of the Fairness Doctrine, EEO, and equal time provisions for political candidates. He was instrumental in persuading the FCC to set guidelines mandating sustaining time for children's programming by the TV networks, and consulted on the Cable Television Act of 1996. He also was Adjunct Professor of Communication and Media Studies at Fordham University in New York City. In 1997, as director-emeritus of OC, Parker worked with FCC chairperson William F. Kennard on the latter's proposal for low-power, nonprofit FM radio for churches and community groups.
"We have lost a legendary giant for justice with the passing of Everett Parker," said the Rev. M. Linda Jaramillo, executive minister of the UCC's Justice and Witness Ministries. "Early on, Everett saw the institutionalization of racism and classism in the communications industry and went about disrupting unequal practices through public policy change. His relentless witness and focused action is a powerful leadership model, from which we will benefit for a long time to come. His tenacity and deep commitment to justice and fairness is deeply appreciated and will be missed."
Everett Carleton Parker was born in 1913 and raised in Chicago. After graduating from the University of Chicago in 1935, he was a radio producer for the Works Progress. In 1938, he started an advertising agency and produced programs for local churches.
He entered Chicago Theological Seminary in 1939. Upon graduation magna cum laude in 1943, he was appointed assistant public service manager and assistant war program manager for NBC. From 1945 to 1957, he taught at Yale Divinity School.
Parker is survived by three children –– Ruth Weiss, Larchmont, N.Y.; Eunice Kolczun, Tulsa, Okla.; and the Rev. Truman E. Parker, Mountain Home, Idaho –– seven grandchildren and seven great-grandchildren. His wife of 65 years, Geneva, died in 2004.
A memorial service for the Rev. Everett C. Parker will be held Oct. 3 at 11 a.m. at Church in the Highlands UCC in White Plains, N.Y. In lieu of flowers, contributions may be sent to the Emma L. Bowen Foundation, 300 New Jersey Avenue, N.W., Suite 700, Washington, DC 20001, or to the UCC's Office of Communication, Inc. 
---
Related News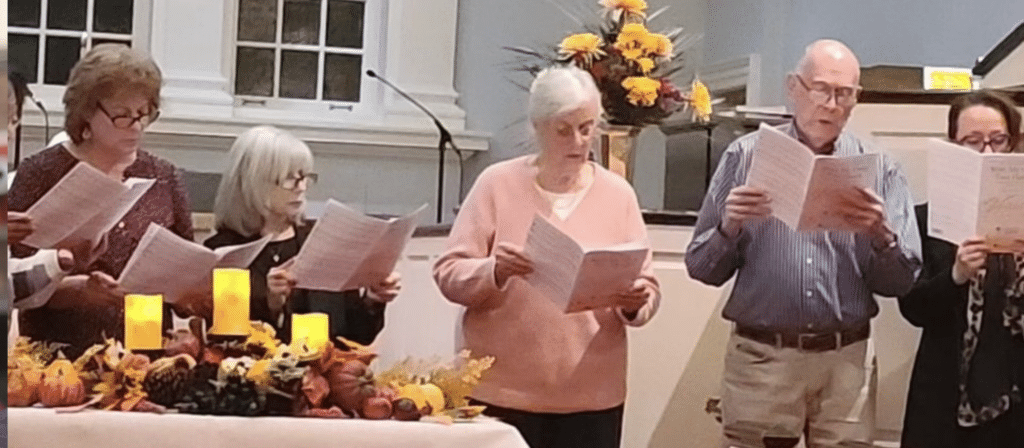 Many United Church of Christ congregations across the country participated in interfaith...
Read More