Entre dos Mundos
Mis amig@s y yo estamos planificando comenzar una campaña del juego Dragones y Calabozos. Estoy muy emocionada porque hace muchos años que no he jugado Dragones y Calabozos, y este tipo de actividades incrementan mis habilidades como escritora de una forma muy particular. Mi personaje en este juego se apareció en mi mente de forma bien definida, pero una de las características de este personaje que tuve que determinar fue su raza.
En este juego, la raza ficticia del personaje que escoges determina muchos los detalles de su personalidad como su forma de pelear, sus destrezas, sus poderes mágicos y también la manera en que el personaje es tratado por la sociedad. Aunque los jugadores pueden engalanar la narrativa en la que se desarrolla su personaje, las reglas oficiales acerca de razas definen los parámetros en que se moverá el personaje – la raza es un punto de referencia con el cual se moverá tu personaje en el mundo.
A medida que leía sobre las razas en este juego, encontré a un personaje que parecía un duende quien era parte humano y percibí que esta era la raza que más se aproximaba a la de mi personaje. Una parte de la esencia de este duende no pertenece a los duendes y tampoco su parte humana no encaja entre l@s human@s. Algunos se adaptarán lo mejor posible a la cultura en que se encuentren, pero en realidad existirán en medio de dos mundos.
Yo ocupo un espacio similar, pero por muchos años nunca lo expresé porque paso como una persona blanca. Los apellidos españoles son del lado de mi madre, y no crecí hablando español en casa. Por eso me adapté y asumí solamente mi parte "blanca" como herencia cultural al mismo tiempo que negaba mi parte puertorriqueña. Sentía vergüenza de hablar un español quebrado aprendido en una escuela pública durante 5 años enfrente de mi familia y me sentía frustrada por con mi falta de habilidad para comprender las conversaciones entre las personas a mi alrededor. Rara vez las personas hablaban despacio o hacían un esfuerzo para traducirme lo que estaban diciendo, así que, en esas reuniones, solía apartarme para leer un libro o hacer algo sola. Hasta decía a la gente, medio en broma, que yo era "técnicamente puertorriqueña" porque usaba mi falta de habilidad para hablar español como un examen crítico para poder reclamar mi identidad latina.
Con todo, visitaba Puerto Rico y comía comida puertorriqueña en casa. Mi mama veía sus telenovelas y lanzaba una sarta de palabrotas en español cuando los perros no se portaban bien o cuando algún "zángano" manejaba sin usar las direccionales. Algunas personas pueden deducir que soy una mezcla de algo, pero no lo pueden asegurar sino hasta que yo se los digo. Si no digo nada, otras personas nunca tendrán idea al respecto.
En tiempos más recientes, he aprendido que muchos latin@s comparten la misma experiencia viviendo entre dos mundos. Los detalles tal vez sean diferentes en cada persona y algun@s, como yo, pasan por una temporada escogiendo un solo mundo mientras niegan el otro porque resulta más fácil. Sencillamente identificándome como "blanca" era más sencillo que añadir mi parte puertorriqueña, y eso, añadido a mi español quebrado ahorrándome al desprecio de mis companer@s blanc@s que hablaban el español mejor que yo.
No importa lo que diga cualquiera, Dios me dio estos dos mundos que forman mi identidad. Sí, uno es esta cultura blanca predominante en la que encajo con facilidad y en la que puedo navegar con más soltura. Pero mi otra parte es esa pequeña isla que queda a solo 100 millas de distancia, donde mi abuela, en su casa de color rosa en San Juan, siempre está esperándonos con una olla de comida en la estufa porque sabe que vendremos. No existen exámenes arbitrarios que nos obliguen a negar nuestro derecho a reclamar nuestra identidad. Déjennos vivir en regocijo entre los muchos mundos que Dios nos otorga.
Querido Dios de muchos mundos, ayúdanos a abrazar cada cultura que nos hace quienes somos y no negar partes de nuestro ser porque otr@s no nos aceptan. Que las personas como yo que habitamos entre dos mundos seamos la prueba de que tú no puedes ser contenido. Amén.
Taylor Ramage es una escritora y editora profesional. Sus colecciones de poemas "Perdona nuestras transgresiones" y "Déjame saber tus debilidades" están disponibles en Amazon e-book y de forma impresa. Actualmente trabaja en la Junta Directiva de la Conferencia Del Centro Atlántico y ha sido representante en reuniones de la asociación, de la conferencia, así como del Sínodo General UCC (Iglesia Unida de Cristo por sus siglas en Inglés). Ella trae consigo años de experiencia desarrollando y editando la curricula para la educación de los grados escolares K-12 en diferentes áreas de estudio. Mitad Boricua, su plato favorito para cocinar son las habichuelas con arroz y muchos vegetales, pavo molido y por supuesto plátanos. Pueden seguirle en las redes sociales a través de Twitter @TaylorRamage or seguir sus escritos en www.taylorramage.wordpress.com
[1] "@" este símbolo es comúnmente usado en escritos en Español para denotar inclusión de géneros y no solo apegarse a terminaciones masculinas. Usamos este símbolo para más claridad en la lectura del texto en Español, pero reconocemos los esfuerzos de la comunidad de Latinxs en EEUU que están tratando de hacer el uso de la "X" para ser más radicalmente inclusiv@s.
Between Two Worlds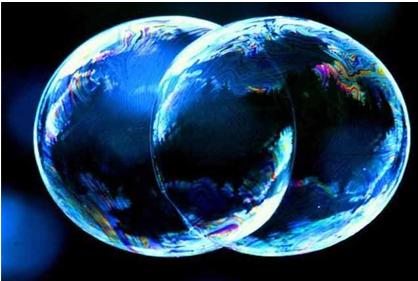 [2] My friends and I are planning to start a Dungeons & Dragons campaign. I'm quite excited, as it's been several years since I've played and games like this grow my writing skills in ways that are difficult to find elsewhere. My character came bursting into my mind almost fully formed, but one of the details I had to determine was her race.
In the game, the fantasy race you choose for a character determines a lot about their fighting style, their skills, their magic, and how society treats them. While players are totally free to embellish on the backstory, the official guides to the races help provide a framework–a starting point for thinking about how your character experiences the world.
As I read up on the game's races, I found half-elf the most fitting for my character. Part of a half-elf's core experience is not totally fitting in with elven culture and not totally fitting in with humans. Some will adapt as best they can to whichever culture they find themselves in, but really they exist between two worlds.
I occupy a similar space, but for many years I never declared it because I pass as white. The Spanish names are on my mother's side and I didn't grow up speaking Spanish at home. So, I adapted and claimed only whiteness as my heritage while denying my Puerto Rican side. I felt too embarrassed to speak the broken public school Spanish I studied for five years in front of my family and was frustrated with my inability to understand their conversations. People rarely slowed down to summarize or translate for me, so I usually spent the time reading a book or doing something else alone. I would half-jokingly tell people that I was "technically Puerto Rican" because I used my lack of fluency in Spanish as a litmus test for what I was allowed to claim as my identity.
Yet I still visited Puerto Rico and ate Puerto Rican food at home. My mom still watched telenovelas and released long strings of Spanish when the dogs misbehaved or some Zángano didn't use their turn signal. Some people can tell from looking at me that I'm mixed with something, though they may not know what until I tell them. Others will never have a clue if I keep silent.
In recent years, I've come to learn that many Latinxs share this experience of existing between two worlds. The details pan out differently in each of our lives and some, like me, go through a period of choosing one world while denying the other because doing so is easier. Simply calling myself "white" was easier than also adding the Puerto Rican part, then qualifying it with my lack of fluency in Spanish and sparing myself from my overachieving white classmates who were more fluent and unafraid to scoff at me because I wasn't.
But no matter what anyone says, God gave me two worlds that form my identity. Yes, one is this predominantly white culture that I do fit well into and I do skate through rather easily. But the other is this little island that's only 100 miles across, where abuela in her pink house in San Juan always had a pot of food on the stove because she knew we were coming. No arbitrary cultural litmus tests should compel us to deny ourselves the right to claim our identities. Let us live joyously between however many worlds God has given us.
Dear God of many worlds, help us to embrace every culture that has made us who we are rather than deny them because others believe we cannot belong. May those of us in the inbetween be reminders that you cannot be contained. Amen.
Taylor Ramage is a professional writer/editor and an author. Her poetry collections, Forgive Us Our Trespasses and Lest I Know Your Weakness are available on Amazon in ebook and paperback format. She currently serves on the Central Atlantic Conference Board of Directors and has been a delegate to association meetings, conference meetings, and General Synod. She brings years of experience developing and editing K-12 educational curricula in a myriad of subject areas. As a half-Boricua, her favorite meal to cook is rice and beans with plenty of vegetables, ground turkey, and plantains. You can follow Taylor on Twitter @TaylorRamage or follow her blog www.taylorramage.wordpress.com
[2] Imagen por Alejandro Martin
---
Related News
While I was pregnant with our second child, our local church held an Advent Fair where we all...
Read More