Effective Waste Management for Churches

Our Green Team at Orinda Community Church conducted an all-church inventory of our environmental practices in the fall of 2018 with the help of various checklists and resources we found online. As a result, we discovered that the church was doing quite well. However, we identified that the waste management of trash and recycling was an area where the church needed work.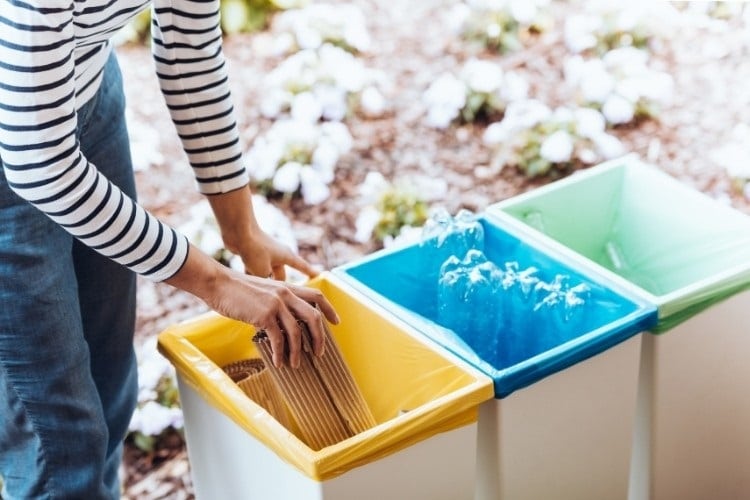 We found that even a simple-sounding project like removing our waste properly was surprisingly far from simple. First, the team members educated themselves on how to sort materials for trash and recycling according to our hauling company's website. This was relatively easy, since this is the same hauler that the families of the church use, so members were already sorting at home.
Next, we did an assessment of who was disposing of waste in different parts of the church. We assessed both church members and renters. We began with our congregation and asked, "What areas of the church are members using? What kinds of waste is being disposed of in what areas?" Once we had the information we needed, we purchased the proper containers for each area of the church. The hauling company offers free downloadable signs, which we placed by each container.
With the proper containers were in place, we offered a recycling workshop for church members in coordination with the Lifelong Learning & Spiritual Formation Ministry (our Adult Christian Education committee). We had a luncheon after church one Sunday during which we had a contest between tables to sort trash properly. We saved recyclable items and took photos of the messier items rather than having them actually present. We put identical bags of the items at each table and asked the table members to sort out the trash. After they did this, we gave the answers to see which table won.
Once containers were placed and our members were educated, we began to reach out to our renters. Our biggest renters are an alternative high school and a nursery school. We were pleasantly surprised to learn that the high schoolers and preschoolers were ahead of us and were already complying with proper disposal of wastes.
Next we needed to reach out to our other renters like the Boy Scouts, AA, etc. We decided to write a Waste Management Policy for the church that described how to sort any trash produced, banned Styrofoam, and encouraged the use of compostable items. We brought the policy to our Church Council, where it was approved. The policy was sent to all users of the church including a letter that each group was asked to sign, agreeing to follow the policy and designating the person in their group who would be responsible for the policy being followed.
While having a policy and committed partners has been essential, we are lucky to have a Caretaker who lives on site, is a member of the church, and is concerned about the environment. He is the one who empties the trash, purchases of compostable items for the kitchen, and buys environmentally friendly cleaning supplies.
Throughout this process of developing effective waste disposal practices and policies, we found the Creation Justice Church pages at the UCC website very helpful in our being successful. One crucial task is to reach out to as many leaders as possible, informing and educating them, and encouraging them to be onboard, hoping they would share this commitment with their groups. When we work together on projects such as this, we see the Body of Christ in action.
Nancy Thursby is the Chair of the Creation Justice Committee at Orinda Community Church in Orinda, California.
---
Related News
What if Jesus's main goal had been to raise awareness? Imagine Jesus as a non-stop...
Read More