East Coast cleans up after Hurricane Matthew, UCC donations for long-term relief
As North Carolinians face the destruction of Hurricane Matthew — which killed 19 people in its wake — waters continue to rise, hindering the relief efforts in some of the poorest parts of the state. Both the United Church of Christ and its communion partner, the Christian Church (Disciples of Christ) are ready to step in as they actively coordinate their responses after the storm swept along the Atlantic Coast in Florida, Georgia and the Carolinas on Friday and Saturday.
Meanwhile, solidarity grants from both denominations are on their way to Haiti and Cuba to provide food, shelter and safety in the wake of Hurricane Matthew's earlier destruction.
UCC Disaster Ministries executive Zach Wolgemuth said that "a lot of places in North Carolina are still under water and flood waters have not receded yet." As emergency personnel attempt to rescue people, the ministry continues to monitor the situation by working closely with the conference staff and appropriate partners.
"I would encourage local congregations to be in direct contact with their conference disaster coordinator," Wolgemuth said.
Hundreds of roads in North Carolina are flooded, making access to some areas difficult.
The UCC African American Women in Ministry Conference was scheduled to take place this week at Franklinton Center at Bricks — a ministry of the denomination in Whitakers, N.C. But because of flooding in the area, the event has been canceled and will be rescheduled.
"Although Franklinton Center at Bricks suffered very little physical damage due to the storm, we have no electrical power at the Center," said Vivian Lucas, director of Franklinton Center. "The very deep and rising waters, flooding, fallen trees on power lines, and washed out roads mean the electric company is unable to make needed repairs to the lines that supply power to the Center for several days."
In Florida, the UCC has supplied cleanup buckets, hygiene and baby care kits to a storm shelter in Bunnell, and hygiene kits for 125 Bethune-Cookman University students sheltering in place in the Daytona Beach school's performing arts center. At least one church is providing shelter for members who had to evacuate their homes.
Before reaching the mainland United States, Hurricane Matthew made landfall in Haiti and Cuba on Oct. 4. Both the UCC and Disciples of Christ, through the One Great Hour of Sharing Offering and the Week of Compassion Fund, are poised to work alongside other churches to supply food, water, containers, tents, mattresses and hygiene kits to those affected by the storm. More than 1,000 people were killed in Haiti by the hurricane, which hit with winds up to 135 mph and left up to 1.4 million people (about 13 percent of the population) in need of assistance.
"Funds are needed more now that donated goods, because the recovery will be months — if not years — in these locations," Wolgemuth said.
Anyone interested in supporting the UCC response to Hurricane Matthew is encouraged to give online. 
---
Related News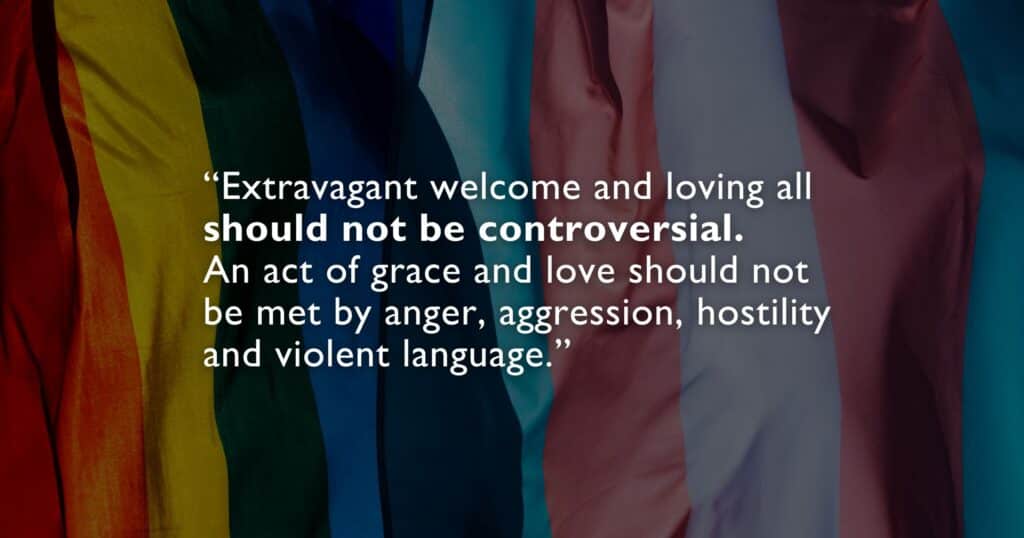 The United Church of Christ National Officers and the Conference Minister of the South Central...
Read More