Earth Walk helps celebrate congregation's 150th anniversary
A St. Louis congregation celebrated Pentecost and a milestone anniversary on Sunday, May 15, with jazz, dance, storytelling and art that affirmed humanity's global partnership as caretakers of the earth.
The Oîkos Ensemble, a national jazz ministry founded by the Rev. Cliff Aerie, staged Earth Walk –– a  concert for Mother Earth, as part of First Congregational United Church of Christ's 150th Jubilee Celebration. The musicians, who have performed at more than 300 faith-based events across the country, were joined at the Webster Groves church by painter Michael Anderson and the Leverage Dance Theater. As the jazz ensemble played both original compositions and jazz standards, Anderson painted his interpretation on canvas as the dancers moved to the music.
"The first Pentecost was an imaginative burst of the Holy Spirit –– holy winds (life-giving breath) and leaping flames (creative inspiration) that transformed the disciple's words into a common language heard by an international gathering of pilgrims," said Aerie. "The crowds of people from many nations were able to hear the disciple's gospel proclamation in their own language. Jazz is also an international language. What better time to play jazz than on Pentecost, especially as a reminder that our global village is united in a common language (common song) of care for the earth and each other."
"Cliff Aerie chose Pentecost as the day for the concert, and bringing together the Breath that enlivens the Church with the divine Breath that began all creation seemed fitting," said First Church's pastor, the Rev. Dave Denoon, of the performance that highlighted the wonders of creation and the challenges of climate change facing the global community.
"While I hope that concert goers were entertained by our music, storytelling, art and dance, my real desire is that they were inspired on a deeper level to see themselves as co-creators with the Creator," said Aerie. "Creation is a work in progress and each of us is called to be a steward of God's creation. That's why our after-concert reception offered hands-on resources and eco-tested ideas that people could bring home with them to explore their own personal stewardship –– planting seeds, learning about sustainability, signing advocacy letters to be sent to local governments, and speaking to inspired leaders in the eco-movement."
The reception –– with interactive resources provided by the Botanical Garden's EarthWays Center in St. Louis and the Green Team, First Congregational Church's ecological outreach ministry –– also inspired the hope for more green space on the First Church campus.
"Over the years, First Church has managed to occupy and either pave over or build on top of land in our neighborhood," said Denoon. "Part of our renewal effort for our 150th Jubilee will be the reclaiming of a portion of our east parking lot for green space that can be used in a number of different ways. This concert, we hope, will reaffirm our intention to take better care of our environment, for its own sake and for the sake of future generations."
---
Related News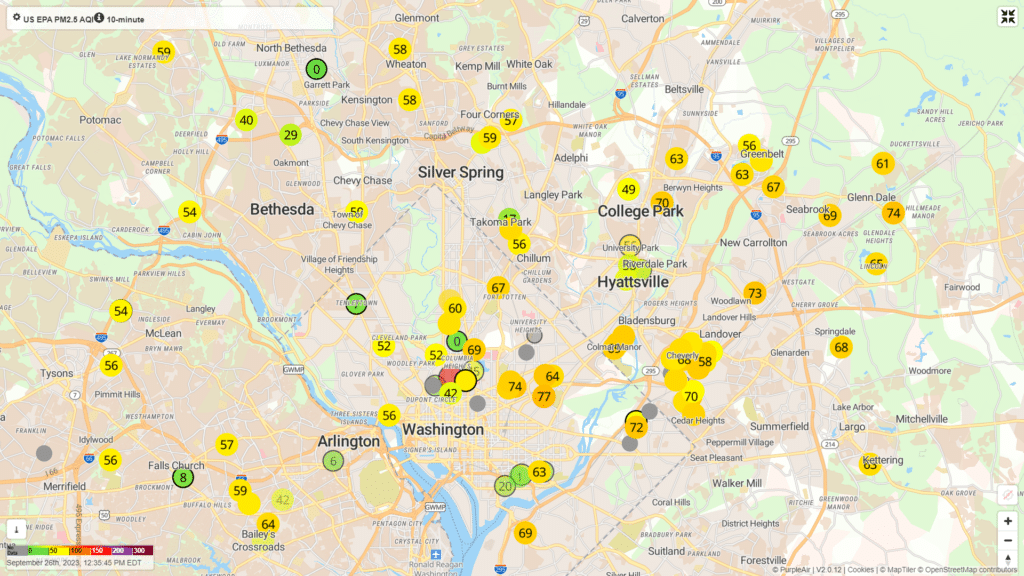 This summer, the United States experienced some of the worst days for wildfire pollution in...
Read More