UCC churches plan activities for Earth Day 2015
For many members of the United Church of Christ, Earth Day is more than just a day, it's a lifestyle. But each year, congregations go above and beyond their typical eco-friendly efforts to recognize the April 22 event and reaffirm the importance of caring for creation. This year, churches from Minnesota to Maine will host earth-friendly activities and kick off environmental campaigns to help make the world a better place to live.  
"Many of our UCC congregations take seriously the call to work on the environmental challenges we face in the 21st century," said the Rev. Meighan Pritchard, the UCC's minister for environmental justice. "Churches that are taking the lead this Earth Day are facing the problems on both spiritual and physical levels. They are not getting stuck in despair, but are empowering their members to be leaders in finding solutions."
On April 19, Earth Sunday, Mayflower UCC in Minneapolis begins what it's calling a Zero-Waste Campaign to reduce the amount of trash the congregation produces and raise awareness about what happens to garbage once it's thrown away. The congregation will use a $7,500 grant from the county to purchase new recycling and compost containers, compostable tableware supplies and container liners, and transition to the county's organics recycling program, which makes beneficial use of food scraps and food-soiled paper. Mayflower will introduce the new bins on Earth Sunday with an intergenerational "Blessing of the Bins" celebration, and leadership will begin educating members about how to best dispose of different types of waste.
"Starting on Earth Sunday, we're taking steps to help everyone who uses the building to become more mindful and intentional about recycling and composting," said the Rev. Emily Goldthwaite Fries, Mayflower UCC's associate pastor. "By reducing our trash, we are becoming less wasteful consumers and reducing our carbon footprint, which is in accordance with our Earthwise goal to become carbon neutral by 2030."
Old South Church First Congregational Church of Farmington in Farmington, Maine, is also concerned about waste this Earth Day. For the fourth year, the church has partnered with a local organization to encourage the responsible recycling of "e-waste," such as TVs, computers, microwaves, stereos and other unwanted electronic equipment. Volunteers from Old South Church have organized the event and will staff the collection day from 9 a.m. to 2 p.m. on April 25.
"We wanted to do something to honor Earth Day, and e-waste is some of the most toxic waste around," said the church's pastor the Rev. Alexis Fuller-Wright, who is also planning an Earth Day-themed sermon. "We have things piling up with nowhere to go, and really no good way to dispose of technological items."
First UCC in Northfield, Minn., will once again be a sponsor of the city's annual Earth Day celebration. On Friday, April 17, the church will host a "Sun Power Hour" to educate local residents about a new model for solar energy that allows homeowners to purchase energy through community solar arrays. The following day, the church will host a number of skill-sharing workshops including bicycle maintenance, cheese making, tree trimming, forest restoration, and how to make beeswax lip balm. Workshops on water conservation and how to utilize rain barrels will be led by a First UCC member. The events are free and open to the public. 
"We are known as the congregation in the community that is a leader on environmental issues and as the place where people go for Earth Day," said the Rev. Todd Smith Lippert, senior pastor of First UCC. "Climate change is a deeply spiritual issue we are facing, and that spiritual view is widely shared in the congregation." 
Franklinton Center at Bricks, the Whitakers, N.C.-based conference, retreat and educational facility of UCC Justice and Witness Ministries, will also do its part to improve the planet this Earth Day. On Wednesday, April 22, the center's leadership will meet with representatives from the North Carolina Division of Parks and Recreation to discuss establishing nature trails throughout Franklinton Center's 250-acre campus. The proposed trails will enhance access to Fishing Creek, a tributary of the Tar River, and encourage residents to fish, camp and hike along the state's fifth largest waterway. 
"This will create opportunities for young people to become more knowledgeable and aware of the earth, land, water and soil, and understand how their decisions can have an impact on our natural resources," said Vivian Lucas, executive director of Franklinton Center. "We want to connect people back to the land, environment, wildlife and plant life, and encourage outdoor recreation and ministry."
On Earth Sunday in Massachusetts, UCC churches will take part in The SHOUT Heard 'Round the World: Revere Our Climate, an ecumenical rally and march retracing Paul Revere's historic ride from Charlestown to Concord to increase awareness and action in response to climate change. Countryside Community Church in Omaha, Neb., will participate in the city's Earth Day celebration on Saturday, April 18, and will host a potluck dinner and Earth Day activities at the church on April 22. Norfolk Church of Christ Congregational UCC in Norfolk, Conn., will host a climate change scientist during worship on Earth Sunday, and Stanley Congregational Church UCC in Chatham, N.J., will recognize the day with two earth-themed services. 
"As participants in creation, we can work to be healers in order to restore the planet to sustainability, and there can be great joy in doing this work as a community," Pritchard said. "The challenges are the greatest that our species has ever faced, and we need the leadership of our churches to show that there is hope, joy, and great love—for God and for our neighbors—in addressing them."
---
Related News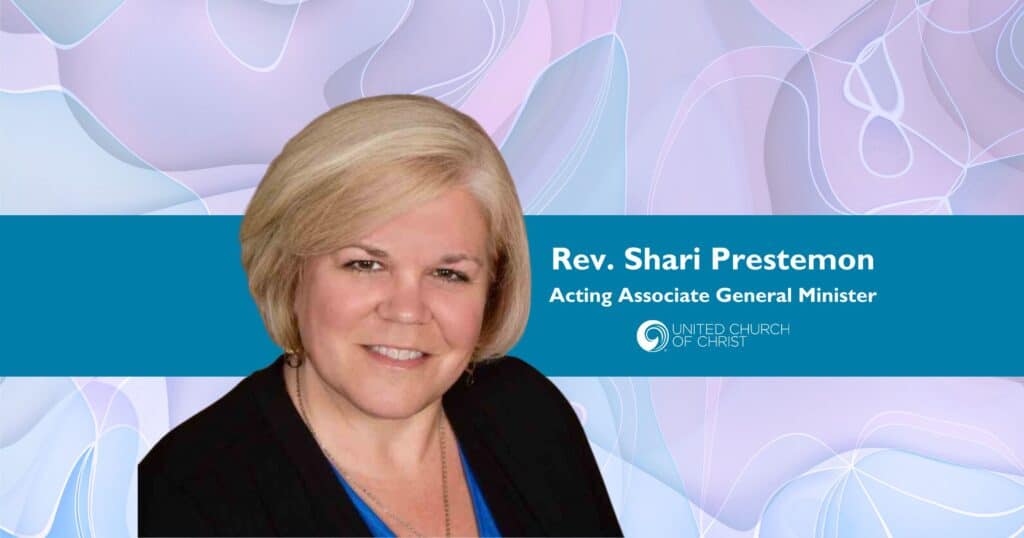 A new United Church of Christ national leader has been called. The UCC Board voted in a...
Read More