Don't get sidelined by climate summit's shortfalls, activists urge
If you think the United Nations climate summit didn't do enough to slow global warming, climate activists agree with you.
Many of them, including people of faith, got that message across publicly as "COP 26" drew to a close. The nearly two-week global climate conference in Scotland ended Nov. 13. It lasted a day longer than planned owing to hard negotiations among 197 participating nations on their latest climate agreements.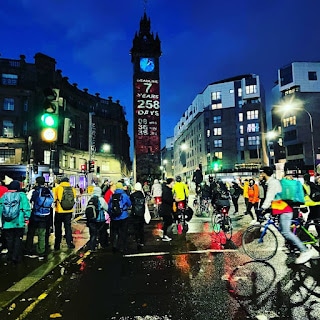 Negotiators said their Glasgow Climate Pact means the world can still keep global warming to no more than 1.5 degrees Celsius compared to pre-industrial times. Nations agreed to speed up their climate actions and report on their progress in a year instead of the previously required five years. And for the first time since the start of these annual conferences in 1993, they named coal as a problem — though, in the end, an agreement to "phase out" coal was softened to "phase down."
Critics warned that nations and businesses are not moving fast enough to meet goals agreed on years ago. Even a top U.N. leader spoke with caution. The pact "is an important step, but it is not enough," Secretary-General António Guterres said. "We must accelerate climate action to keep alive the goal of limiting global temperature rise to 1.5 degrees."
Taking action at home
But disappointment is no reason to give up, activists said.
Thousands of protesters were a sign of power and hope, said one United Church of Christ member who was with them on Glasgow's streets.
And back home, acting locally and pushing elected officials can still make a difference, said speakers in a Nov. 10 UCC webinar. A recording of "A Global Just Transition: The U.N. Climate Conference through a Moral Lens," is now available at the UCC YouTube channel.
One available action now involves a proposal to direct 1 percent of the U.S. defense budget toward "global climate assistance programs." U.S. Senators could do that as part of the National Defense Authorization Act they're considering, said Chloe Noël during the webinar. She coordinates economy and ecology programs for the Office of Global Concerns of the Catholic Maryknoll missioners. She urged people to call on their Senators to adopt Amendment 4216 to that budget act.
Pentagon budget as source
That's one way, Noël said, to act now on an issue that was front-and-center in the webinar and in the Glasgow protests: the "loss and damage" caused by climate breakdown worldwide.
"This is a really profound justice issue, because it is happening in every country," said another webinar speaker, Senior Policy Analyst Kelly Stone of the nonprofit ActionAid USA. "Countries that have done a lot less to cause the problem are getting hit first and much worse."
Stone advocated a "fair share" approach as "the key to unlocking the ambition that we have been lacking for the first 26 COPs." Such an approach, she said, would ask each country, "How much of the mess did you make, based on historical emissions since 1950, and how much capacity do you have to clean it up?"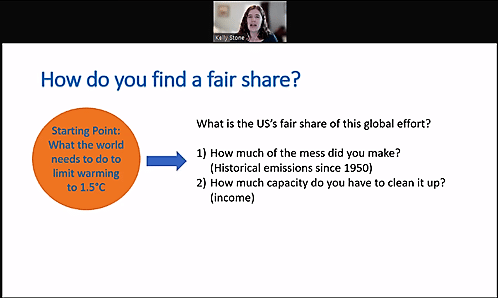 For the U.S. and other high-carbon countries, this would mean not only reducing emissions but also paying more money. Stone said those nations are late on their 2009 goal of giving $100 billion — by 2020 — to help poorer countries reckon with flood, fire, draught and other climate-caused catastrophes. That financing helps the hardest-hit nations "to act on mitigation priorities, new energy projects, or on adaptation and coping with the impacts of climate change," she said. "We need climate action to really be accelerating right now and that is not going to happen without climate finance."
Street's-eye view
Protests can add needed pressure, too, said Ben Shepard. A member of New York City's Judson Memorial Church, he was one of the thousands from around the globe who took to the streets of Glasgow.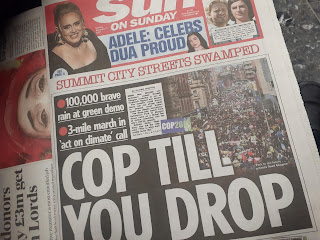 "People around the world are noticing," he wrote during the Global Day of Action for Climate Justice march on Nov. 6. "… The day of action is unfolding the week before the COP is over, so the delegates see it all. The whole world sees us. The New York Times is covering us. So is the Sun."
News reports described activists traveling to Glasgow by foot, on bikes and in other eco-friendly ways. Shepard said he had misgivings about flying from the U.S. "I didn't know if I should go," he said. "For a long time, I didn't go to global actions, especially if they meant travel. All politics is local, every garden, every action, every blockade, every struggle for public space.
"But they are also transnational. A virus in a small town can find its way around the globe, impacting all of us. Bodies move. They cross borders. So does capital, moving through banks and financial institutions, funding projects which hinder, extracting coal, heating the planet, bringing rising tides to our shores, floods to our basements."
Friends persuaded him that "it would be up to the people in the streets, not the delegates inside, to make it happen," he said. "So, I decided to go. The contradictions are many, increasing my carbon footprint to fly to a climate conference."
'We can do something'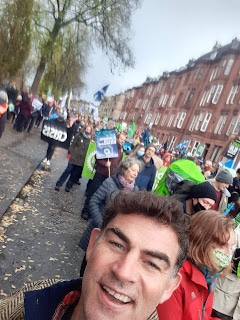 And Shepard felt the week's street actions — especially the one on Nov. 6, drawing an estimated 100,000 people — had an impact beyond the attention they drew from media and delegates. With clever and urgent signs, costumes and camaraderie, activists seemed to embolden each other to push world leaders to do better.
"So many creative images at the #COP26 global day of action march," he wrote that day. "Feels like a lot of optimism. Everyone seems to acknowledge the problem and feel like we can do something about this. I saw kids with flags, drummers, surfers against sewage, etc. The sea is rising and so are we."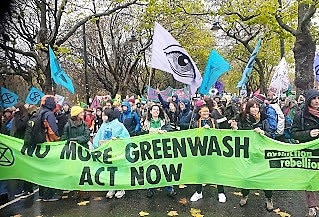 Sea rise hits home for Shepard, even if not as hard as it hits inhabitants of isolated islands and impoverished regions. Hurricanes in New York City — most recently Ida, in September — have "meant flooded subways, leaks and flooding in our homes," Shepard said. "The city is not up for more. It's not up for this.
"The gap between commitments and what is needed to avoid [global warming of] more than 1.5 Celsius — and subsequent floods, droughts, storms and rising tides — this is only becoming more and more vast. That's why we're here."
Empower those 'most impacted'
Acting locally is something every church can do, said Matthew Illian, director of responsible investing with United Church Funds. "While nations consider their willingness to commit to 'net zero-emissions,' it takes a collective effort to protect the planet, and we can all be thinking about ways to reduce our carbon footprint," he wrote at the UCF website. He gave examples of climate actions already happening in various UCC settings. They range from making earth-conscious investments to forming green ministry teams to leaning into climate justice issues.
Churches should also work to make sure people most affected by climate change are included in decisions, said a speaker in the Nov. 10 webinar. Ruth Ivory-Moore, director of environment and corporate social responsibility for the Evangelical Lutheran Church in America, had just returned from Glasgow. It's urgent, she said, "to really step up and put our actions to our words."
"There are lots of good sound bytes that have come out of this week, but we need to be able to hold government and industry accountable," she said. "… And most of all we need to make sure that, when decisions are made, everybody's in the room."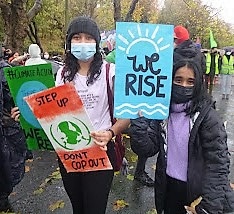 In the U.S., she said, part of that work is fighting efforts "to diminish the voting power of minorities, of people of color, because these are the people who are most impacted."
Ivory-Moore bemoaned what happens when voters "elect people to Congress, to your state offices, to your local offices, who do not share the desire to protect the environment, the desire to protect creation, to protect human beings. What you are doing is creating a political process that means the things that we're fighting for now, that our children need, will not come to bear."
---
Related News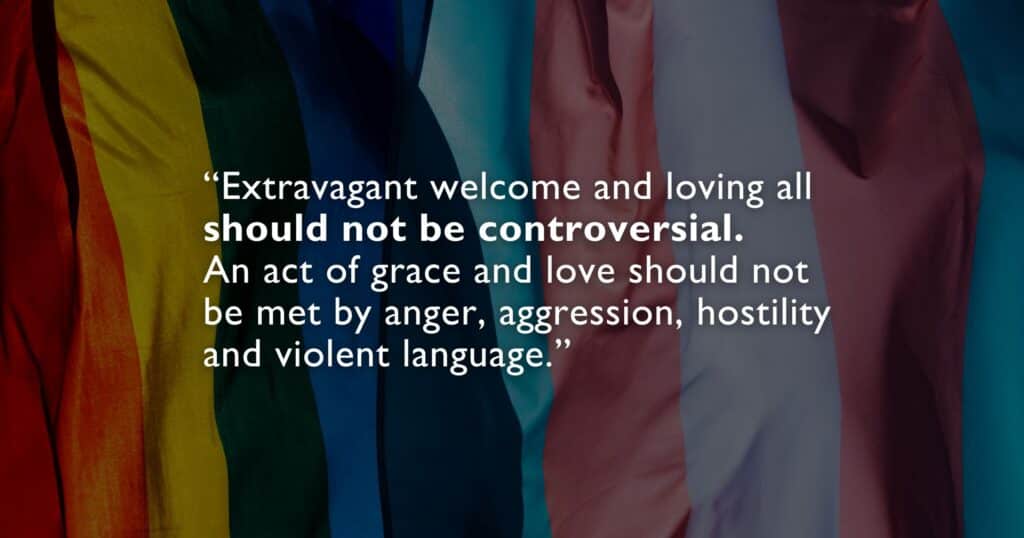 The United Church of Christ National Officers and the Conference Minister of the South Central...
Read More