Meet Our Officers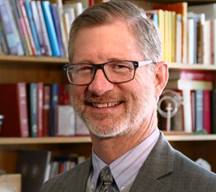 The Rev. Dr. John C. Dorhauer, author and theologian, currently serves as ninth General Minister and President of the United Church of Christ.
John began his ministry serving First Congregational United Church of Christ and Zion United Church of Christ in rural Missouri. He then served as Associate Conference Minister in the Missouri Mid-South Conference, and then Conference Minister of the Southwest Conference of the UCC prior to his election as General Minister and President.
Dorhauer received a B.A. in Philosophy from Cardinal Glennon College (1983), and has a Master of Divinity degree from Eden Theological Seminary (1988), the same year John was ordained in the United Church of Christ. John received a Doctor of Ministry degree from United Theological Seminary (2004); his area of focus — white privilege and its effects on the church.
With a personal theology shaped in the passionate conviction that God is love and God is just, John has embodied the United Church of Christ's vision of "A Just World for All" throughout his ministry. On October 17, 2014, Dorhauer conducted the first legal same sex wedding in the state of Arizona when he performed the wedding service of David Laurence and Kevin Patterson.
In his first term as General Minister and President, recognizing increasing sensitivities in this country around race, John initiated the collaborative creation of a curriculum, "White Privilege: Let's Talk – A Resource for Transformational Dialogue". Designed to invite UCC members and others to engage in safe, meaningful, substantive, and bold conversations on race, the curriculum and accompanying facilitator's guide have been used by both UCC and non-UCC audiences.
In addition, John has partnered with the UCC Board of Directors in providing oversight for the articulation of the denomination's statements of Purpose, Vision and Mission – critical elements for the UCC's evolving organizational strategy. To activate the new vision, John invited the denomination's participation in a collective biennial mission initiative, Three Great Loves. In partnership with the UCC Board of Directors – and informed with responses from across the church to the question "what does a transformative UCC need to be in ten years?"– John has called the church to accomplish essential strategic priorities over the next 10 years to position the church for a transformative future. These include attaining inclusive excellence, developing robust technology infrastructure that benefits every expression of the church, curriculum and training towards "A Just World for All", strategic organizational alignment consistent with purpose, vision and mission, and platforms to foster and encourage innovative church.
The Shaping Our Future Campaign has been launched to generate $4 million in new philanthropic support for marketing, technology and leadership development programs critical to the health and vitality of every expression of the church. More recently, recognizing a need for thought leadership to consider, inform and shape our responsibility for lifelong, cradle-to-the-grave theological formation, John called for a summit on theological formation, From the Ground Up, which was launched in spring 2018. At present, his focus is on re-establishing the primacy of the Local Church and the mutuality of relationship amongst the expressions of the church, undertaking an assessment of the denomination's assets devoted to resourcing local church ministry relative to the needs of the local church, and operationalizing the alignment of the national setting consistent with the newly established strategic priorities for the UCC.
John now serves as Vice-Chair of the National Council of Churches (NCC), and has co-chaired the NCC's United to End Racism campaign. He has been identified by the Center for American Progress as one of the religious leaders to watch for in 2017.
John insists that the Holy Spirit envisions a future in which the United Church of Christ matters. He is calling on the denomination to rethink itself and to consider new ways of being church in light of institutional religion's changing landscape and emerging shifts in the generational populations – believing that an emergent church is already coming alongside the institutional church. John's book Beyond Resistance: the Institutional Church Meets the Postmodern World is a call to the body of Christ to accept what the Spirit of the Risen Christ is doing to birth something new, vital, and relevant – all towards nurturing Beloved Community. .
Press Inquiries
If you are a member of the press and would like to schedule an interview with Rev. Dr. John C. Dorhauer, please contact:
Connie Larkman, News Director
(216)736-2196
larkmanc@ucc.org
For all other inquiries, please contact:
Donyale Copeland, Executive Assistant
(216)736-2156
copeland@ucc.org
Until the lion tells the story, the hunter will always be the hero.
~ West African Proverb
Rev. Traci Blackmon is the Associate General Minister of Justice & Local Church Ministries for The United Church of Christ and Senior Pastor of Christ The King United Church of Christ in Florissant, MO.
Initially ordained in the African Methodist Episcopal
Church, Rev. Blackmon served in various ministry capacities for 9 years, prior to becoming ordained in the United Church of Christ and installed as the first woman and 18th pastor in the 162-year history of Christ The King United Church of Christ. A registered nurse with more than 25 years of healthcare experience, Rev. Blackmon's clinical focus was cardiac care and in later years her focus shifted to mobile healthcare in underserved communities with the greatest health disparities in her region. She earned a Bachelor of Science degree in Nursing from Birmingham – Southern College (1985), and a Master of Divinity degree from Eden Theological Seminary (2009).
5As pastor, Rev. Blackmon leads Christ The King in an expanded understanding of church as a sacred launching pad of community engagement and change. This ethos has led to a tripling of both membership and worship attendance over the last seven years, expanding membership engagement opportunities, and the establishment of community outreach programs. Community programming includes a computer lab, tutoring, continuing education classes, summer programming, a robotics team, children's library and girls' mentoring program, all housed in the church.
Regionally, Rev. Blackmon's signature initiatives have included Healthy Mind, Body, and Spirit, a mobile faith-based outreach program she designed to impact health outcomes in impoverished areas. Sacred Conversations on Solomon's Porch, quarterly clergy in-services designed to equip local clergy to assess physical, emotional, mental, and spiritual health concerns within congregational life, Sista SOS Summit, an intergenerational health symposium for women and girls, and Souls to the Polls STL, an ecumenical, multi-faith collaborative that was successful in providing over 2,800 additional rides to the polls during local and national elections.
A featured voice with many regional, national, and international media outlets and a frequent contributor to print publications, Rev. Blackmon's communal leadership and work in the aftermath of the killing of Michael Brown, Jr., in Ferguson, MO has gained her both national and international recognition and audiences from the White House to the Carter Center to the Vatican. She was appointed to the Ferguson Commission by Governor Jay
Nixon and to the President's Advisory Council on Faith-Based Neighborhood Partnerships for the White House by President Barack H. Obama. Rev. Blackmon co-authored the White Privilege curriculum for the United Church of Christ and toured the nation with Rev. Dr. William Barber of Moral Mondays and Repairer of the Breech, Rev. Dr. James Forbes of The Drum Major Institute and pastor emeritus of The Riverside Church in New York, and Sister Simone Campbell of Nuns on the Bus proclaiming the need for a Moral Revival in this nation.
Rev. Blackmon is a graduate of Leadership St. Louis and currently serves on the boards of The Samuel DeWitt Proctor Conference, Chicago Theological Seminary, and WomanPreach! Rev. Blackmon is a co-author of the newly released White Privilege curriculum through the United Church of Christ and has received several awards and recognitions, inclusive of:
• The White House President's Volunteer Service Award
• The St. Louis American Stellar Award
• 2015 Ebony Magazine Power 100
• Deluxe Magazine Power 100
• St. Louis University – Community Leader of the Year
• 100 Black Men of St. Louis Community Leader of the Year
• The Coalition of Black Trade Unionist – Drum Major Award
• NAACP – Rosa Parks Award
• Rosa Parks Award – United Trade Unionist
• The Urban League of Metropolitan St. Louis Woman in Leadership Award
• National Planned Parenthood Faith Leader Award
• The United Church of Christ – Antoinette Brown Leadership Award
• Honorary Doctorate, Eden Theological Seminary
Rev. Blackmon currently resides in both St. Louis, MO and Cleveland, OH and was named 2017 Citizen of the Year by The St. Louis American and as one of St. Louis' 100 most influential voices. Rev. Blackmon is the proud mother of three adult children: Kortni Devon, Harold II, and Tyler Wayne Blackmon.
Press Inquiries
If you are a member of the press and would like to schedule an interview with Rev. Traci Blackmon, please contact:
Connie Larkman, News Director
(216)736-2196
larkmanc@ucc.org
For all other inquiries, please contact:
Denise Pittman, Executive Assistant
(216)736-3705
pittmand@ucc.org
The Rev. Dr. Karen Georgia A. Thompson is the Associate General Minister (AGM) for Wider Church Ministries (WCM) and Operations in the United Church of Christ and Co-Executive for Global Ministries with the United Church of Christ and the Christian Church (Disciples of Christ). She is an inspiring preacher and theologian, who shares her skills and gifts in a variety of settings nationally and internationally, often using her poetry as a part of her ministry.
As AGM for Wider Church Ministries and Operations, Rev. Dr. Thompson provides strategic visioning and leadership for the programmatic ministries of Global Ministries, Humanitarian Aid and Development, Ecumenical and Interfaith Relations, Events and Scholarships Management and Archives. In collaboration with the other two elected officers, they work together to fulfill the mandates of the General Synod and the United Church of Christ Board.
Former roles in the National setting include two years as Minister for Racial Justice and 8 years as Minister for Ecumenical and Interfaith Relations. She has effectively facilitated Sacred Conversations on Race workshops with congregations and Conferences. Her passion for racial justice moved her work into a global context to participate in efforts to reduce the marginalization experienced by African descendant communities.
As the Ecumenical Officer for the UCC she nurtured relationship with critical partners like the World Council of Churches and coordinated theological dialogues and ecumenical initiatives. She is a strong proponent of human rights and was instrumental in guiding the six-year process for the United Church of Christ/United Church of Canada full communion relationship. She is currently a member of the National Council of Churches Committee that planned and implemented A.C.T. Now to End Racism initiative and continues to lead the on-going efforts to dismantle racism.
Rev. Dr. Thompson provides leadership for the joint United Church of Canada and United Church of Christ committee working on the United Nations International Decade for People of African Descent (2015-2024) and was invited to address the Working Group of Experts on People of African Descent about the challenges of racial injustice in North America.
Her ecumenical expertise is evident in her leadership roles within the World Council of Churches (WCC) on the Central Committee, the Joint Working Group with the Roman Catholic Church (JWG), and the Commission for Education and Ecumenical Formation as the Rapporteur for the work of the commission.
Other ecumenical elected leadership positions include: Secretary of the National Council of Churches, Secretary/Treasurer for the Caribbean and North American Area Council of the World Communion of Reformed Churches and Treasurer for Churches Uniting in Christ.
Her ecumenical and interreligious commitments have overlapped with her interest and implementation of global consultations on multiple religious belonging. Her leadership in this area has created opportunities for dialogue in the church and created safe space for engaging the variety of expressions of religious multiplicity. Her doctoral dissertation was focused on research in this area, looking specifically at the ways in which African Caribbean people continue to practice African derived religious and spiritual expressions along with other religions and often times with Christianity.
Before joining the National staff, Karen Georgia served in the Florida Conference United Church of Christ as a Pastor and on the Conference staff as the Minister for Disaster Response and Recovery. She also worked in the nonprofit sector for over 10 years in senior leadership positions.
She is a gifted writer and poet whose writings have been published in books, journals and on-line publications. Her book of poetry Drums in Our Veins will be published in 2020 and is a compilation of poems that focus on the injustices facing people of African Descent and the fight and desire for racial justice globally. Born in Kingston, Jamaica, her poetry and writings reflect her Jamaican heritage and culture as well as the traditions and lore of her Ancestors.
Karen Georgia earned a BA from Brooklyn College in New York; a Master of Public Administration from North Carolina Central University in Durham, NC; and a Master of Divinity from Union Theological Seminary in New York.   She also studied Public Policy at Duke University and earned her Doctorate in Ministry at Seattle University.
She is the mother of two sons – Everette and Patrick and has three grandchildren – Giovan, Elijah and Sara who are affectionately named by her as Peanut, Pumpkin and Pepper.
Press Inquiries
If you are a member of the press and would like to schedule an interview with Rev. Karen Georgia Thompson, please contact:
Connie Larkman, News Director
(216)736-2196
larkmanc@ucc.org
For all other inquiries, please contact:
LuAnn Key
216-736-3202
keyl@ucc.org
---
Past Officers
Presidents and General Minister and Presidents
Fred Hoskins & James E. Wagner – Co-Presidents (1957-1961)
Ben M. Herbster – President (1961-1969)
Robert V. Moss – President (1969-1976)
Joseph H. Evans – President (1976-1977)
Avery D. Post – President (1977-1989)
Paul H. Sherry – President (1989-1999)
John H. Thomas – General Minister and President (1999-2010)
Geoffrey A. Black – General Minister and President (2010-2015)
John C. Dorhauer – General Minister and President (2015-Present)