DMV Sanctuary group works for release of mother of two detained by ICE in Virginia 
As a group of almost two dozen people, faith leaders and immigration activists, stood in solidarity outside the Fairfax, Va., ICE office on Thursday morning, a mother of two young children and a resident of Virginia for more than a decade was detained and moved to a detention center, so she can be deported.
 
Liliana Cruz Mendez, a 28 year old undocumented immigrant from El Salvador, was accompanied to her check-in at the Immigration and Customs Enforcement office on May 18 by allies and representatives of the DMV (D.C., Maryland, Virginia) Sanctuary Congregation Network, who believe that the presence of clergy, congregants and activists at these check-ins can lead to a better outcome.
 
The Rev. Alexis Kassim, an associate minister at Westmoreland Congregational United Church of Christ in Bethesda, Md., and member of the DMV Sanctuary Network, said the actions by ICE officers, taking Mendez into custody, were unexpected.
 
"Today has been a difficult day," Kassim said. "Liliana was detained at her check-in this morning and transported to a detention center somewhere in southern Virginia. We don't know exactly where she is, but she will be deported. All of this has unfolded without many details provided from ICE, and it is unclear as to what—if anything—we can do to help her now. Many people who were there at her 8 a.m. appointment stayed and demonstrated in front of the ICE building well into the evening hours."
 
The group also staged an emergency vigil late afternoon, rallying community support to call attention to Mendez' pending deportation, and appealing to allies to call their Senators immediately.
 
"Liliana has an active application for refugee status, and has an attorney for this process," said Alice Foltz of Wellspring UCC in Centreville, Va. "She pays taxes, has all of her application in order, and is awaiting her day in court. About 4 years ago, she was stopped for a malfunctioning taillight, and since then she has been on the ICE list for annual required check-in. She expected that yesterday she would check in, and be released, as happened for the past few years. Instead she was detained, and sent to a deportation holding detention center."
 
"The current administration's practices are unpredictable, but usually when folks are accompanied, they are released," Kassim said. "We're reaching out to our elected officials to try and get them to intervene on Liliana's behalf, but there's no guarantee that that will be successful."
 
Senators Tim Kaine and Mark Warner of Virginia, along with Congressman Don Beyer interceded on her behalf, as her attorneys worked on her release. 
 

The DMV Sanctuary Congregation Network, organized in late January, and launched on March 21 is supported by more than 60 congregations from 17 religious traditions that have pledged to provide support to all people in their communities who fear being profiled, detained or deported. The United Church of Christ is well-represented, with several churches from the Central Atlantic Conference participating.
 
ICE office vigils are just one of the tangible ways church members are getting involved. Some congregations are hosting people who are at risk of deportation; others are holding Defend Your Rights trainings; participating in Rapid Response networks to show up when ICE raids take place; and pressing their cities and states to get ICE out of schools, jails and courts and end all policies that racially profile and over-incarcerate people of color.
 
"Scripture tells us that we are all created in God's image," said Rev. Laura Martin, associate pastor of Rock Spring UCC in Arlington, Va. "The people DMV Sanctuary supports are not violent criminals, but are mothers and fathers, people who work and who pay taxes, people who care for disabled veterans and sick children."
 
"Liliana's husband and two children are devastated at the thought of becoming a divided family," Foltz said. "DMV Sanctuary members are determined to continue protesting the case, and the current system that sweeps up persons who belong in the U.S, caring for their families."
---
Related News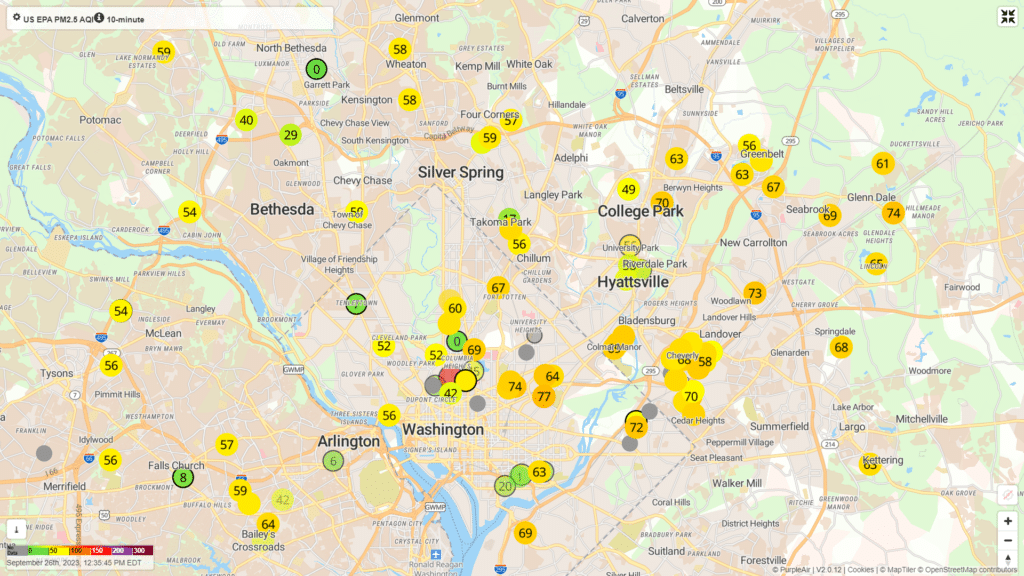 This summer, the United States experienced some of the worst days for wildfire pollution in...
Read More