Digital Potluck: A Holiday Recipe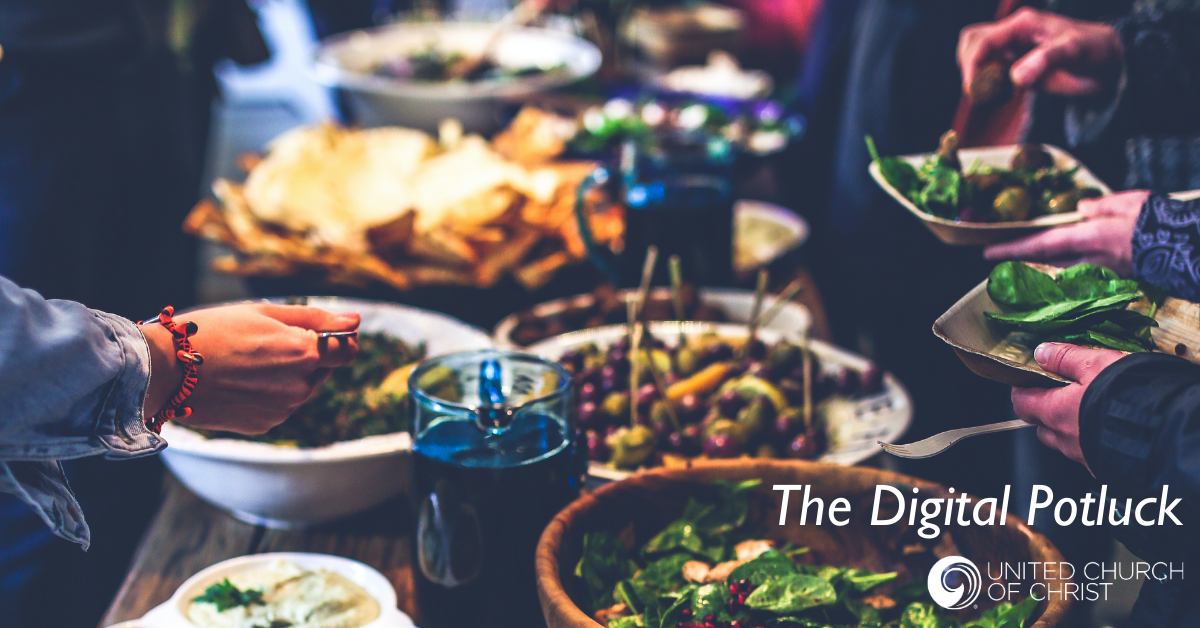 When I was a kid in South Carolina, Thanksgiving and Christmas included meals to look forward to. I get them mixed up in my memories — like, Mother swears we never had ambrosia at Thanksgiving, only at Christmas — but I certainly remember the sights and smells of preparation and consumption.
The thing was, though, those special meals began at dinner. A main course, multiple vegetable dishes, things involving cranberries and green beans and elbow macaroni. Which meant we had to wait through the entire day. A whole day of waiting! On Christmas, we would have a bowl of cereal for breakfast, or maybe a plate of grits, but because we had candy from our stockings, we could feel the specialness of the day regardless. Thanksgiving, alas, offered no such mitigation.
No more! My wife, Hannah, and I have made our own traditions, including meals that span the whole day. We went vegan several years ago, so we've adapted some recipes from our Southern families, which is really easy to do and kindest to animals, and we've chosen new recipes just for us.
This vegan Roasted Asparagus Quiche has become a brunch favorite of ours. It goes great with the Macy's Thanksgiving Day Parade, or with A Christmas Story or Christmas Vacation on an endless loop. Plus, the beverage of your choice. At least, that's how we celebrate.
The thing is, it is just as great for sharing. And you know quiche it great for any meal of the day. For the main course at home, I'd probably cut it in quarters, but for sharing at a potluck, I would slice it eight ways, to help folks leave room on their plates for lots of choices.
Roasted Asparagus Quiche
Makes 6 slices, or 4 generous slices. This recipe will take about 30 minutes to prepare and 60 minutes to cook.
What you'll need:
1 vegan piecrust (Most store brand pie crusts are accidentally vegan! Check the labels to ensure the ingredients do not include milk or eggs. Kroger brand and its Simple Truth shells are vegan, as are Marie Callender's brand.)
1 container of JUST Egg Plant-based Scramble (You can find the JUST Egg at both Meijer and Kroger in the section with the eggs. It's liquid, and comes in a yellow bottle.)
1 bunch of asparagus
1 tbsp of olive oil or other cooking oil
2 cloves of minced garlic
½ tsp salt, plus more for asparagus
½ tsp black pepper, plus more for asparagus
½ -3/4 cup of vegan cheese (Daiya Cutting Board shreds or block in Cheddar and Mozzarella are both great options! If you can find Miyoko's brand mozzarella, it is stellar in this quiche. Daiya cheeses can be found at Kroger and Meijer.)
½ cup of plant-based milk
Dash of nutmeg
Dash of garlic powder
Instructions:
Cook your crust according to the instructions on the crust label.
Wash and snap your asparagus. Slice into thirds.
Heat a skillet over medium heat. Once hot, add your oil. Once the oil has warmed up, add the garlic and sautee for 1-2 minutes. Next add your cut asparagus, sautéing until bright and fragrant. Season with salt and pepper. Remove from heat.
While your pie crust is heating, prepare your quiche mixture. Shake the JUST Vegan Egg well and pour into a medium-sized bowl. Whisk in the milk, salt, pepper, garlic powder and nutmeg.
Once your pie crust has pre-cooked according to the package instructions, adjust your oven temperature to 350. Fill the pre-cooked crust with the cooked garlic and asparagus + cheese. Pour the Vegan Egg mixture over.
Bake at 350 for 55-60 minutes, or until the top is brown and solid. Let cool for at least 30-40 minutes.
The Rev. Dr. Deborah Conrad is the Senior Minister of Woodside Church in Flint, Michigan.
About the Digital Potluck: While churches are unable to gather for potlucks during the pandemic, we can still share our sacred love for heavenly delectable gifts online. The Digital Potluck is a regular column for the sharing of healthy, plant-rich recipes in The Pollinator: The UCC's Environmental Justice Newsletter. As the UCC's Kairos Call to Action notes, eating plant-rich foods is good for both the body and the planet.
---
Related News
One hundred and twenty-five years ago, the United States was in the throes of a most vibrant...
Read More