Delegates, visitors urged to test Synod app now, get key info.
If you are headed to the United Church of Christ's General Synod in Milwaukee June 21-25, you are encouraged to load the official app to your smartphone or tablet before you leave.
Available now at app.synod2019.org, it already has plenty of information you'll want to know, says Cynthia Bailie, who leads the UCC's Office of Philanthropy, Technology, Identity and Communication (OPTIC). "The app is the best place to keep up on Synod business and find your way around," Bailie said.
It features the Synod schedule and event locations, including details about educational intensives (see below), workshops, hearings, committee meetings, banquets, youth activities, restaurants around the Wisconsin Center and more. As the Synod unfolds, the app will note any changes in times and places.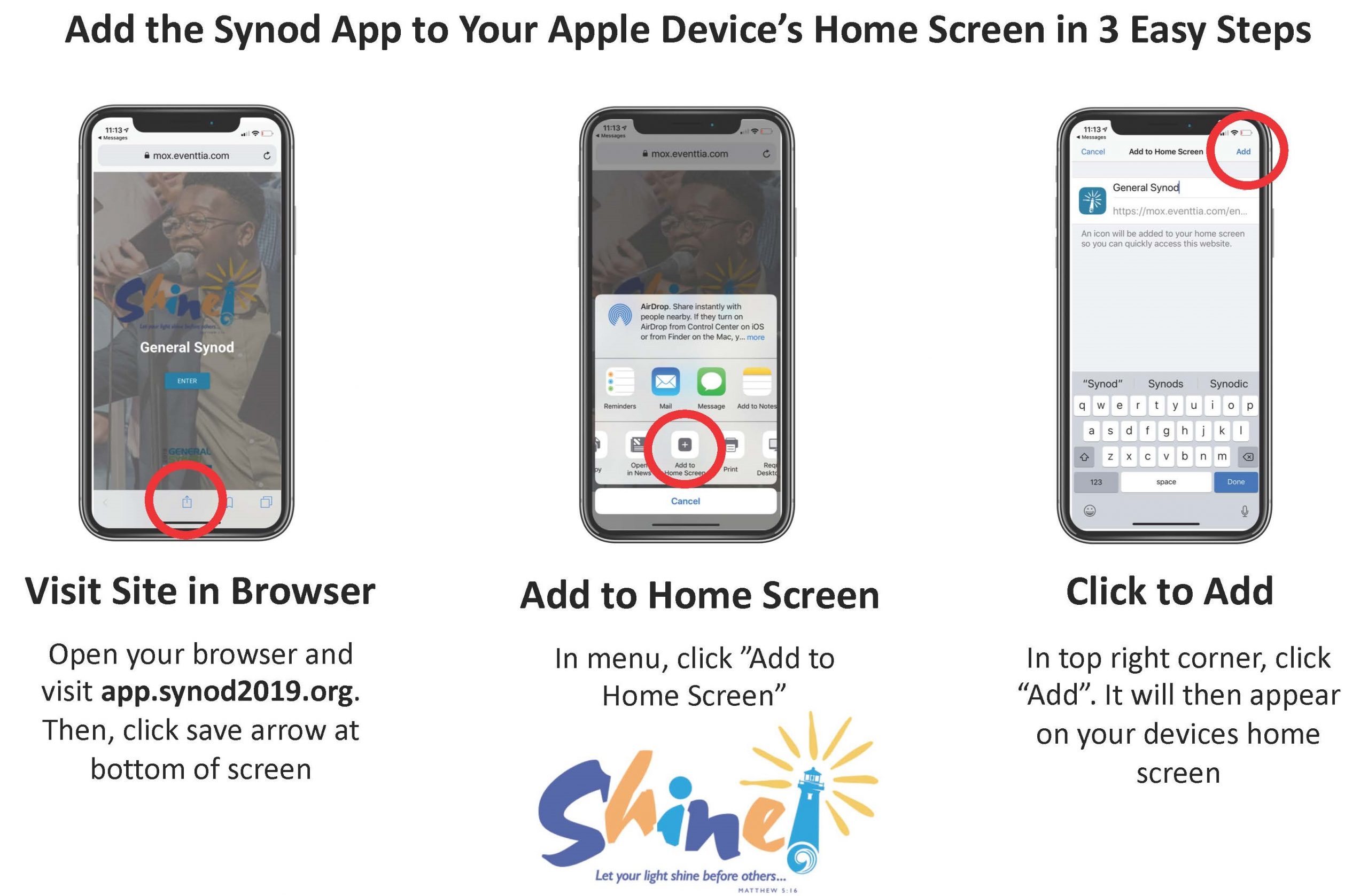 You can also use it to follow Synod business. The app connects to the UCC website's Resolution Center, which already has original texts of proposed resolutions and will share updated versions as they are modified in committees and plenaries. Reports presented in plenary are there, too.
On your Android device, simply go to app.synod2019.org on your device's browser. The app will load automatically, but you may have to tap on an "add to home screen" message. On your Apple device, go to that same link and follow the instructions pictured at left.
"You can load the app when you arrive in Milwaukee," Bailie said. "But I hope you will get it now – both to get used to using it and to take advantage of all the detailed information that's there already."
A good example of new information available now is the roster of prominent local and regional guest speakers who will help delegates study key issues during educational intensives at 12:30 p.m. Friday, June 21, at the Wisconsin Center. Among them:
Private prisons: The Rev. Jerry Hancock, Prison Ministry Project, Madison, Wis.
Interreligious and ecumenical relationships: Elana Kahn, Milwaukee Jewish Federation; Janan Atta-Najeeb, Milwaukee Muslim Women's Coalition; Tom Heinen, Interfaith Conference of Greater Milwaukee
Global forced migration: Dr. John Savagian and Dr. Nat Godley, professors at Alverno College, Milwaukee
Mission and witness: Lynn Woehrle, faculty of the University of Wisconsin-Milwaukee
Plastic foam: Peter Skopec, Wisconsin Public interest Research Group.
Energy Innovation / Carbon Dividend Act: Phil Smith, retired environmental engineer who supervised federal hazardous-waste cleanup projects; Mike Jury, retired engineer who worked on water, wastewater, air pollution and hazardous waste cleanup projects worldwide.
Green New Deal: John Imes, Wisconsin Environmental Initiative
Hate speech and violence: Andrea Bernstein, Hours Against Hate, Milwaukee Jewish Federation; Masood Akhtar, We Are Many: United Against Hate
Collectivo de UCC Latinx Ministries: The Rev. Marilyn Pagán-Banks of Chicago, pastor, San Lucas UCC; adjunct faculty, McCormick Theological Seminary; A Just Harvest.
Exhibit space as a justice resource: Barbara Hummel, retreat leader and consultant, Madison, Wis.; the Rev. Winton Boyd, Center for Courage and Renewal, Madison.
Sexual violence: Cathleen Starck Wille, psychotherapist, pastoral counselor, former biology teacher, Oshkosh, Wis.
Nuclear weapon proliferation: Dr. David Booker, professor, Alverno College, Milwaukee
Local church covenant and autonomy: Lynne Krehbiel-Breneman, Minnesota Conference, UCC, St. Paul, Minn.
Non-binary gender language: The Rev. Emily Snowden, pastor, Congregational UCC, Arlington Heights, Ill.
What it means to follow Jesus: Dr. Karl Kuhn, professor, Lakeland University, Plymouth, Wis.
"App-bassadors" will be on hand in the main lobby of the Wisconsin Center to help you with the app, thanks to the Local Arrangements Committee of the Wisconsin Conference of the UCC.
---
Related News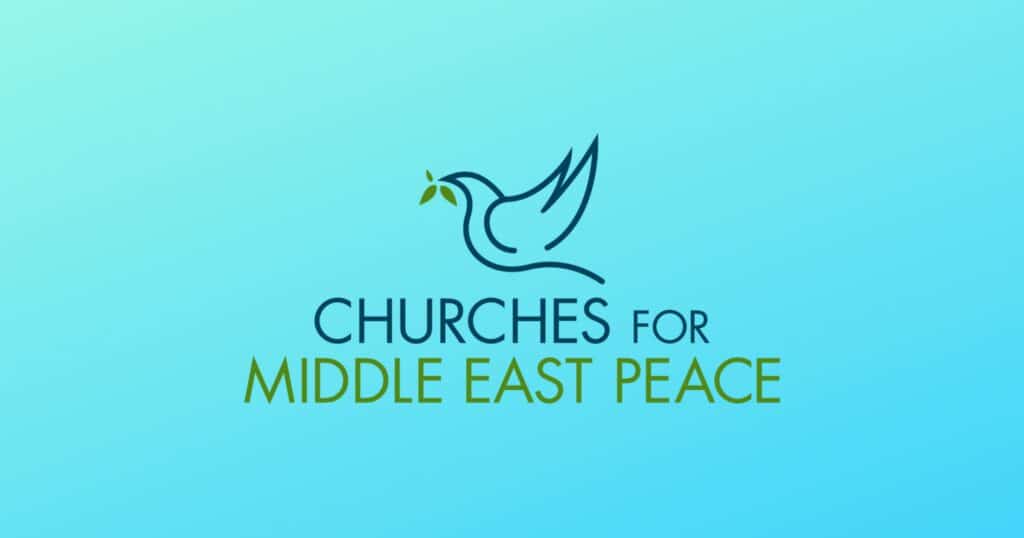 The following statement was issued Dec. 2 by Churches for Middle East Peace (CMEP), of which...
Read More