Deep listening to LGBTQIA+ experiences: Full August webinar series available
Love is louder.
That's the message at the heart of the month-long webinar series led by the Gender & Sexuality Justice Ministries of the United Church of Christ that is now available for viewing.
The four-webinar series was designed to offer "deep intentional dialogue around the experiences that queer folks have, what the state of this moment means for us and how we can collectively offer care and just action together," said Rachael Ward, team leader and minister for Gender & Sexuality Justice Ministries.
Throughout the series, Ward invited LGBTQIA+ guests to share personal reflections and concrete advice for how congregations and individuals can put love into action.
'Fully honoring and validating'
What does it mean for faith communities to offer extravagant welcome for LGBTQ+ individuals?
The Rev. Katrina Roseboro-Marsh, executive director of the Open and Affirming Coalition, joined Ward to discuss this question and what Ward described as "the damage that can and still does happen to queer folks when we offer falsely without real deep awareness of what it means to say all are truly welcome."
"How do we get to the place where we can not only just meet individuals where they are, but honor them where they are?" Roseboro-Marsh posed. "And that honoring is the difference for me and my team between welcoming and being open and affirming. Because welcoming is not being open and affirming — I want to make that clear. It does not allow you to see, hold and honor that individual in their fullness. It says you can come here, but you can't fully be who you are here.
"And so our process of being open and affirming is to guide churches into completely and fully honoring and validating, in openness, individuals for who they are. And that includes them being able to participate in all manners of church life."
Watch the full discussion here:
'Queer people exist in religious spaces'
When LGBTQ students were banned from creating a queer club on campus at Fresno Pacific University in California, several local congregations joined together to provide the students with space and support.
This was one story shared in the second Love is Louder Series webinar by Erin Green, who serves as campus and alumni organizer for REAP, an organization that supports LGBTQIA+ students facing discrimination at religious colleges.
"Some of the most important kinds of activism that churches can do is be a safe space for these students," said Green. "If you're in Texas, if you're near Baylor or if you're anywhere across the country and there's a local religious college near you and you have a congregation nearby, being that safe space where they can meet off campus and gather is such an important part of the work that churches have done."
Green and Ward discussed the importance of paying attention to how educational systems impact justice and care for queer folks.
"We keep students — or try as best as we can — to keep students safe and protected in those religious spaces because one thing that we all have to remember is they deserve to be there too," Green said. "Queer people exist in religious spaces — that is the way it's going to be and they should be able to do that. So we're trying to help create those environments of safety."
Watch the full discussion here:
'A practice you can do any moment'
Kevin Miguel Garcia shared practices of resilience, solidarity and self-compassion in the third Love is Louder Series webinar. Garcia is a spiritual recovery coach, mystic theologian and author.
"What I think is the most beneficial is not even trying to fix your beliefs about something, but what are you going to do every day to connect with peace? What are you going to do to connect with that wisdom that is deep within you — the Christ within?" Garcia asked. "That's the question. And the people who allow themselves the time, even the smallest amount of intention can go a long way. When you give yourself the smallest bit of space, amazing things tend to happen."
Garcia and Ward discussed practices and resources for self-compassion.
"There are no wrong ways to go about finding what feels good to you and what feeds you, and it can always change," Ward assured. "If you're asking yourself, I don't have anything, I don't know what that is, or you're burnt out from spiritual disciplines like traditional prayer style or reading a devotional or even reading the Bible . . . take your shoes off and put your feet on the ground. Take your hands, take something that you have mobility with, and feel the pulse in your body. That is a practice enough because you are alive.
"And the reminder that we are still here and that we have gifts to sow with ourselves and others is a practice that you can do any moment, any day."
Watch the full discussion here:
'Become a sanctuary'
Roberto Ché Espinoza spoke of the need for healing and mutual aid amid anti-trans legislation and harm in the final Love is Louder webinar. They are a transgender public scholar and Latinx using story and imaginative narrative with hopes of stewarding ethical futures.
"If we can collectively begin to suture the wounds — the many ways that the Bible and doctrine and theology has been weaponized against queer people and trans people — if we can begin to suture those wounds, I really think we can bring heaven to earth with the queer and trans people that that are still very interested in ritual life, still very interested in spirituality," Espinoza said.
Espinoza shared their story of becoming a trans refugee and relocating to a sanctuary state after receiving extensive targeted harassment in their home.
"In Missouri and West Virginia, if you are caught and arrested for using a bathroom that does not match your license, or if you're a trans person, you're at risk of being mandated by the state to detransition. So we're talking about the eradication of trans and queer people," they said. "There are 13 sanctuary states right now. We need churches to become sanctuary sites for trans and queer people. Talk to your churches. Talk to your pastors. Talk to your Elder board, your deacons. Talk to your people and begin making a plan to become a sanctuary for trans and queer people because there was a mass exodus out of Tennessee and there still is and countless other places.
"Become a sanctuary for trans and queer people, and then create a discretionary fund for the material need for trans and queer people."
Watch the full discussion here:
---
Content on ucc.org is copyrighted by the National Setting of the United Church of Christ and may be only shared according to the guidelines outlined here.
---
Related News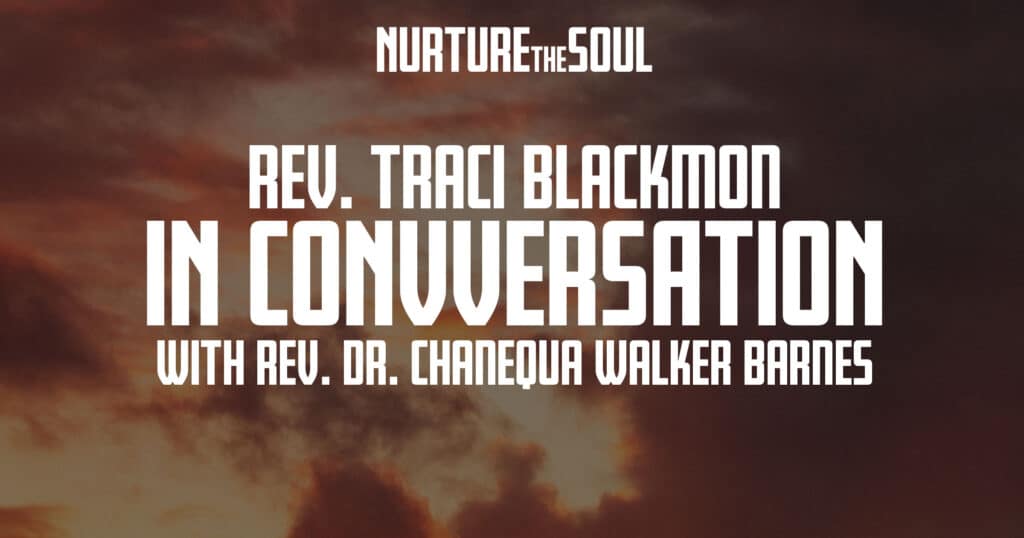 The impact of trauma and the need for self-care are vital -- and sacred -- topics for the...
Read More