UCC churches in D.C. light up the night for justice
Churches of the United Church of Christ in the Washington, D.C., area are assembling with ecumenical partners on Friday night to join arms in a massive prayer vigil of love and light for justice. The Dec. 12 candlelight vigil is the D.C. faith community's response to the pain caused by recent grand jury decisions in New York City and Ferguson, Mo., where police officers killed unarmed men, but were not indicted.
The "Not a Protest, But a Promise" vigil is a moment to stand together, to advance peace during the season of Advent, as thousands of people plan to light up 16th Street—all the way from the White House to the edge of the city, near Silver Spring, Md., 6.5 miles to the north.
"I think the title speaks for itself. This is not a protest to let out the collective outrage of police violence that has taken place in communities of color," said the Rev. Marvin Silver, pastor of Jubilee UCC in Lanham, Md. "It's a promise to come together and work for justice. We're hoping those who come together can find enough energy to bring some real policy change on this issue. We don't have to go to New York or Ferguson—these issues happen in our own back yard."
Silver, who helped plan the vigil, expects more than 500 people to attend.
"A good number of congregations and organizations are getting ready to light up the way," he said. "It should be something to see."
Sandy Sorensen, director of the UCC Washington office, believes that the faith community needs to lead the way in addressing and eradicating racism.
"It's important for us as people of faith to be a visible presence in the midst in the aftermath of these decisions, visible in our call for justice, visible in our stand against the many ways racism continues to manifest itself in our society, and a visible presence of reconciliation and healing," Sorensen said. "Those are particular gifts we can bring as people of faith in the days and weeks after the decisions."
In addition to UCC, other faith communities that will be lining 16th Street include the Christian Church (Disciples of Christ), United Methodist Church, Presbyterian Church USA, Unitarian Universalist Association, as well as Presbyterian, Catholic, Episcopal and Mennonite communities.
"Part of what lead to the tragic killings of Michael Brown (in Ferguson, Mo.) and Eric Garner (in New York City) is a culture of fear, and dehumanization of those who are 'other' than us," Sorensen said. "That's a core of our calling as people of faith, to encounter and recognize the image of God in every human being. This vigil is trying to represent the need to return to that."
UCC congregations in the D.C., Maryland and Virginia area aren't the only ones gathering for justice in the nation's capital. The Michigan Conference of the UCC is sending a contingent to Washington for another march this weekend.
The Rev. Jamie Hawley, chaplain at the University of Michigan, chartered a bus and has filled all 57 seats. Some of those making the trip are UCC members, some are clergy and some are students from outside the church. The Christian, Jewish and Muslim faiths will be represented.
The National March Against Police Brutality, on Saturday, Dec. 13, will bring together participants with the families of Garner, Brown, Tamir Rice and Trayvon Martin in a peaceful march and protest against police brutality and violence.
"As a clergy person, I think we have a ministerial responsibility to be on the front lines," said Hawley. "I think we are called to stand with folks who are marginalized, and help amplify that voice. And as an African American myself, that alone causes me to recognize that issue—I've had experiences with police brutality and racial profiling. I'm a father of a 13-year old, and when I have to have conversations with him about police brutality, that breaks my heart."
Hawley, ordained in the UCC and pastor of a new church start, New Vision Ministries (Ann Arbor), said that he called the Michigan Conference to spread the word about the march, and had the full support of the conference minister, the Rev. Campbell Lovett, and the staff.
"I learned very quickly people are eager to go," Hawley said.
---
Related News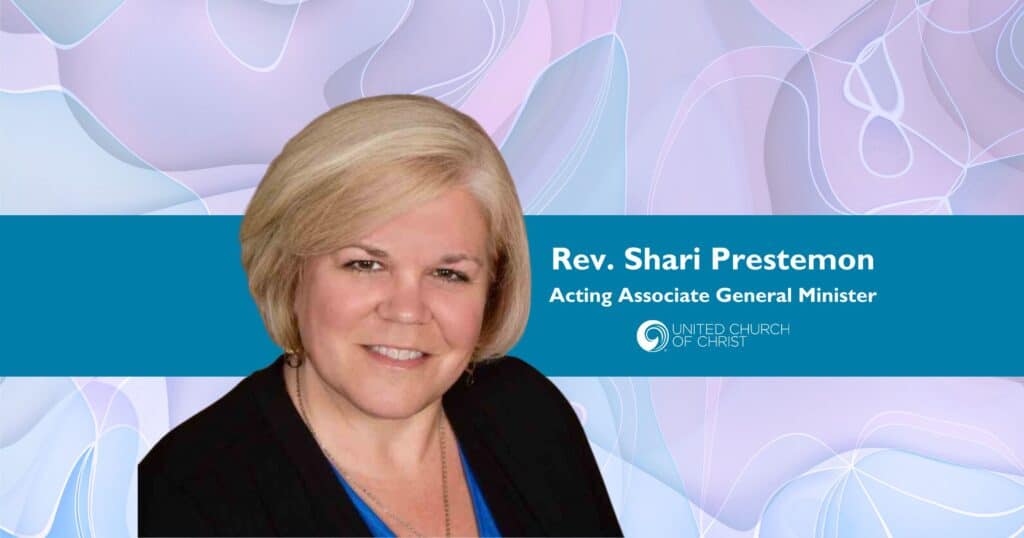 A new United Church of Christ national leader has been called. The UCC Board voted in a...
Read More