"Dancing with the Wind"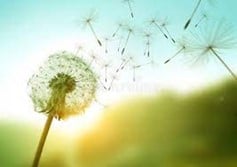 "The wind blows wherever it pleases. You hear its sound, but you cannot tell where it comes from or where it is going. So, it is with everyone born of the Spirit" John 3:8 
That night when Nicodemus and Jesus met up in Jerusalem, things were tense in the city. The gospel of John tells us that Passover was near, and the city was bursting with people. Pilgrims had arrived from all parts of the kingdom. The great Sanhedrin, (the Jewish supreme court) was in session and had its 71 members present. Besides, Pilate was in town. He had marched in with his troops from Cesarea, ready to crack down on any potential uprisings.
We know Nicodemus was part of the Sanhedrin. He was one of the richest and most important men in Jerusalem. It seems the Pharisees (his colleagues) sent him to meet up with Jesus. They probably suspected that the teacher's presence in town indicated that an uprising was near. They knew how volatile the city could be during Passover and it was their job to keep things under control.
We do not know for sure what motivated Nicodemus to go looking for Jesus at night, what we do know is that the conversation changed his life.
Jesus probably knew from the very start why he was there. He was not one to be fooled. He knew that they were looking to figure him out, they wanted to know his plans and reasons for being in town. And so, the master turned the table on the guest, and spoke of wind and water instead.
You want to know Nicodemus, what's my plan? look at the wind, and you will know my strategy.
Nicodemus was confused.
Do you remember that before creation, the wind was already there? Before Elohim made the stars, the seasons, the months in the years, the hours in the day. Even before then, the wind was already flying over the waters. Have you paid attention to her? The wind is not like the sun, do not ask her where she will be in three weeks, or when she will pass by your window. No one can control her, no one knows where she goes.
I ask you, Nicodemus. Where are you? Are you tied to the past? Tied to the future? Bound to a bunch of laws and ideas someone taught you? The spirit is much older than your rules. Are you too afraid to let go of having control? That is not how the Kingdom works. Life is a dance with the spirit, The kingdom cannot be controlled. The door ALL, now be like the wind and let go.
I ask you then.
What is tying you down? What weight must you let go off?
Elohim, fill with spirit our hearts. We want to be wind in your wind, we want to let go of what holds us back. Your kingdom is a mystery no one can figure out. Your kingdom is a dance between two lovers, who know not where they will end up.
Written by: Natalia Serna (La Muna) writes songs and stories. She loves gardens in bloom and bringing people from different walks of life to the same table.
---
Related News
Each month we ask UCC advocates to help us unpack the complex justice issues that we're...
Read More