Post Office cuts are slowing more than ballots
United Church of Christ – Wider Church Ministries
Humanitarian Development Team
Coronavirus (COVID-19) Daily Briefing
Barbara T. Baylor, MPH – Temporary Health Liaison
Post Office cuts are slowing more than ballots
"The COVID-19 crisis is both a public health crisis and an economic crisis and the U.S. Postal Service is a vitally important tool for combating these twin calamities."
The Postal Service manages 1.2 billion prescription drug shipments a year – or about four million each day, six days a week. It also delivers hundreds of millions of lab tests and medical supply shipments – from blood testing strips and insulin needles to contact lenses.
In a major public health crisis like the one we face today; the Postal Service is even more important. There is no substitute for the Postal Service's universal delivery network. A collapse of the Postal Service at this crucial moment would severely undermine both our fight to defeat the COVID-19 virus as well as the effort to stabilize our economy.
Alas, the U.S. Postal Service has become a political battleground.
President Trump declared that he didn't want to adequately fund the U.S. Postal Service to enable universal mail-in voting. Postmaster General Louis DeJoy reportedly then ordered cost-cutting measures, slashing overtime and curbing late delivery, which have reportedly created significant delays in mail deliveries – including delivery of life-saving medicines.
Sadly, what seemingly was not given any serious thought was how cutting and slashing postal services could and would affect necessary and life-saving medications from reaching some Americans in a timely manner.
An outpouring of public support for robust funding for the U.S. Post Office and relief for overwhelmed postal workers caused DeJoy to suspend "some" changes until after the 2020 elections. But damage to timely delivery appears already to have been done, with many reporting unprecedented delay in their mail.
All this is happening during the COVID-19 pandemic, when more homebound people are turning to mail order for their medications – often medications that help them manage chronic conditions such as high blood pressure, asthma and other respiratory diseases, high cholesterol, and diabetes that make them more likely to be hospitalized if they contract COVID-19.
As if this were not enough of an assault on people's health, the Trump Administration also is pushing for repeal of the Affordable Care Act ("ObamaCare"), which would cause more than 23.3 million people to lose their health insurance coverage.
Policy changes already implemented are slowing delivery at the U.S. Postal Service. Among those on whom this is taking a toll are military veterans, who are reporting much longer wait times to receive mail-order prescription drugs. Some are seniors who instead must visit a pharmacy, putting them at higher risk of exposure to COVID-19.
In a letter on Friday, August 14, 31 senators took aim at Postmaster General Louis DeJoy. The senators said they'd heard from hundreds of veterans and from Department of Veterans' Affairs staff, who cited weeks-long mail delays, causing veterans to miss doses of vital medications.
The letter, led by Montana Sen. Jon Tester, the top Democrat on the Senate Veterans Affairs Committee, included the following statements:
– "Access to prescription medications is especially integral during the COVID-19 pandemic when routine health care appointments may be delayed or cancelled."

– "No veteran should have to wonder when their antidepressant or blood pressure medication may arrive — and the effects can be devastating if doses are missed."
The Veterans Administration fills about 80 percent of veterans' prescriptions by mail. That translates to almost 120 million prescriptions a year, with deliveries arriving daily to about 330,000 veterans across the country. (The Veterans Administration has disputed the notion that mail-order prescriptions were arriving weeks late and pointed to guidance on its website encouraging veterans to request refills at least 10 days before they need it.)
Veterans are not the only ones experiencing delays in delivery of medications. Some doctors are concerned for their all low-income and elderly patients. Dr. Lakshman Swamy, a Boston-based pulmonologist and critical care doctor says the situation could be disastrous for asthma patients who rely on Medicaid or don't have insurance. These patients might not be able to negotiate an emergency supply.
Erin Fox, a pharmacotherapy professor at the University of Utah, emphasized that most prescriptions fulfilled through the mail treat chronic conditions rather than short-term prescriptions, like a course of antibiotics. Without them, patients could have heart attacks or strokes. Mail order prescriptions also include anti-rejection medicines for people who have had organ transplants. "Delays with the postal system is very concerning because patients may not be able to access the chronic medications that they need," she said.
On the congressional scene, Sens. Bob Casey and Elizabeth Warren, of Pennsylvania and Massachusetts, respectively, are reaching out to the companies that fulfill the prescriptions. Casey said the mail crisis highlights the need for the USPS to receive additional funding, though Trump has threatened to veto any bill that included dollars earmarked for the federal agency.
Most recently, Trump pressured Republicans to oppose a bill that would have ordered $25 billion for the U.S. Postal Service and halted changes. The U.S. House of Representatives approved the bill 257-150 on Saturday, August 22, with more than two dozen Republicans joining the Democrats to vote for it. The Republican-held Senate is unlikely to vote on it.
Senator Casey promised to "keep pressing the administration to increase the funding for the USPS and reverse the harmful policies that caused the service delays."
Pictured: In author Barbara Baylor's neighborhood, two formerly active mailboxes have now been taped for non-use. August 24, 2020, photo.
COVID-19 Daily Briefing Archives
See Also: Racial and Ethnic Disparities – Information for Action Archive

---
Related News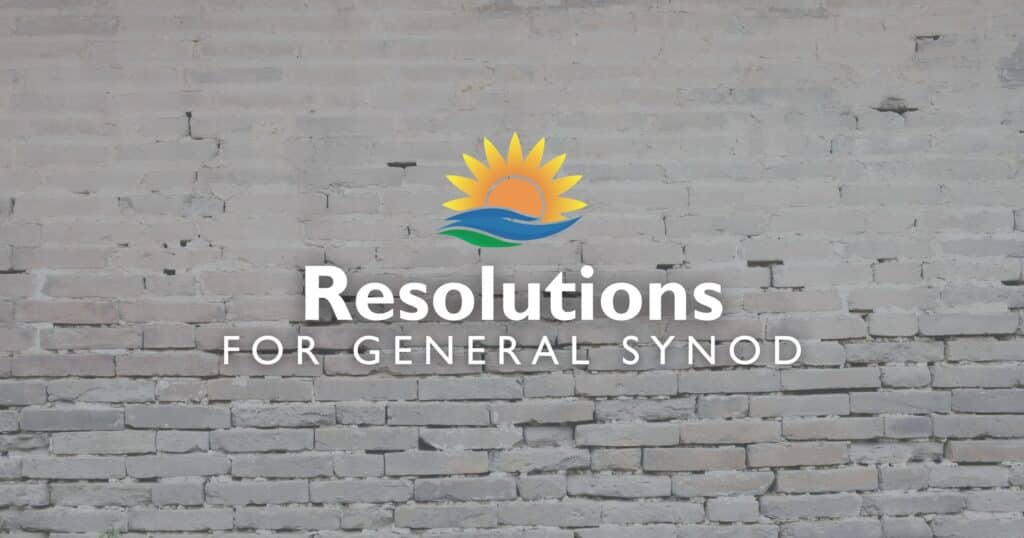 The 2023 General Synod of the United Church of Christ will consider 17 resolutions...
Read More