Other Disasters and COVID-19
United Church of Christ – Wider Church Ministries
Humanitarian Development Team
Coronavirus (COVID-19) Daily Briefing
Barbara T. Baylor, MPH – Temporary Health Liaison
Other Disasters and COVID-19

According to FEMA, the Federal Emergency Management Agency, the delivery of mass care and emergency assistance during a pandemic in conjunction with a natural, technological or human-caused disaster will need to be modified to maintain the health and well-being of survivors and workers.
With safety and security of everyone being the priority, the ability to provide resources for search and rescue and for the sheltering of people evacuated from their homes becomes more of a challenge.
First responders such as the Red-Cross have been assessing best practices to prepare for disasters in what is now hurricane season, wildfire season, and flood season in some areas. The type of disaster local communities may face can be found on the Red Cross Interactive Map.
Due to COVID-19, and its high transmission rate, the UCC is encouraging individuals, churches and communities to plan ahead. With reduced space in shelters and the possibility of closed restaurants and hotels, we suggest that people contact family and friends in other areas to create a strategy to deal with whatever might be happening in a specific area.
The Red Cross has a list of things you can do to be prepared, beginning with assembling two kits of emergency supplies and a one-month supply of prescription medication:
Start with this basic supply list. Customize your kits to meet your needs. Include disinfectant and hygiene items like soap and hand sanitizer to protect against COVID-19. Some supplies may be hard to get, and availability will worsen in a disaster, so start gathering supplies now.
Stay-at-home kit (2 weeks of emergency supplies): Include everything you need to stay at home for at least two weeks with items such as food, water, household cleaning and disinfectant supplies, soap, paper products and personal hygiene items.
Evacuation kit (3 days of supplies in a "go bag"): Your second kit should be a lightweight, smaller version that you can take with you if you must leave your home quickly. Include everything you need to be on your own for three days – food, water, personal hygiene items, and cleaning and disinfectant supplies that you can use on the go (tissues, hand sanitizer with 60% alcohol and disinfection wipes). Ensure that you have cloth face coverings, such as masks and scarves, for everyone in your household who can wear one safely. Cloth face coverings are not a substitute for physical distancing. Continue to keep about six feet between yourself and others in public. Cloth face coverings should not be placed on young children under age 2, anyone who has trouble breathing, or is unable to remove them without help.
1-month supply of prescription medication, as well as over-the-counter medications like cough suppressants and fever reducing drugs and medical supplies or equipment. Keep these items together in a separate container so you can take them with you if you have to evacuate.
Other ideas to help you create your own strategy can be found on the Red Cross Plan Ahead page.
Churches and other community organizations that shelter people displaced by emergencies and/or volunteers coming into a community to help with clean-up and rebuilding will also need to follow new guidelines to keep people safe. Considerations for sanitizing shared spaces such as kitchens, dining areas, bathrooms, etc., will require special attention. The UCC's downloadable Considerations for Deploying Disaster Recovery Work Site Volunteers Safely During COVID-19 can help, as can these Centers for Disease Control guidelines.
There is still much that we do not know about COVID-19. But what we do know is that wearing a mask, social distancing, and washing our hands and surfaces often all seem to help. UCC Disaster Ministries also has a list of resources for personal and congregational preparedness that may provide information.
Be safe and share this message with those you care about who may live in a community where a disaster may occur.
Today's briefing is by guest writer the Rev. Phyllis Richards, Acting Team Leader, Global H.O.P.E., which is part of UCC Wider Church Ministries.
COVID-19 Daily Briefing Archives
See Also: Racial and Ethnic Disparities – Information for Action Archive

---
Related News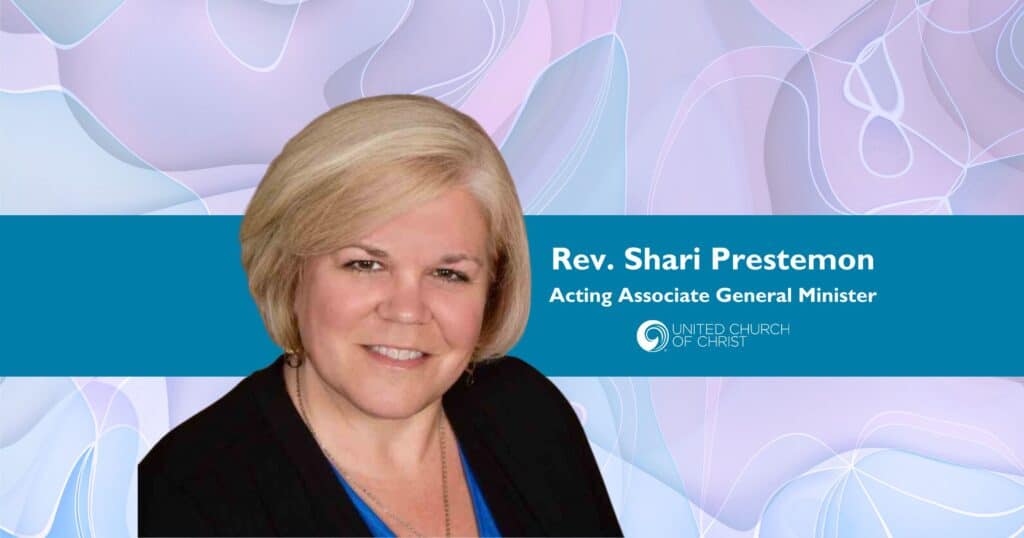 A new United Church of Christ national leader has been called. The UCC Board voted in a...
Read More