The COVID-19 Pandemic, Mental Health and Suicide
United Church of Christ – Wider Church Ministries
Humanitarian Development Team
Coronavirus (COVID-19) Daily Briefing
Barbara T. Baylor, MPH – Temporary Health Liaison
The COVID-19 Pandemic, Mental Health and Suicide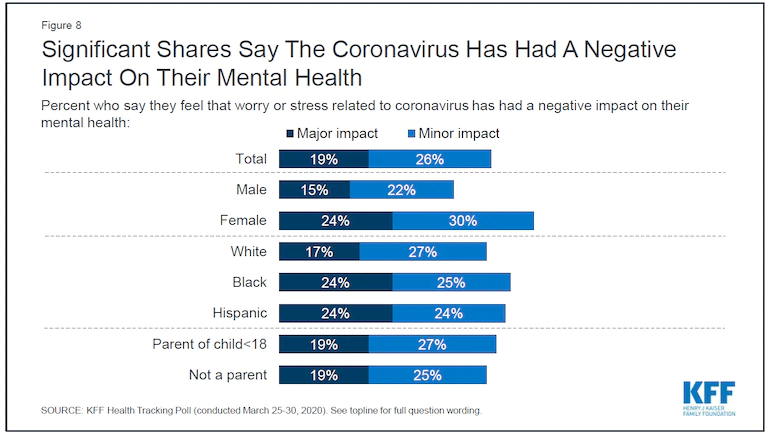 In the United States, 1 in 5 adults endure the consequences of mental illness each year. Yet fewer than half receive treatment, federal statistics show. As suicide rates have fallen around the world, the rate in the United States has climbed every year since 1999, increasing 33 percent in the past two decades.
Since 2017, suicide has been the 10th leading cause of death in the United States, according to the National Institute of Mental Health.
Is the COVID-19 pandemic sparking more suicides? Experts say that the mental health toll of the coronavirus pandemic is only beginning to show itself, and it is too early to predict the scale of the impact. The ultimate marker of the virus's mental toll will show up in the nation's suicide rate in this and coming years.
Death feels closer, even well away from the front lines of emergency rooms. According to Matthew Nock, a psychology professor and researcher at Harvard University, there is not only an increase in anxiety, but more importantly social isolation which is related to suicide. Social isolation is the new normal for tens of millions of people around the world.
The impact of economic hardship has caused suicide rates in the United States to rise steadily since 2000 – by 35 percent overall, across most age groups – but the rate of increase roughly doubled in the wake of the 2008 downturn. Historically, the job losses, evictions and displacements caused by recessions tend to lead to an increased number of suicides. In this case, the imminent threat of the pandemic adds to the exhausting anxiety of facing a future with few job prospects and alters the thinking and behavior of distressed people in ways that are simply not well understood.
Data show depression is rising in the nation. Nearly half the people in the United States feel the coronavirus crisis is harming their mental health.
A survey published in early April by the Kaiser Family Foundation reveals how the COVID-19 pandemic has escalated into a nationwide psychological trauma. The survey found that 45 percent of adults say the pandemic has affected their mental health, and 19 percent say it has had a "major impact." The survey also found that 57 percent of adults say they're worried they could be exposed to the virus because they can't afford to miss work and can't stay home. The poll makes one thing clear: If you're scared, anxious, depressed, struggling to sleep through the night, or just on edge, you're not alone.
A federal emergency hotline for people in emotional distress registered more than 1,000 percent increase in April compared with the same time last year. Last month, roughly 20,000 people texted that hotline, run by the Substance Abuse and Mental Health Services Administration.
Mental health research has established a strong link between economic upheaval and suicide and substance abuse. A study of the Great Recession that began in late 2007 found that for every percentage point increase in the unemployment rate, there was about a 1.6 percent increase in the suicide rate.
Federal agencies warn that the United States may be ill-prepared to handle the rises in anxiety, depression, substance abuse, post-traumatic stress disorder and suicide due to COVID-19. The U. S. mental health system, which was underfunded, fragmented and difficult to access before the pandemic, is even less prepared to handle this coming surge.
There have been no White House briefings or plans to deal with this oncoming surge. Out of the trillions of dollars Congress passed in emergency coronavirus funding, only a tiny portion has been allocated for mental health. Community behavioral health centers – which treat populations most at risk – are struggling to stay financially solvent. A survey of local mental health and drug addiction centers showed the pandemic had already left many on the brink of financial collapse, preventing them from providing services that generate much of their reimbursement revenue.
Part of the problem is the markedly different way the United States treats mental illness compared with physical illness. Studies show that patients in mental crisis consistently struggle to get their insurance to pay for care. Even with insurance, they struggle to find therapists and psychiatrists willing to take that payment. Those who can afford it often end up paying out of pocket. Experts warn that such parity and access problems may only worsen with the pandemic.
To stem the tide on the looming suicide and mental health crises the following actions have been taken:
1. On April 8, NAMI (the National Alliance on Mental Illness) joined more than a dozen of the nation's leading mental health organizations in a letter to Congress calling for specific additions to the next stimulus package to address the profound mental health implications of the COVID-19 pandemic. Mental health organizations estimate that $38.5 billion is needed to save treatment providers and centers and that $10 billion more is needed to respond to the coronavirus pandemic.
2. On April 27, the American Psychological Association, American Psychiatric Association, NAMI and 12 other organizations issued a joint letter. In it, they pleaded for the Trump administration to prioritize mental health and addiction treatment providers and community mental health centers facing financial collapse as the administration prepares to distribute the additional $75 billion in funding for the Public Health and Social Services Emergency Fund. At this point, it is unclear how HHS will distribute the $75 billion on additional provider relief funding.
The letter also requested that the government lift reimbursement restrictions that have prevented therapists from using phone calls to treat patients. On May 1 CMS (Centers for Medicare & Medicaid Services) eased rules regarding coverage for behavioral health and patient education services. CMS is also increasing payments for telephone visits to match payments for similar office and outpatient visits. The payments are retroactive to March 1, 2020.
3. On April 28, a coalition representing more than 250 mental health groups announced it was convening a national response to the problem of pandemic-related suicide – an effort that will include at least one federal agency, the National Institute for Mental Health.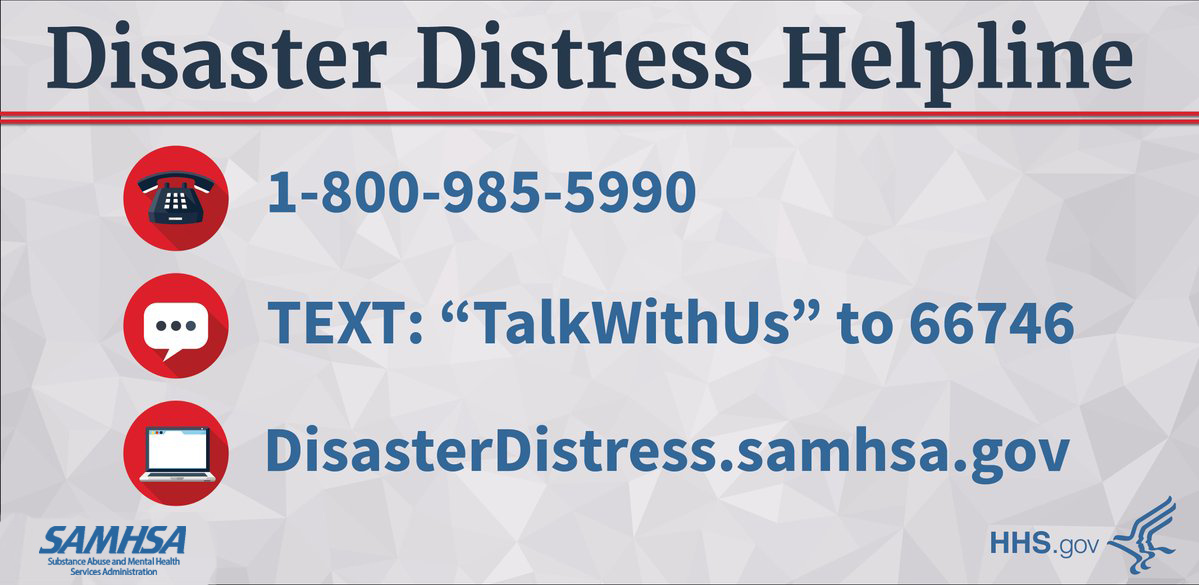 Almost everyone is experiencing increased stress during this time and the effect will be different for different people. The difficulty is identifying and treating those who develop more worrisome mental problems such as post-traumatic stress disorder and severe depression. Mental Health America has offered questionnaires on its website – widely used in medicine – to help people screen themselves for mental health problems. Since the pandemic began, the number of those daily screenings has jumped by 60 to 70 percent. And since February, the number of people screening positive for moderate to severe anxiety and depression has jumped by an additional 18,000 people compared with January.
If you or someone you know needs help, call the National Suicide Prevention Lifeline at 800-273-TALK (8255). Crisis Text Line also provides free, 24/7, confidential support via text message to people in crisis when they text to 741741.
Another great resource is the Disaster Distress Helpline (see graphic, right).
References
Is the Pandemic Sparking Suicide? (The New York Times)
They beat the virus. Now they feel like outcasts (www.boston.com)
Lockdowns make life especially lonely for the elderly (www.boston.com)
The coronavirus pandemic is pushing America into a mental health crisis (The Washington Post)
For Half of Americans, the Coronavirus is Harming their Mental Health (Occupational Health and Safety)
Take a Mental Health Screening Test (Mental Health America)
Coronavirus is harming the mental health of tens of millions of people in U.S., new poll finds (Washington Post)
National response to Covid 19 (National Action Alliance for Suicide Prevention)
Mental Health by the Numbers (NAMI)
From Suicide Prevention Resource:More Americans Are Killing Themselves at Work
Addiction and mental health vs. physical health: Widening disparities in network use and provider reimbursement (Milliman)
NAMI Calls On Congress To Respond To The Mental Health And Addiction Crisis Caused By The COVID-19 Pandemic
COVID-19 Daily Briefing Archives

---
Related News
On October 13th, a delegation of UCC laity and clergy are scheduled to deliver more than 6,500...
Read More