Worth
"While they were praying, the place where they were meeting trembled and shook. They were all filled with the Holy Spirit and continued to speak God's Word with fearless confidence."  – Acts 4:31
It was a Friday afternoon and I was serving as a volunteer chaplain. A woman came in looking for another colleague; she was scheduled for art therapy. I do not see myself as an artist; at best I am a stick figure guy all the way. I am the type of person who would prefer that someone else take notes on the board because my handwriting would be illegible and not worth the effort.
The woman shared that she had taken a bus for over an hour to meet my colleague, and she wasn't keen on just coming back at another time. My internal voice said a loud "not it, not me, not now." I heard my voice loud and clear with all of the rational reasons about why I wasn't the one.
That other voice, the one that sometimes echoes as a still small voice and at other times loud, deafening and even blinding suggested that "I was" for such a time as this. After some resistance, I found myself playing yogic music with an adult coloring book. I was listening with an open heart and mind to my sister's journey and struggle. During a pause I was led to say boldly "you are worthy." She stopped coloring and looked at me with tear-filled eyes. I knew those words struck every part of her that believed she was not worthy. In her eyes I also saw the parts of me that felt and feel unworthy.
What if we believed we were chosen, for this day and for this hour, and that we are worthy?
Prayer
God, sometimes it is frustrating to be the one in the room, the one called, the one who has to have our inadequacies.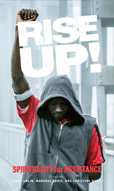 About the Author
Darrell Goodwin-Moultry contributed this devotional to
Rise Up! Spirituality for Resistance,
a collection of devotionals to keep you burning bright without burning out, whether you're leading a justice effort at church or heading out to join a local protest. You can
order Rise Up!
from UCC Resources.