Trading Guilt for Grace
My guilt has overwhelmed me like a burden too heavy to bear. – Psalm 38:4
I miss a deadline. Instead of asking for an extension, I ghost the editor.
I forget I have plans with someone. Or I forget to return the call of an old friend or a family member. Instead of sending a quick "I'm sorry," I avoid them. And then stare at their Facebook page wondering if they hate me.
I roll over from a nap to see that the event I really wanted to attend already started. Instead of regrouping and finding a way to go anyway, I burst into tears and go back to sleep.
My guilt complex is so destructive. It consumes me to the point of irrationality. And in that irrational place, I make even more decisions that make me feel even guiltier. 
It's a cycle that's seemingly impossible to end.
Breaking my guilt cycle requires something I'm not that good at doing—admitting I'm human. Admitting that sometimes, I let people down and sometimes, I let myself down. Admitting that I overestimate what I can do or how much time I have to do it.
When I recognize my humanity, I feel vulnerable. And that vulnerability reminds me that I'm not in control, a reminder I fear more than anything.
My guilt masks tender parts of me I'm not always ready to reveal—the parts of me that need forgiveness and affirmation on my worst days. The parts of me that long to know I don't need to be perfect to be worthy of love and care. 
The parts of me that want to be enough, even on the days it doesn't feel possible.
Prayer
Divine One, extend your grace to me and help me extend that same grace to myself. Amen.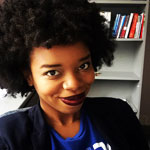 About the Author
Marchaé Grair is the Director of Public Relations and Outreach for the Unitarian Universalist Association and a member of South Euclid United Church of Christ, South Euclid, Ohio.