The "Yes" in "No"!
"For the Lord God is a sun and shield; the Lord bestows favor and honor; no good thing does he withhold from those whose walk is blameless." – Psalm 84:11
Hearing "no" at times feels unfair and not right. These are the moments where no matter how hard I worked, prayed, knocked and believed, the answer was still "no."
Last year, I was a finalist for a senior university position. I was told that though I was the strongest candidate, all of "who I was and would bring" were not resonant with their institutional identity. I was disappointed, I had flown across the country, met with multiple constituents, interviewed well, gave my all, and the answer was still "no."
In the months afterward, the election happened. I realized that if I had been offered that position I would have been in an environment that was not in alignment with my beliefs or who God created me to be. I would not have had my church family, or those who would affirm me in my call in this world. Taking the job would not have been the good thing that God had for me, though it seemed "so right" at the time.
Distance has a way of broadening our perspective.
Maybe the "no" you are hearing right now is rooted in discrimination, flawed theology or a limited view of a BIG God. But consider for a moment that the "no" is God reminding you that since no good thing can be withheld from you; the "no's" are simply clearing a path for your "yes."
Prayer
Holy One, you desire that we prosper and be in health even as our soul prospers. Teach us to embrace the "no" as we march toward the "yes."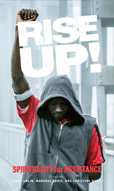 About the Author
Darrell Goodwin contributed this devotional to
Rise Up! Spirituality for Resistance,
a collection of devotionals to keep you burning bright without burning out, whether you're leading a justice effort at church or heading out to join a local protest. You can
order Rise Up!
from UCC Resources.