The Last Duet
Our mouths were filled with laughter, our tongues with songs of joy. Then it was said among the nations, "The Lord has done great things for them." – Psalm 126:2
During one of the last days of my grandma's life, I sang to her. I knew each day I spent with her could possibly be our last day together, so each moment was especially tender.
In an almost whisper, I sang the words of "Smile" by Tasha Cobbs:
Here's my worship.
Take joy in it.
Make it your dwelling place.
I wanna put a smile on your face.
I present my heart to you.
I present my life to you.
Grandma was in home hospice, and she wasn't able to speak, eat, or open her eyes. I hadn't heard her make any noise for days. To my surprise, she made a noise while I was singing.
I like to think she heard me singing a song of praise and found a way to join in.
It was fitting that the song was called "Smile," because I think her life made smiling God's only option. She chose kindness when it seemed impossible. She opened her home and opened her mind when others would have shut their doors and their hearts.
Grandma was the first person who taught me about the power of agape love, and I believe the legacy of her agape love is still saving my life every day. And so is the legacy of her persistent joy.
I am so glad she taught me joy touches the heart of God.
Whether it's the joy of a granddaughter who gets one last duet with her grandmother. Or the joy of a woman at the end of her life, offering one last hum of gratefulness.
Prayer
May my joy and my life be music to God's ears. Amen.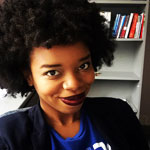 About the Author
Marchaé Grair is a spiritual director, facilitator, and the Director of Public Relations and Outreach at the Unitarian Universalist Association. Follow her work at
marchae.com
.