Saying Goodbye to Abuse
"Above all, love each other deeply, because love covers over a multitude of sins." – 1 Peter 4:8
I was in the infancy of healing after an emotionally abusive relationship ended when I started reading All About Love: New Visions by bell hooks.
In a passage from the book, hooks says, "All too often women believe it is a sign of commitment, an expression of love, to endure unkindness or cruelty, to forgive and forget. In actuality, when we love rightly we know that the healthy, loving response to cruelty and abuse is putting ourselves out of harm's way."
Those words shook me to my core and reframed so many dysfunctional notions I had about love.
I had spent my entire life thinking that unconditional love was synonymous with a commitment to stay present with people at all costs—even at the cost of my emotional or physical safety.
As a person who is Black, queer, and woman, I had internalized society's demand that I allow parts of myself to be dehumanized with no consequences. I had internalized the false truth that quick forgiveness was the only kind of forgiveness and staying in relationship with those who harmed me was an act of love.
Love filled with pain and punishment isn't love—it's abuse. And demanding anyone stay in that abuse to prove themselves as loving or forgiving is being complicit in someone's suffering.
I am thankful for my bell hooks intervention because hooks helped me realize there is no such thing as love without accountability, and sometimes that accountability requires a firm and justified goodbye.
Prayer
Creator of Perfect Love;
Give strength to those who need to leave abuse.
Heal those who already have.
Transform those who were complicit in harm.
Amen.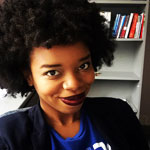 About the Author
Marchaé Grair is the Director of Public Relations and Outreach for the Unitarian Universalist Association and a member of South Euclid United Church of Christ, South Euclid, Ohio.