Procrastinators Unite…Tomorrow
For I know the plans I have for you," declares the LORD, "plans to prosper you and not to harm you, plans to give you hope and a future. – Jeremiah 29:11
Leaning in to God's plan for me isn't always easy because I am a control freak.
I have a unique way of fighting for this control: I call it "purposeful procrastination".
Purposeful procrastination is the special talent of convincing myself to focus on work that isn't due in the foreseeable future instead of completing work with immediate deadlines.
I am so good at this bad habit that I decided to take a class about procrastination. 
The teacher didn't focus on how to stop it but instead focused on why people like me do it.
She hypothesized that procrastinators are not lazy, as commonly suggested. Instead, she said we are hardworking people who are inhibited by our perfectionism. We are so afraid to confront potential failure that we convince ourselves there isn't enough time to finish anything. 
I left that class realizing how much I get in my own way, especially when I'm afraid to fail. 
My procrastination is a result of my continuous attempt to both take risks yet try to preemptively protect myself from failure. I try to be both the head architect of my journey and the unexpected traveler along that same path.
Since that class, I've prayed to shed my "control freak" procrastination tendencies.
I can't keep saying I trust in God's plan for me if I refuse to let God have some say in the matter.
Prayer
God, when my plans for delaying my plans get in the way, help me to let go and let You.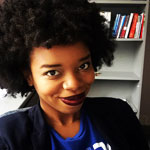 About the Author
Marchaé Grair is the Director of Public Relations and Outreach for the Unitarian Universalist Association and a member of South Euclid United Church of Christ, South Euclid, Ohio.