Play to Pray
When I was a child, I spoke like a child, I thought like a child, I reasoned like a child; when I became an adult, I put an end to childish ways. – 1 Corinthians 13:11 (NRSV)
As a young doctor, Stuart Brown was doing research into murderers who otherwise had no criminal history. He discovered something amazing, a common thread in 90% of their stories: as children, their play was severely restricted.
Play, Brown said, is any activity that is purposeless, dissolves ego boundaries, and ultimately brings joy. It's also an activity that delights God, who, after all, was the first one to play. What was the Creation, after all?
Dr. Brown spent many more decades studying play before he, an admitted workaholic, got the irony and started to play more himself.
It's easy to buy into this concept of play – but how do we enact it in our busy, overscheduled lives?
You already know the answer: We do less. We allow kids – and ourselves – to have more unstructured time. We allow some messes, keep cardboard boxes around, art carts, costume boxes. We give ourselves permission to stop what we are doing to kick the ball around, doodle and color, make robot noises.
If your eight-year-old is melting down because she is flying from swim team to karate to harp lessons, cut one (or all three) of those things out. Yes, you might be killing her chances of getting into Harvard. But you'll also be giving her a bigger life right now.
Madeleine L'Engle said, "Far too many people misunderstand what 'putting away childish things' means, and think that forgetting what it is like to think, feel, touch, smell, taste, see, and hear like a three-year-old or a thirteen-year-old means 'being grown up.' If this is what it means to be a grown-up, then I don't ever want to be one."
Prayer
God, prevent me from ever fully becoming a grownup. Slow me down, and send the joy of play.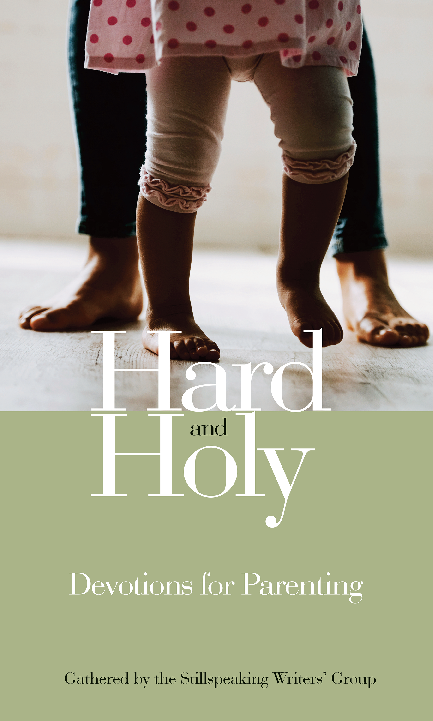 About the Author
Ellen O'Donnell contributed this devotional (edited for length) to
Hard and Holy: Devotions for Parenting,
a collection of spiritual encouragement and practical solidarity and messy joy.
Order Hard and Holy here
.