Opportunity to Testify
"But before all this occurs, they will arrest you and persecute you; they will hand you over to courts and prisons, and you will be brought before kings and governors because of my name. This will give you an opportunity to testify." – Luke 21:12-13 
The 2016 presidential election unleashed a spasm of violence. Within days, women were groped and assaulted; immigrant children were taunted by classmates with threats of deportation; an elderly gay man was ripped from his car and beaten; swastikas were painted on the sides of buildings. Suddenly, the wound of violence—which had always festered under the skin of our nation against anyone seen as "other"—was exposed. 
If you are like many good and polite progressive people of my acquaintance, you may have cast about for something, anything to do in response to the attacks. Jesus, in this conversation with his followers about the aftermath of bewildering cataclysm, is quite clear.
What you can do now is to speak up, to "testify."
Testifying is a special kind of talking. When you testify, you tell the story of a power greater than yourself; you tell the story of how that power changed your life, how that power can bring life to your listeners, too. 
Words may not seem like much. But your testimony has power, power greater than any weapon. Your story cannot kill, but it can transform. It can transform you, granting you strength and resilience. And, it can transform those who hear it. The time is now. Testify.
Prayer
Lord Jesus, you have transformed me and given me power to transform others. Put words in my mouth and grant me courage to speak.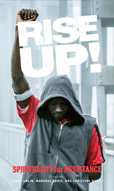 About the Author
Jennifer Brownell contributed this devotional to
Rise Up! Spirituality for Resistance
, a collection of devotionals to keep you burning bright without burning out, whether you're leading a justice effort at church or heading out to join a local protest. You can
order Rise Up!
from UCC Resources.