My Biggest Bucket
They replied, "Certainly, Your Majesty." He said, "Look! I see four men walking around in the fire, unbound and unharmed, and the fourth looks like a son of the gods." – Daniel 3:24b-25
I'm a fixer.
This is especially apparent when a loved one is in trouble. I want to know how I can make it better. I offer advice without people asking for it. I'll offer to mediate a conversation or research a solution, even if no one asked me to.
I do anything I can to push people toward a final resolution.
This fixer mentality is especially disorienting since I started studying to be a spiritual director.
Although the name would indicate otherwise, spiritual directors aren't supposed to tell people how to live or fix their lives. Instead, we journey with people as they look for God's presence and seek God's wisdom for themselves.
Many spiritual directors prefer to call this work spiritual accompaniment, because we aren't showing up to change outcomes but to provide a contemplative companion.
People in my life most often need me to make space to listen more than they need my interference or unsolicited advice.
When someone is in distress, someone showing up for them can be their miracle.
The divine presence with Shadrach, Meshach, and Abednego, could have easily put the fire out, but instead, they walked in the fire with them. And the divine presence alone was enough to save them from harm.
It's a spiritual practice to show up for someone—exactly how they need it, when they need it—without making it about your own ego and own desire for a quick fix.
Prayer
You've shown me that putting out fires isn't always the solution. When I want to bring my biggest bucket, help me to bring by best self instead. Amen.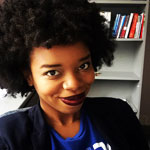 About the Author
Marchaé Grair is a spiritual director, facilitator, and the Director of Public Relations and Outreach at the Unitarian Universalist Association. Follow her work at
marchae.com
.