Love Lifted Me
"Let the morning bring me word of your unfailing love, for I have put my trust in you. Show me the way I should go, for to you I entrust my life." – Psalm 143:8
A minister at my childhood church used to start many of his sermons with a song called "Love Lifted Me." The main chorus repeated, "Love lifted me. Love lifted me. When nothing else could help, Love lifted me . . . ."
I think I'm finally starting to get the concept.
I am falling in love for the first time.
I'm not just doodling hearts and initials on a notebook. I'm not just changing a Facebook status to see how many likes I can get and how many curiosities I can pique.
No, this time's different.
This time, there's safety in what I know. This time, there's faith beyond what I can't know.
This time, I finally understand there is no such thing as love without trust.
This time, I'm not doing all of the heavy lifting.
This time love is lifting me.
Recently, I realized the word "Love" in "Love Lifted Me" is capitalized because the songwriter uses Love as another name for God, suggesting that God is so intertwined with Love that God is Love.
It makes sense that God would create us in Her image to do something She does best.
Every time we give and receive love authentically, vulnerably, and purposefully, we honor our spirit and the Spirit in which that love was created.
I'm ready to dive in to this new understanding of what love is because I finally understand who Love is.
Prayer
Blessed Savior, thank you for a Love that doesn't stop lifting. Amen.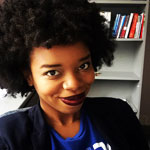 About the Author
Marchaé Grair is the Director of Public Relations and Outreach for the Unitarian Universalist Association and a member of South Euclid United Church of Christ, South Euclid, Ohio.