Let God Do the Talking
May these words of my mouth and this meditation of my heart be pleasing in your sight, O Lord, my rock and my redeemer. – Psalm 19:14
Writing this devotion didn't start out so great.
I wrote about four incomplete versions of it, updated my computer, and got a couple of snacks before I realized something very important.
I forgot to pray before I started writing—an especially rich irony considering this psalm.
I wish I could say it was the first time I've tried to be a messenger for God without consulting God in the matter, but it's not.
There are the times I try to speak words of God's comfort to hurting loved ones without asking God what words those particular loved ones need to hear.
There are the times I try to protest injustices in a Micah 6:8 kind of way, but get caught up in what my Facebook followers would have me say instead of asking if God would have me say the same thing.
So often, people with good intentions try to speak to or about the heart of God without seeking God.
It's so easy to posture ourselves as ready to speak about the gospel without interrogating the time we've spent with God to come to those conclusions.
If you love someone and are asked to speak on their behalf, you don't speak for them without knowing their heart's desires. You build a relationship with them, and in the times you must intercede on their behalf, the foundations of that relationship inform your knowledge about what they'd have you to say.
God's asking for relational intercession. Are you ready to give it?
Prayer
Let the words of my mouth speak your gospel according to your promises and not according to my whims.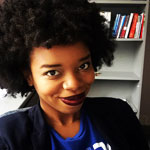 About the Author
Marcha
é
Grair is a spiritual director in training and the Director of Public Relations and Outreach for the Unitarian Universalist Association
.