Laughing, Singing and Dancing Our Way to Resilience
"Therefore, since we are surrounded by so great a cloud of witnesses, let us also lay aside every weight and the sin that clings so closely, and let us run with perseverance the race that is set before us." – Hebrews 12:1
It was Christmas morning 1987, and I was in the remote, mountainous Salvadoran village of Santa Marta as part of a small delegation of North American Christians and Jews. We awakened, disoriented, to the ground shaking. Quickly, an older leader in the community explained that the Salvadoran government was dropping bombs nearby to scare and intimidate them. The contrast between the ground-shaking bombs and the early Christmas morning was lost on no one. With this backdrop, we heard more about the village's history, including the killing of this elder's daughter and the murder of his childhood friend. He described in detail the ways in which colonization targets real bodies with torture, pain, and death.
But the story made a sharp turn when, after describing the history, we sat in silence and prayed. Then he said, "Do you know how I can tell which North Americans are going to last here with us?" After a pause in which no one answered, he continued, "I know that someone is going to last here when they know how to laugh, to sing, to dance, to experience joy . . . because the work we are doing is so difficult, we have to claim the promise of how the world is going to be, now. We have to live the promise. That's what our faith teaches us."
Prayer
Holy One, you surround us with a great cloud of witnesses, elders and ancestors whose wise laughter and dancing remind us of your Kindom. May we remember and laugh with them. Amen.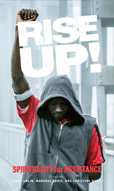 About the Author
Rebecca Voelkel contributed this devotional to
Rise Up! Spirituality for Resistance,
a collection of devotionals to keep you burning bright without burning out, whether you're leading a justice effort at church or heading out to join a local protest. You can
order Rise Up!
from UCC Resources.