I Hope You're Somewhere Praying
"Bless those who curse you, pray for those who mistreat you." – Luke 6:28
"I hope you're somewhere prayin', prayin'
I hope your soul is changin', changin'
I hope you find your peace
Falling on your knees, prayin'"
Pop star Kesha wrote these words in her song "Praying." The lyrics are especially poignant because she wrote them for the first album she released after a very public legal battle with her former music producer, Dr. Luke, who allegedly sexually abused her.
"Praying" has been a healing anthem for me as I struggle to define how or if I can forgive those who have hurt me to my core.
I've become clear about what forgiveness isn't.
I know forgiveness is not pretending the hurt didn't happen.
I know forgiveness is not requiring myself to stay in relationship with those who have harmed me.
I know forgiveness isn't prioritizing the healing of abusers and offenders before caring for myself.
I know forgiveness isn't the absence of accountability.
But I'm still struggling to understand how I forgive those who hurt me most. How do I forgive the people who have abandoned and abused me? How do I forgive the people who have made me lose my sense of self?
Kesha's song suggests that forgiveness may be best described as turning my intention away from wishing retribution or revenge, and instead, turning that intention toward self-healing.
As I focus on healing myself and move away from letting my abuse define me, I understand that my abuser's suffering, as much as I may have initially desired it, won't result in my healing.
Prayer
God: I know I'm not ready to pray for my abusers, but I pray they are praying for themselves. Heal my wounds and change their hearts in ways that only you can. Amen.
Stillspeaking Small Group Discussion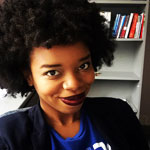 About the Author
Marchaé Grair is the Director of Public Relations and Outreach for the Unitarian Universalist Association and a member of South Euclid United Church of Christ, South Euclid, Ohio.