Doubting Thomas
So the other disciples told Thomas, "We have seen the Lord." But he said to them, "Unless I see the nail marks in his hands and put my finger where the nails were, and put my hand into his side, I will not believe." – John 20:25 (NIV)
I was in a severely emotionally abusive relationship. My abuser constantly made me question reality by lying to me to convince me that what I experienced never happened.
After I left that relationship, it was especially difficult for me to trust anyone.
That's why I empathize with the disciple so many of us know as "Doubting Thomas." Thomas' skepticism often results in people claiming he had no faith. Yet few people get curious if other disciples had ever proven themselves as untrustworthy to him.
As an emotional abuse survivor, I know a healthy amount of skepticism can be lifesaving. If I hadn't started to question my ex's stories, I wouldn't have realized how they were manipulating me. When I demanded proof for things I hadn't seen, it ultimately rescued me from a relationship that was destroying my emotional health.
As headlines about COVID-19 appear with rapid fire and officials give varying guidance, I'm hesitant to judge people who find themselves skeptical of leaders, questioning if the newest advice will be irrelevant an hour later. After years of a gaslighting administration, I think nationwide skepticism should be expected.
Thomas eventually saw Jesus and knew the other disciples were telling the truth.
Perhaps our calling in this moment isn't to point fingers at the skeptics but to create a world where truth and love are so ever-present that skeptics no longer have to question if God is with us.
Prayer
Thank you for giving me something to believe in. Amen.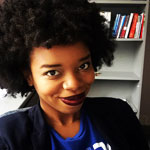 About the Author
Marchaé Grair is a spiritual director, facilitator, and the Director of Public Relations and Outreach at the Unitarian Universalist Association. Follow her work at
marchae.com
.